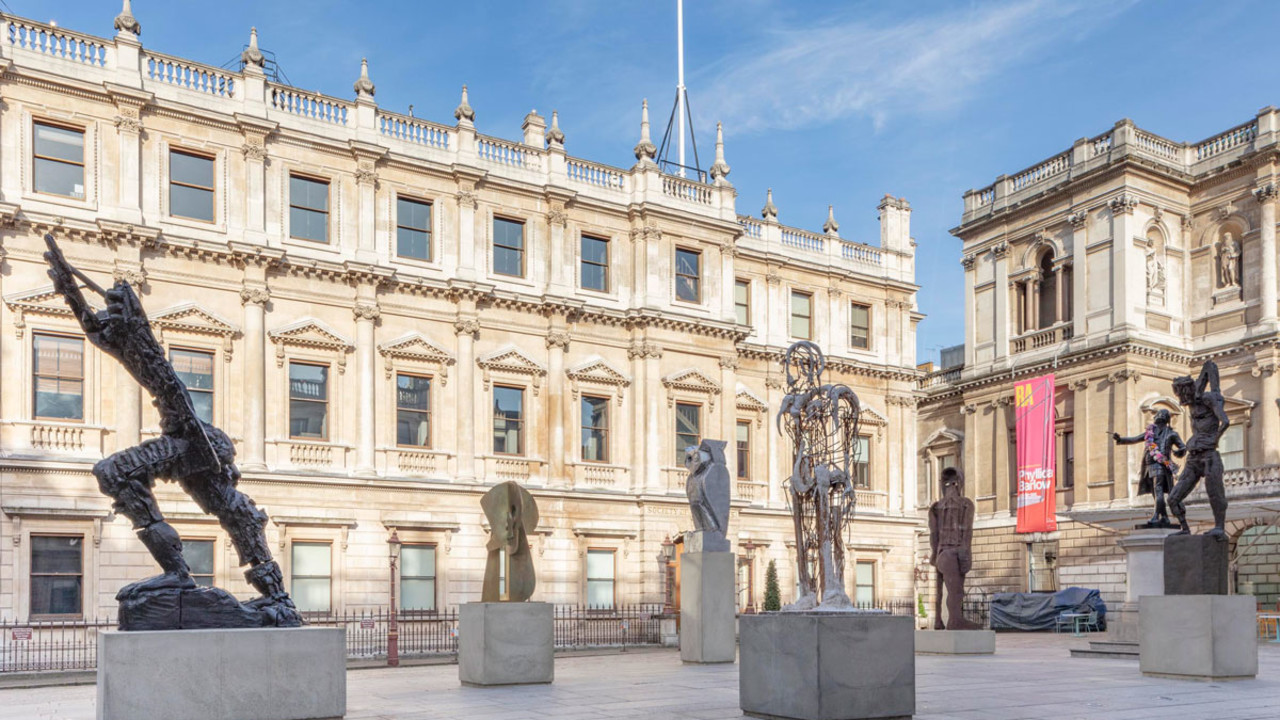 Talk
Artist in conversation: Thomas Houseago
Summer Exhibition 2019
Friday 28 June 2019 6.30 - 7.30pm
The Benjamin West Lecture Theatre, Burlington Gardens, Royal Academy of Arts
Summer Exhibition 2019
Join us for a conversation with the artist behind this year's Summer Exhibition Annenberg Courtyard installation, Thomas Houseago, and curator Edith Devaney.
The pair will discuss Houseago's installation in the Royal Academy's Annenberg Courtyard, along with the artist's wider career as a contemporary sculptor. Ranging from monumental to smaller-scale works, Houseago's sculptures simultaneously convey states of power and vulnerability. He uses mediums traditionally associated with classical and modernist sculpture – including carved wood, clay, plaster and bronze – as well as less traditional materials like rebar (reinforcing steel bars) and hemp.
Thomas Houseago was born in 1972 in Leeds, England. He studied at Jacob Kramer College, Leeds, England from 1990 to 1991, received a BA in 1994 from Saint Martin's School of Art, London, and studied at De Ateliers, Amsterdam, from 1994 to 1996. Recent exhibitions of Houseago's work include Almost Human, Musée de la Ville de Paris, Paris, France, 2019, Thomas Houseago: The Ridge, Gagosian, Beverly Hills, CA, 2017 and Constructions, Xavier Hufkens, Brussels, Belgium, 2018.
Edith Devaney is Contemporary Curator at the Royal Academy of Arts. She originated and co-curated the Jasper Johns: Something Resembling Truth exhibition in 2017 with The Broad in Los Angeles. In 2016, she curated Abstract Expressionism at the Royal Academy, which showed at the Guggenheim Museum Bilbao while 82 Portraits and one still-life (2016) toured to three venues across Europe and the US. She was responsible for the Hockney landscape exhibition, A Bigger Picture, in 2012, and Richard Diebenkorn exhibition in 2015. Her most recent curatorial work is Phyllida Barlow: cul-de-sac. In her capacity as Head of Summer Exhibition at the Royal Academy of Arts, Devaney has worked with many international contemporary artists on both the curation of the annual exhibition and special projects and displays relating to it.
ERROR - UnsupportedModule: AudioModule