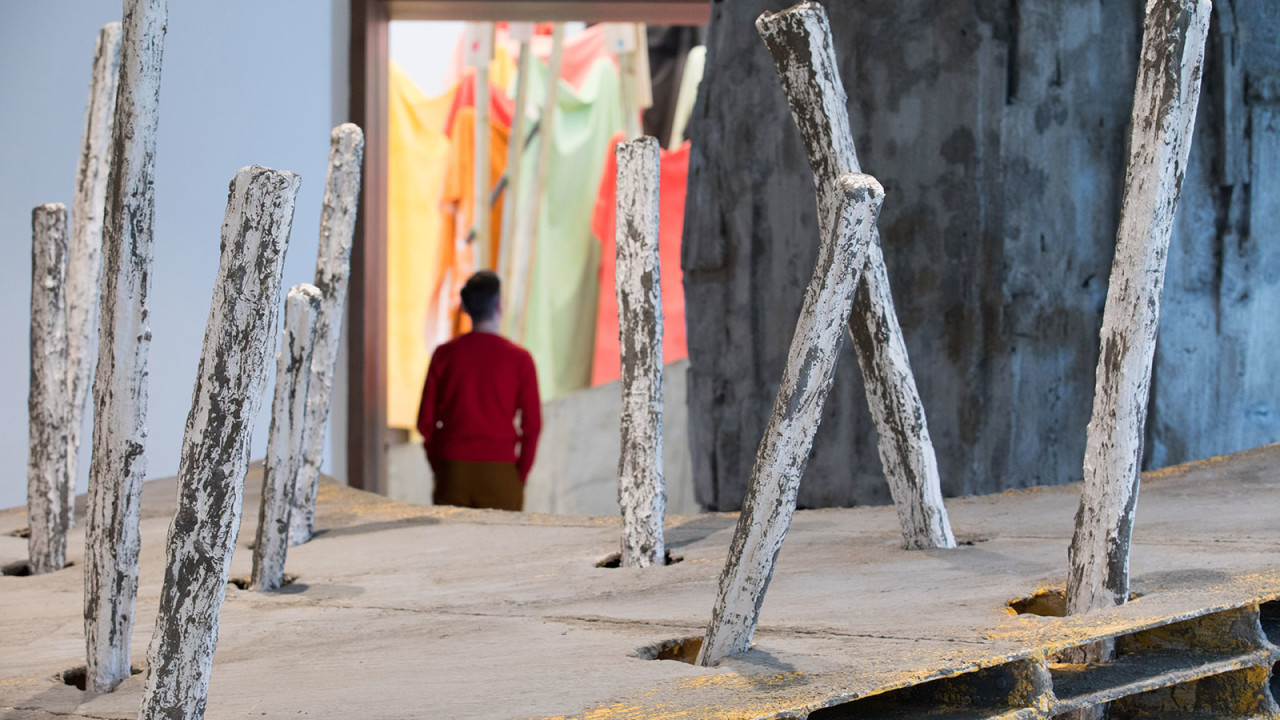 Exhibition
Phyllida Barlow RA
cul-de-sac
23 February - 23 June 2019
The Gabrielle Jungels-Winkler Galleries, Burlington Gardens, Royal Academy of Arts
Daily 10am – 6pm
Friday 10am – 10pm
£14 (without donation £12). Concessions available. Under-16s go free with a fee-paying adult. Free for Friends of the RA.
Friends of the RA go free
Acclaimed British sculptor Phyllida Barlow RA takes over our contemporary galleries with large-scale new works – made with her signature everyday and industrial materials.
Phyllida Barlow is a British sculptor, well-known for using materials such as plaster, cardboard and cement, which turn the conventions of traditional sculpture on its head. Her best-known works include the Tate Britain Commission 2014, and her installation for the 2017 Venice Biennale British Pavilion, where she represented the UK.
This spring, experience entirely new sculptures by the artist in the Gabrielle Jungels-Winkler Galleries. Towering above like seemingly precarious structures, these site-specific works both test and take inspiration from the gallery's architecture. In the form of a "cul-de-sac", with only one way in and out, it gives visitors the freedom to find their way between them.
Alongside her own work, Barlow had a long career as a fine art teacher, including Professor of Fine Art and Director of Undergraduate Studies at the Slade until 2009, and Chelsea College of Art and Design before that. She was elected as a Royal Academician in 2011 and was also part of last year's Selection Committee for the 250th Summer Exhibition.
For a limited time only, enjoy £5 entry to Phyllida Barlow RA: cul-de-sac when you visit the Summer Exhibition. Add it to your basket along with your Summer Exhibition ticket, or ask at the ticket desk if you book on the day.
Supporters
Lead support

Supported by
Reviews
"The most inspiring show of the year"

Arts Desk

"Showcases her ability to animate an imposing space with works that seem handcrafted on the kitchen table"

The Telegraph

"The appeal of Barlow's work is how unpompous it is…They make no pretence at polish, instead embracing their wonkiness"

The Times

"A new type of sculptural magic is afoot"

Wallpaper*
The starting point is very raw. It's often just the urge to begin a work, and to use my experience in a very direct way: pouring, spilling, piling up, all those kinds of ways of filling that empty space in front of me.
Phyllida Barlow, in conversation with Edith Devaney
Become a Friend to see for free
In the studio with Phyllida Barlow
In this extract from the forthcoming documentary film Phyllida, Phyllida Barlow talks about her approach to sculpture and the role of chance in her work.