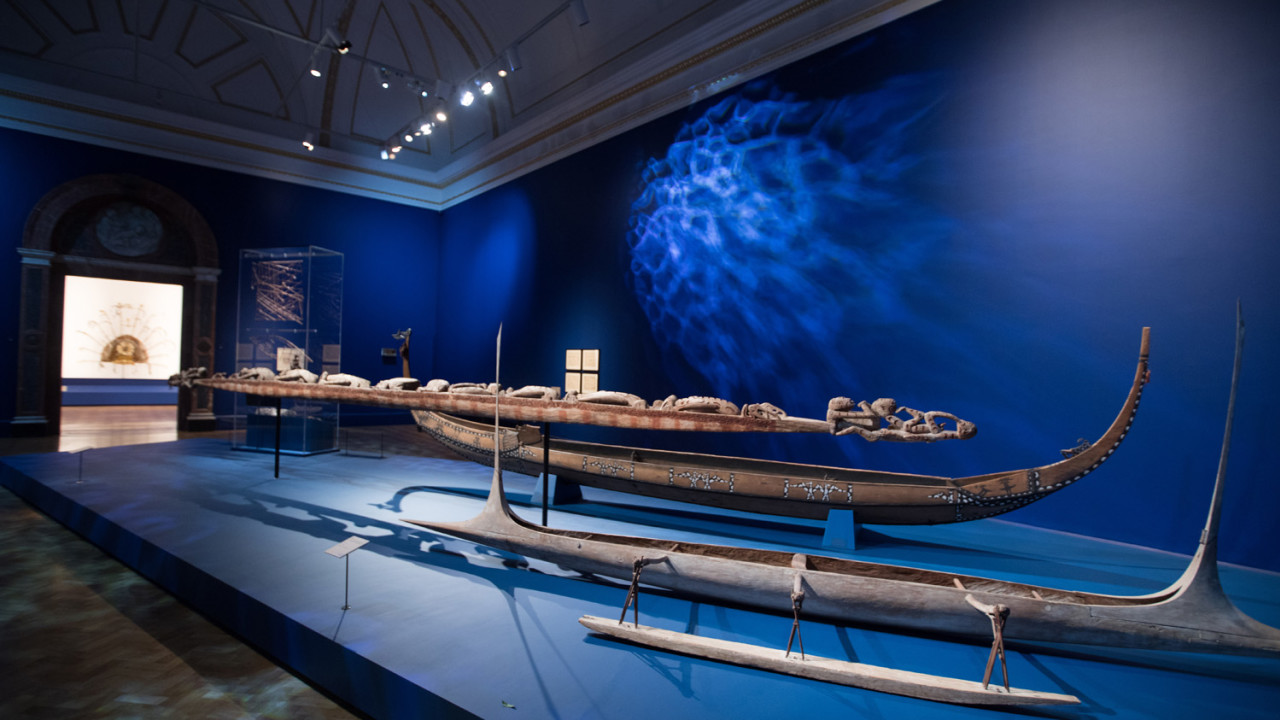 Exhibition
Oceania
29 September - 10 December 2018
Main Galleries, Burlington House, Royal Academy of Arts
Daily 10am – 6pm
Friday 10am – 10pm

£20 (without donation £18). Concessions available. Under-16s free with a fee-paying adult. Free for Friends of the RA, no booking required. Free for all New Zealand and Pacific Island passport holders (show passport at exhibition entrance).
Friends of the RA go free
Marking 250 years since Cook's first voyage to the Pacific, we celebrate the dazzling and diverse art of the region of Oceania, from the historic to the contemporary.
The year is 1768, and Britain is in the throes of the Age of Enlightenment. As a group of artists agrees to found the Royal Academy, Captain James Cook sets sail on a voyage of discovery to track the transit of Venus and search for terra australis incognita – the unknown southern continent, as Europeans called it. What Cook and his crew encounter on arrival is a vast number of island civilisations covering almost a third of the world's surface: from Tahiti in Polynesia, to the scattered archipelagos and islands of Melanesia and Micronesia.
The indigenous populations they met came with their own histories of inter-island trade, ocean navigation, and social and artistic traditions. This spectacular exhibition reveals these narratives – celebrating the original, raw and powerful art that in time would resonate across the European artistic sphere.
Oceania brings together around 200 exceptional works from public collections worldwide, and spans over 500 years. From shell, greenstone and ceramic ornaments, to huge canoes and stunning god images, we explore important themes of voyaging, place making and encounter. The exhibition draws from rich historic ethnographic collections dating from the 18th century to the present, and includes seminal works produced by contemporary artists exploring history, identity and climate change.
Oceania continues the RA's tradition of hosting outstanding exhibitions exploring world cultures, which have included Africa: The Art of a Continent (1995), Aztecs (2002), Turks: A Journey of a Thousand Years (2005), China: The Three Emperors, 1662-1795 (2005) Byzantium 330-1453 (2008) and Bronze (2012).
Oceania has been organised by the Royal Academy of Arts, London and Musée du Quai Branly – Jacques Chirac, Paris, with the participation of the Museum of Archaeology and Anthropology, Cambridge.
Research towards this exhibition was supported by a research grant, 'Pacific Presences: Oceanic art and European museums', which received funding from the European Research Council under the European Union's Seventh Framework Programme (FP7/2007-2013) / ERC grant agreement n° 324146.
Please note:
This exhibition includes many objects that Pacific Islanders consider living treasures. Some may pay their respects and make offerings through the duration of the exhibition. Please be aware that this exhibition contains human remains.
Entry to the exhibition is free for New Zealand and Pacific Island passport holders. Show passport at exhibition entrance. No need to book in advance. There may be a short wait at busy times.
Tickets to the exhibition come with a free universal audio guide. Free for ticket buyers, RA Friends and their guests. Reciprocal, corporate, and school groups can hire a guide at a discounted cost of £2.50.
Supporters
Principal partner

Supporting partner

Supporting partner

Supported by

Supported by

Supported by

The Ruddock Foundation for the Arts
Reviews
"A stupendous odyssey through the superb art and fascinating culture of the Pacific... A blockbuster and then some."

The Guardian
Watch the exhibition trailer
Here's a taste of what to expect at this incredible exhibition.
Read more and watch videos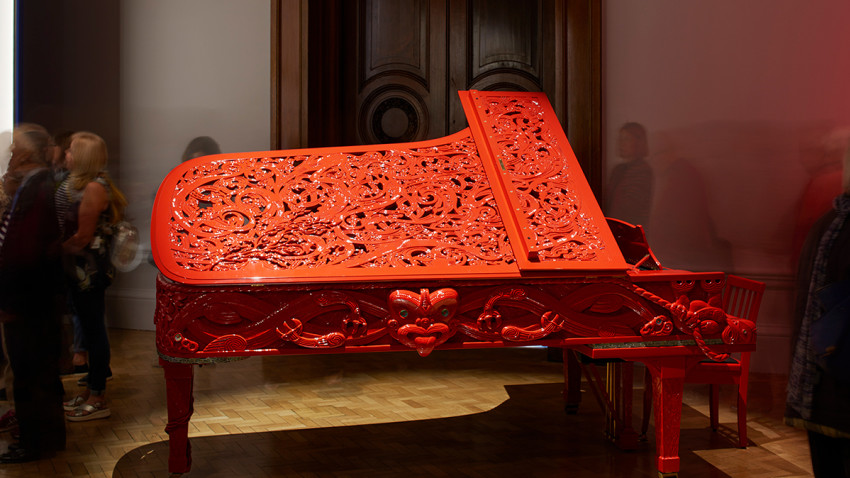 Play Michael Parekowhai's piano
"There is no object I could make … that could fill a room like sound can." – Michael Parekowhai, 2011.
New Zealand artist Michael Parekowhai's sculpture He Kōrero Pūrākau mō te Awanui o te Motu: Story of a New Zealand River is a carved Steinway grand piano that's designed to be played. We're inviting visitors to book a slot to play this spectacular instrument, which is on display in Oceania, and fill the galleries with music. Terms and conditions apply.
There are four time slots available each day: 11.30am, 12.30pm, 1.30pm and 2.30pm. You will need to be able to play comfortably for 15-30 minutes.
Become a Friend to see for free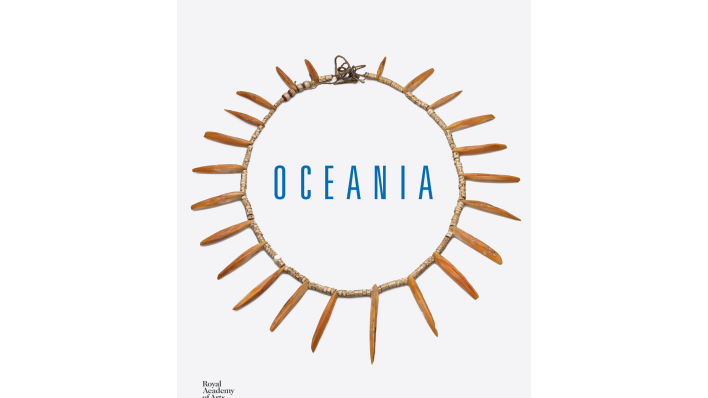 Order our Oceania catalogue
Take an early voyage into our Oceania exhibition and explore one of the world's most extraordinary and diverse regions.
This book, available to order now in softback or hardback, showcases the rare beauty and craftsmanship of Oceanic art. Discover how the region's history and cultures were shaped by many astonishing journeys across the seas, starting with Captain Cook on his search for terra australis incognita 250 years ago.
For teachers and students
Delve into 'Oceania' through our teacher resources, suitable for KS1 and KS2, KS3, KS4 and KS5.
Art detectives
Delve into 'Oceania' through our teacher resource, suitable for KS3, KS4 and KS5.
For partially sighted visitors
We offer large-print lists of works in all of our exhibitions for partially sighted visitors, available online or at the galleries for the duration of the show.