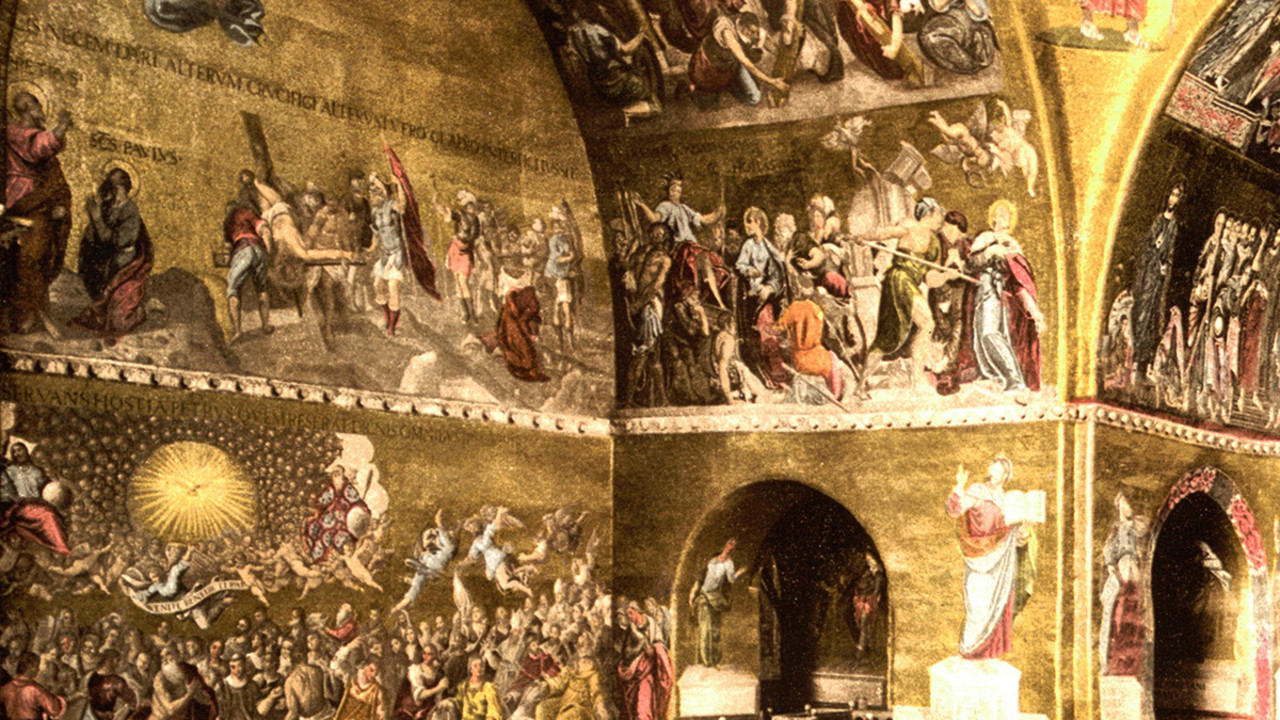 RA Late
Venetian Magic
Saturday 14 May 2016 7 - 11.45pm
Burlington House, Royal Academy of Arts
£22 (includes entry to 'In the Age of Giorgione' and a cocktail).
Sold out
In the Age of Giorgione
RA Lates presents an evening of 16th century Venetian opulence.
Inspired by the cultural legacy of Giorgione and his contemporaries, we bring to life the city's golden age.
Download the full programme map
Programme highlights
Exclusive after-hours private view of In the Age of Giorgione (7 – 10pm)
Trace the development of ideas that changed the course of art in this highly original exploration of the Venetian Renaissance. Bringing together iconic paintings by masters such as Titian and Giorgione, we shed new light on a pivotal yet little-understood moment in the history of art.
Plus spotlight talks in the galleries with Dr Maria H. Loh on old masters as early modern celebrities, 8pm and 9pm. And Dr Rosa Salzberg on Cultural capital: Printing and Popular Culture in Giorgione's Venice, 8.30pm and 9.30pm.
Dress code: Golden Age of Venice
This is open to your interpretation, and guests are invited to dress up as much as they wish. Please see our pinterest board for Venetian inspiration.
Dress Code Information
We kindly as that you remove any large costume items (e.g. headdresses) and masks before entering In the Age of Giorgione. This is to protect the world-famous paintings on display from risk of items being knocked into them, we will have bags on hand for you to carry your items around the exhibition.
Ruff-Making with Of Crowns and Gowns, 7 – 9pm
Get inspired by 16th-century fashion trends and make your own neck ruff with Laura Archer from Of Crowns and Gowns.
Pop-up Costume Shop and Make-up booth with Violet's Box, 7 – 10pm
Visit a Venetian pop-up shop selling a selection of masks, corsets as well as a make-up stand with theatrical eyelashes and tattoos.
Cinema Jam presents A Dangerous Beauty, 9.30 – 11.45pm
Jared Fryer, founder of Cinema Jam, hosts a film screening which tells the story of a 16th-century Venetian courtesan who becomes involved in affairs of state, until she is eventually accused of witchcraft.
Carnivale de Venezia, 9 – 11.45pm
Head to the RA's Grand Café for an eclectic carnival party featuring DJ sets, live music, ballerinas and dance alongside our Commedia Del'Arte characters. Featuring DJ sets with Tom Beaufoy (9pm – 9.30pm) and Nico de Transilvania (9.30pm – 11.45pm)
FOOD and DRINK
Venetian baraco supper club with POLPO
POLPO chicheti and Spritz evoke the humble Venetian baraco. Visit their pop-up supper club and enjoy artichoke & speck crostini, broad bean, pea & mint bruschetta, spring risotto and a POLPO Spritz.
Dishes £4 - £7, cards accepted.
Peyton and Byrne bars will be open all evening serving craft beer, wine, prosecco and Venetian cocktails.
Complimentary Venetian G&T on arrival, courtesy of Sipsmith and Fever-Tree