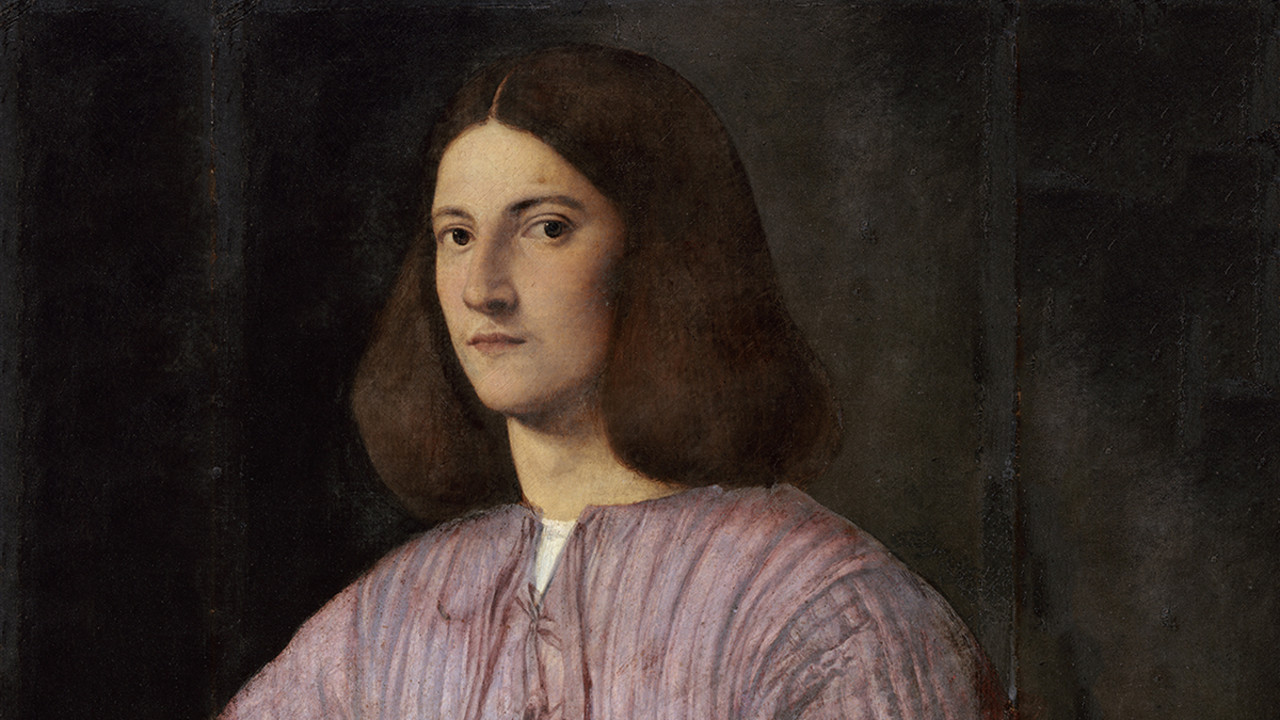 In the Age of Giorgione
12 March - 5 June 2016
The Sackler Wing, Burlington House
Saturday – Thursday 10am – 6pm
Friday 10am – 10pm
£11.50 (without donation £10). Concessions available. Friends of the RA, and under 16s when with a fee-paying adult, go free.
Friends of the RA go free
Trace the development of ideas that changed the course of art in this highly original exploration of the Venetian Renaissance. Bringing together iconic paintings by masters such as Titian and Giorgione, we shed new light on a pivotal yet little-understood moment in the history of art.
Venice, at the beginning of the 16th century: though Bellini is still the leading artist of the day, a younger generation that includes Titian and the enigmatic Giorgione is emerging. Their innovations, combined with the influence of visitors such as Albrecht Dürer and Leonardo da Vinci, are about to usher in a new dawn of Venetian art.
The first great painter to arise during this period is also the most mysterious: little is known about Giorgione's life, and few works can be definitively attributed to him, yet the elusive poetic quality of his work is so powerful that, despite his early death, his legacy is profoundly felt in Venice and beyond.
This fascinating exhibition seeks to unravel the complex web of influences that shaped the work of many of the most celebrated names in Renaissance art. Masterpieces by Giorgione will be displayed side by side with works by Giovanni Bellini, Albrecht Dürer, Titian, Sebastiano del Piombo and Lorenzo Lotto, among others. Visitors will also have the opportunity to rediscover Giovanni Cariani, a great but now unfamiliar artist in their midst.
Together these important works chart the development of the idealised beauty, expressive force and sensuous use of colour that we recognise today as the hallmarks of Venetian Renaissance painting. Through portraiture, religious paintings and the nascent genre of landscapes, witness a rapid revolution in style as it unfolds in a city on the cusp of its golden age.
Friends of the RA do not need to book a time slot for this exhibition – just turn up and show your membership card along with ID.
Supporters
2009-2017 Season supported by

Supported by
Reviews
"Rich and revelatory… a curatorial tour de force"

The Times

"A true genius who deserves to be revered as one of the giants of European art"

The Guardian

"You get a sense of Giorgione's mastery immediately"

London Evening Standard

"The curators have put together an exhibition that is so rich it's worth visiting not just once, but returning to several times"

The Spectator
Who were the key artists in 16th-century Venice?
Giovanni Bellini
At the turn of the 16th century, Giovanni Bellini was around 70 years old and well-established as the leading painter in Venice. Known for his portraits as well as his devotional works, he had embraced the shift from the traditional medium of tempera to the new, more versatile oil paint, and pioneered the richly coloured and atmospheric style that characterised Venetian art.
Giorgione
Alongside Titian, Giorgione played a fundamental role in introducing a softer and more naturalistic style, intent on rivalling poetry in its force of mood and feeling. However, little is known about the life of this most enigmatic of artists, whose promising career was cut short by his death in 1510.
Titian
Following Giorgione's premature death, it was Titian who emerged as Venice's most celebrated painter. A young prodigy, Titian scaled new heights of expression, colour and movement and brought a new textural sensuality to painting. By the time of his death in 1576, he had helped propel Venice to its position as one of Europe's most influential artistic centres.
Albrecht Dürer
The famous German painter, printmaker and draughtsman, Albrecht Dürer visited Venice twice. A great admirer of the work of Giovanni Bellini, he showed a strong interest in the artistic developments unfolding in Italy at the time. In turn, artists in Venice were greatly influenced by his work, in particular his painstaking attention to detail.
Other artists in the Venetian School
The creative melting pot of early 16th-century Venice also produced other important artists, such as Lorenzo Lotto, Sebastiano del Piombo and Giovanni Cariani, who were much inspired by the ideas introduced by Giorgione and Titian. The close similarity of artists' styles has raised questions of attribution that have puzzled scholars for generations.
Read more
During the 16th century, Venice became the centre of the art world. Giovanni Bellini had long been the city's preeminent painter, but there was a new generation emerging.
Inside the show
Art historians have jostled for centuries over the issue of attributing works to Giorgione. In fact, there are only two paintings with contemporary inscriptions identifying Giorgione as the artist. In this video, curator Per Rumberg takes us inside the exhibition and discusses Portrait of a Man ('Terris Portrait') and Portrait of a Young Man ('Giustiniani Portrait'), the keystones in Giorgione's oeuvre.
The Royal Academy has pulled off something close to a miracle… the show is superb, brilliantly presented with drama, sympathy, mounting surprises and the kind of deep scholarship that doesn't just document art but actually loves it. It is in every respect exemplary.
The Guardian
Gallery
Portrait of a Man, c. 1505

Jacopo Pesaro Being Presented by Pope Alexander VI to Saint Peter, 1508–11

Portrait of a Man ('Terris Portrait'), 1506

Il Tramonto, c.1502–5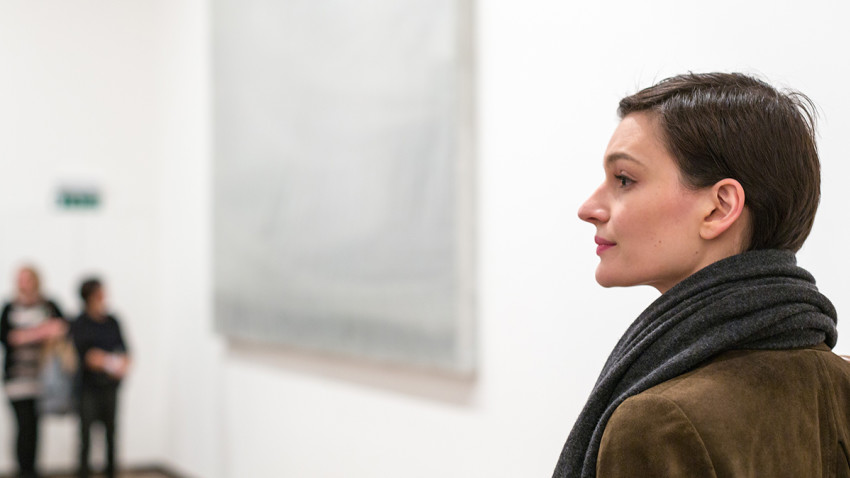 Exhibition tours
Get more out of the exhibition
Exhibition tours
45 minutes, free with an exhibition ticket, no booking required
Tuesdays 2.30pm, Fridays 7pm (15 March – 27 May)
Keep an eye on Twitter for tour reminders.
Resources
Exhibition in focus
Read up on Giorgione and his contemporaries with our guide to the exhibition, a beautifully illustrated introduction which presents the central themes of the exhibition and key artworks. Written especially for secondary students and teachers, the guide is nevertheless suitable for all.
Large print labels
Although large print labels will be available in every room of the exhibition, you can download them before arriving at the RA.
Giorgione Art Detective
Find out more about Giorgione and the masters of Renaissance Venice and download the Giorgione Art Detective, an engaging exhibition trail for young visitors.
Offers
Enjoy a free dish at Polpo
Risi e bisi is a dish that means a lot to Venetians. It's the principle offering at the annual spring feast to celebrate the city's patron saint, Saint Mark the Evangelist; tradition has it that the very first peas of the season are used to make the risotto.
To celebrate In the Age of Giorgione, Polpo are giving away free dishes of risi e bisi to exhibition visitors.
Special dining offer
We're celebrating all things Venetian for 'In the Age of Giorgione', including the city's distinctive cuisine.
That's why we've teamed up with much-loved bácaro, Polpetto, to create a special menu inspired by the era of Giorgione.
Browse our collection of Giorgione-inspired gifts
'In the Age of Giorgione' exhibition catalogue
This catalogue assembles many of the works attributed to Giorgione, along with masterpieces by Titian, Lorenzo Lotto and Giovanni Cariani, among others.
This sumptuous volume includes landscapes, portraits and devotional works, all exemplars of the exceptional richness of colour and mood that were to become the hallmark of the Golden Age of Venetian painting
Pearl gold earrings
Add these simple yet elegant earrings to your jewellery collection. The baroque freshwater pearls have a beautiful lustre, making them highly desirable.
'Travels With My Lute'
This brilliant CD draws together the best lute music of the Renaissance and contrasts the different musical styles of Italy, France, Germany and England. The music is played on a variety of different lutes as appropriate, by one of Britain's leading virtuosos, Lynda Sayce.