Exhibition
The Renaissance Nude
3 March - 2 June 2019
The Jillian and Arthur M. Sackler Wing of Galleries, Royal Academy of Arts
Daily 10am – 6pm
Friday 10am – 10pm
£16 (without donation £14). Concessions available. Under-16s go free with a fee-paying adult. Free for Friends of the RA with no booking required.
Friends of the RA go free
Trace the development of the nude through some of the great masters of the Renaissance. Bringing together works by artists such as Titian, Raphael, Michelangelo, Leonardo, Dürer and Cranach, we shed light on a visual tradition at its most vital moment.
The 15th and 16th centuries were a pivotal time for the nude in Western art. A renewed interested in ancient Greek and Roman art brought the human body to the forefront of artistic innovation. Artists on both sides of the Alps – Perugino, Pollaiuolo and Gossaert among others – were copying from classical models, experimenting with naturalistic approaches, as well as exploring new, non-religious subject matter.
At the same time, the nude was transforming Christian art, encouraging modern and dynamic representations of age-old themes, from the story of Adam and Eve to the crucifixion.
This spectacular exhibition explores these important changes in a selection of exquisite works. From full-scale paintings to jewel-like illustrations, bronze statuettes to anatomical studies, they contrast idealised beauty with the ageing body, and public images with more intimate, private works.
Together, they offer an insight into a visual tradition that became central to European art, which still resonates with artists and audiences today.
Exhibition organised by the Royal Academy of Arts and the J. Paul Getty Museum
Supporters
Supported by

The Thompson Family Charitable Trust

Supported by

Peter & Geraldine Williams
Reviews
"What an astonishing show"

The Guardian

"Eroticism, perfection and martyred saints"

Evening Standard

"A wild ride into the blushing brilliance of soft-core old art"

Time Out

"The naked body is uncovered in this clever show"

The Times
Become a Friend to see for free
Five nudes to know
Adam and Eve
Painter. Printmaker. Draughtsman. German Renaissance artist Albrecht Dürer was known for his painstaking attention to detail, as seen in his take on perhaps the most famous couple of them all – Adam and Eve. Unlike many of his contemporaries, Dürer tended not to use living models and instead used a compass and ruler to create his nudes geometrically. As he warned his fellow artists, "Your ability is impotent compared with God's creativity".
Christ
This painting by Flemish artist Jan Gossaert shows Christ stripped and in anguish shortly before his death. Christ has sometimes been mistaken for the biblical hero Samson due to his exaggerated musculature. Like a number of artists in the 16th century, Gossaert was inspired by the Belvedere Torso – a fragmentary yet significant marble sculpture from ancient Greece. He would have encountered the sculpture in Rome when he visited the city with his patron, Philip of Burgundy. You can see a cast of the Belvedere Torso in the RA's Collection Gallery.
Apollo
Pietro Perugino rarely painted mythological scenes, and he seldom depicted figures completely in the nude, yet his Apollo and Daphnis is regarded as one of his finest works. It shows the Greek god in a rural landscape next to the mythic shepherd Daphnis, the inventor of pastoral poetry. It's a bit of mystery whom this work was created for and we know nothing about its whereabouts until the late 19th century, when its English owner claimed it was by Perugino's pupil, Raphael, and sold it to the Louvre.
Venus
Here we have the birth of Venus, reimagined by Titian, one of the most celebrated artists in 16th-century Venice. According to myth, Chronos castrated his own father, Uranus, and upon throwing his genitals into the sea, the goddess of Love was born. This scene was of interest to Titian, and to a number of other artists working in different media, as it had been depicted by the most famous painter of antiquity, Apelles, in the 4th century BC.
Saint Sebastian
Italian Mannerist painter Bronzino is best known for his portraits (he was a court painter for the Medici family) but he also turned his hand to religious subjects. His Saint Sebastian has a sensuality that may suggest that it is a carefully disguised portrait of the artist's young lover, or someone who had caught his eye – we'll never know for sure. It's also notable for the distinct lack of violence. Saint Sebastian was a martyr shot with arrows by the Roman Emperor Diocletian's soldiers, only to miraculously survive, so he's often shown wounded and bleeding. In contrast, Bronzino's portrayal is an altogether calmer affair, his subject posing as though seated for a portrait.
Discover more in our audio guide
The exhibition's audio guide features celebrated actor and writer Stephen Fry, who tells some of the stories depicted in the artworks (including Bathsheba Bathing, above).
The guide can be pre-ordered when you book your ticket to the exhibition online.
Image gallery
A Male Nude with Proportions Indicated, 1515-20

The Anatomy of the Shoulder and Neck (recto), 1510-11

The Three Graces, 1517-18

A Faun and His Family with a Slain Lion, circa 1526
Leonardo da Vinci's anatomical drawings
Leonardo da Vinci's anatomical drawings demonstrate both his artistic genius and his groundbreaking understanding of human anatomy, gained from carrying out autopsies at the University of Pavia.
A sheet of Leonardo's studies of the head and neck is on display in The Renaissance Nude, on loan from the Royal Collection. It also features in a new book by Royal Academician Stephen Farthing and his physician brother Michael.
In this video, a clip from our special online broadcast #LifeDrawingLive: the anatomy class, the Farthings discuss Leonardo's approach to depicting anatomy, and the role of drawing as an aid to memory and understanding.
Inspired by Leonardo? Take our free class and send us your drawings!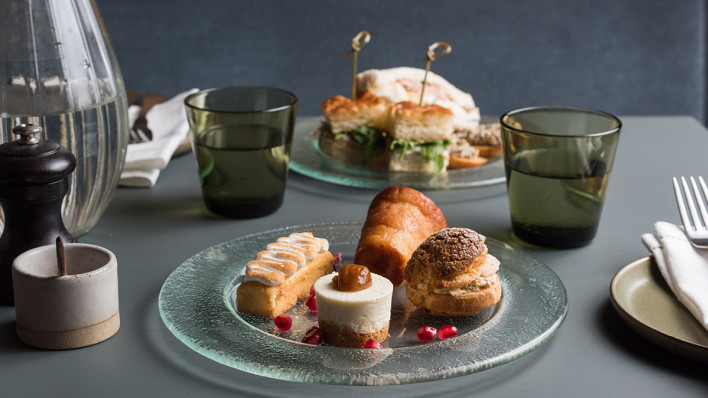 Italianate afternoon tea
Perfect for a pre or post-exhibition pit-stop, this Italian twist on afternoon tea is a real treat. Savoury antipasti are followed by a sweet selection, featuring Amalfi lemon meringue pie, pistachio cannoli, orange & polenta cake and blood orange Bellini's.
Afternoon tea is served between 3-5pm and costs £29.50 per person. Book for Mother's Day and enjoy a complimentary glass of prosecco.