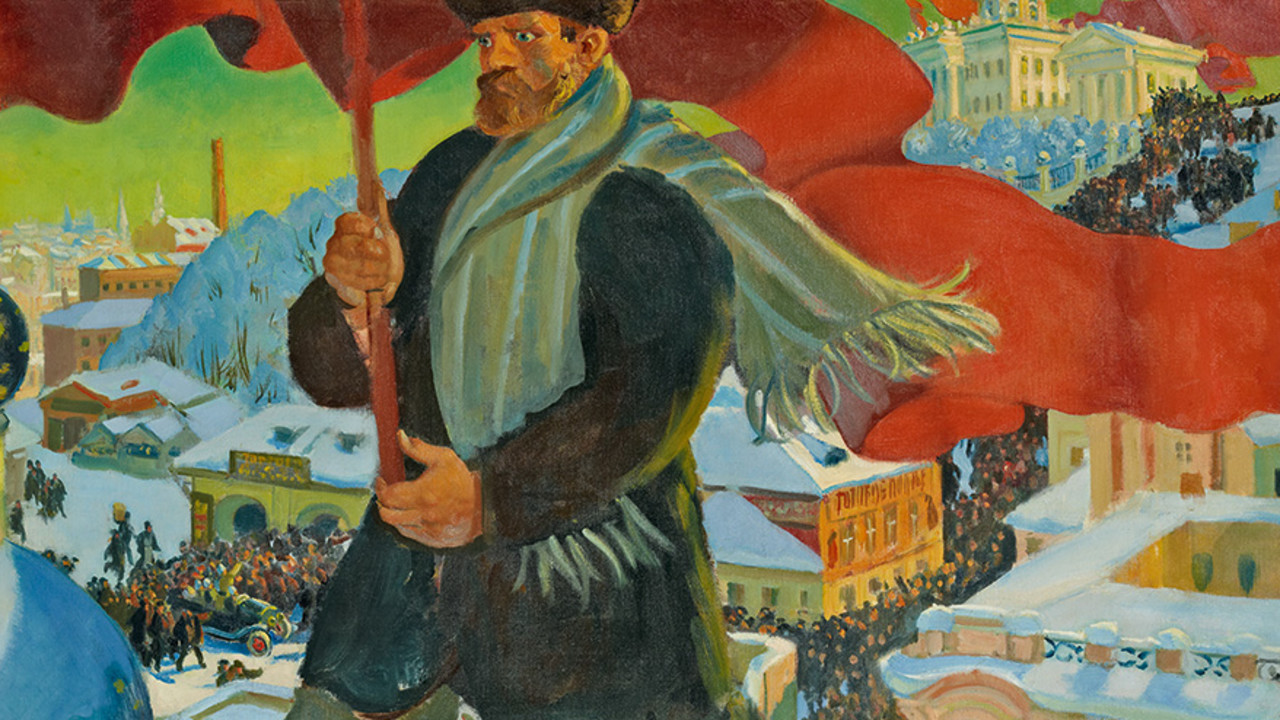 Exhibition
Revolution: Russian Art 1917–1932
11 February - 17 April 2017
Main Galleries, Burlington House
Saturday – Thursday 10am – 6pm
Friday 10am – 10pm
£18 (without donation £16). Concessions available. Friends of the RA, and under 16s when with a fee-paying adult, go free.
Friends of the RA go free
One hundred years on from the Russian Revolution, this powerful exhibition explores one of the most momentous periods in modern world history through the lens of its groundbreaking art.
Please note: online tickets have now sold out. A limited number of tickets are available to buy in person at the box office. At busy times queuing may be necessary.
Renowned artists including Kandinsky, Malevich, Chagall and Rodchenko were among those to live through the fateful events of 1917, which ended centuries of Tsarist rule and shook Russian society to its foundations.
Amidst the tumult, the arts thrived as debates swirled over what form a new "people's" art should take. But the optimism was not to last: by the end of 1932, Stalin's brutal suppression had drawn the curtain down on creative freedom.
Taking inspiration from a remarkable exhibition shown in Russia just before Stalin's clampdown, we will mark the historic centenary by focusing on the 15-year period between 1917 and 1932 when possibilities initially seemed limitless and Russian art flourished across every medium.
This far-ranging exhibition will – for the first time – survey the entire artistic landscape of post-Revolutionary Russia, encompassing Kandinsky's boldly innovative compositions, the dynamic abstractions of Malevich and the Suprematists, and the emergence of Socialist Realism, which would come to define Communist art as the only style accepted by the regime.
We will also include photography, sculpture, filmmaking by pioneers such as Eisenstein, and evocative propaganda posters from what was a golden era for graphic design. The human experience will be brought to life with a full-scale recreation of an apartment designed for communal living, and with everyday objects ranging from ration coupons and textiles to brilliantly original Soviet porcelain.
Revolutionary in their own right, together these works capture both the idealistic aspirations and the harsh reality of the Revolution and its aftermath.
All ticket prices include £2.50 for a printed gallery guide.
Supporters
Supported by

With thanks to

Generously supported by
Malevich in 60 seconds
Tim Marlow introduces Kazimir Malevich, the artist whose bold experimentations with form and colour led him to create one of the most radical and influential paintings in the history of art - The Black Square. Malevich painted four versions of this iconic work, one of which is on display in Revolution: Russian Art 1917–1932.
'Revolution: Russian Art 1917-1932'
Get a taste of the exhibition with this teaser video, showing you just some of the photography, porcelain and portraits on display.
Gallery
The Bolshevik, 1920

V.I.Lenin and a Demonstration, 1919

Fantasy, 1925

Red spinner, 1930

Dynamic Suprematism Supremus, c. 1915

Peasants, c. 1930

Blue Crest (detail), 1917

Advertisement 'Of course, cream-soda!', 1926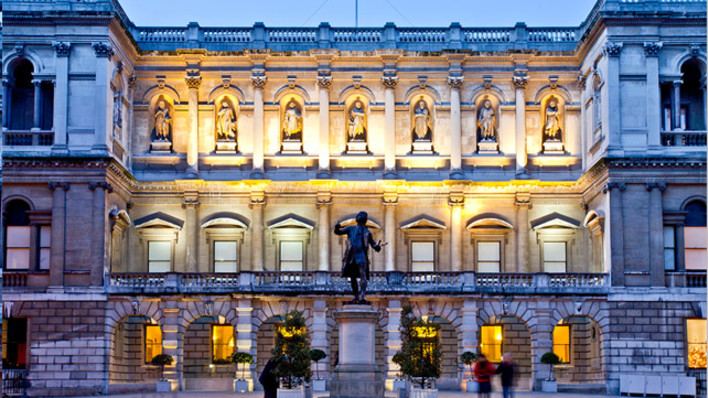 Late night openings
From exhibition-inspired food and drink to free talks inside the shows, there are plenty of reasons to visit the RA after dark. Unwind after a busy week and visit late any Friday, or on:
Saturday 15 April 10am – 10pm
Sunday 16 April 10am – 8pm
Browse the Revolution: Russian Art 1917–1932 range
'Revolution: Russian Art 1917–1932' exhibition catalogue
Published to coincide with the centenary of the 1917 October revolution, this volume explores the extraordinary flowering of the arts during the first 15 years of the Soviet state up until Stalin's brutal suppression of the avant-garde in 1932.
Black and yellow unisex Suprematist watch
This stylish watch has been inspired by the bold geometric work of the great Russian Suprematist Kazimir Malevich and has previously been featured in Shortlist magazine.
Rodchenko poster design canvas bag
Make a statement with this handy canvas tote bag, printed with Alexander Rodchenko's advertisement for Three Hills Beer. The striking design showcases the radical new design and typography associated with Russian Constructivism.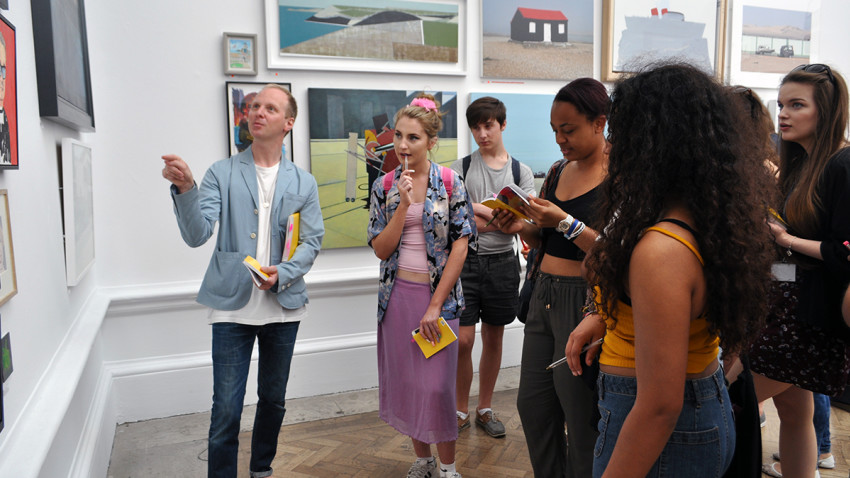 Tours
Get more out of the exhibition
Exhibition tours
45-minute introductory tours, free with an exhibition ticket, no booking required.
Wednesdays at 2.30pm, Fridays at 7pm (until 31 March)
Meet in the first gallery of the exhibition.
Resources
For teachers and students
Delve into the art of the Russian Revolution with the exhibition in focus guide, our in-depth introduction to the exhibition for secondary and further education students and teachers. Download our bespoke teacher guides for the exhibition, available for KS2/KS3 and KS4/KS5.
Large-print guide
We offer large-print guides to all of our exhibitions, available online or at the galleries for the duration of the show.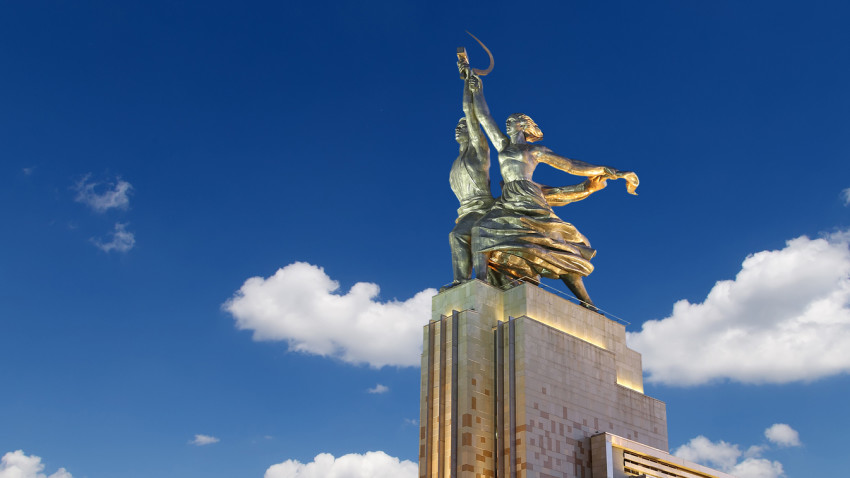 Travel competition
Win two places on a Cox & Kings luxury tour of St Petersburg and Moscow
To celebrate Revolution: Russian Art 1917-1932, we're giving you and a guest the chance to spend eight days and seven nights exploring Russia's two greatest cities with Cox & Kings.