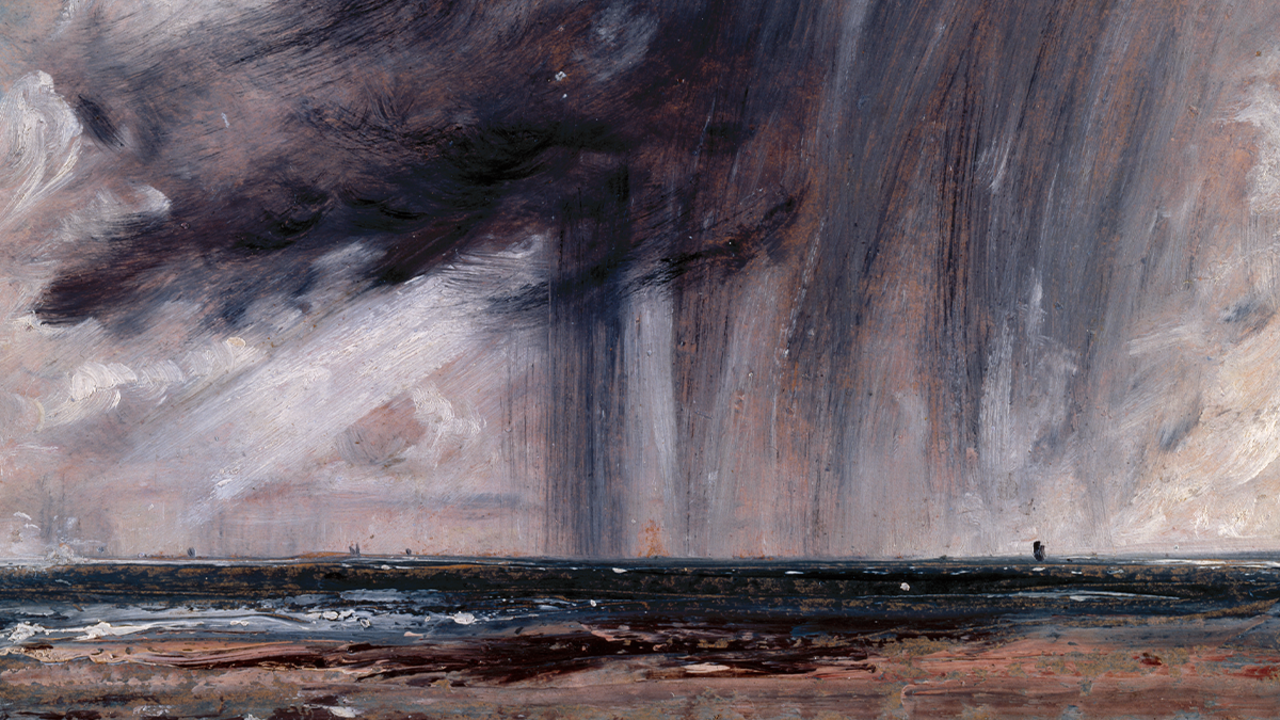 Exhibition
Late Constable
30 October 2021 - 13 February 2022
The Gabrielle Jungels-Winkler Galleries, Burlington Gardens, Royal Academy of Arts
Tickets £19–21. Concessions available. Everyone, including Friends of the RA members, must book a ticket before arriving.
Friends of the RA go free
One of Britain's best-loved artists had a radical side. In this exhibition, discover the free and expressive brushwork that came to define Constable's late career.
John Constable is one of Britain's best-known artists: a graduate of the RA Schools and a regular exhibitor at the Summer Exhibition, his ascent to fame is closely tied with the history of the RA. Yet, until now, the RA has never staged a major retrospective of his work.
This exhibition – which spans from 1825 until the artist's unexpected death in 1837 – explores Constable's late style through his paintings and oil sketches as well as watercolours, drawings and prints.
These 12 years are characterised by expressive brushwork, first developed in his plein air oil sketches from nature, as well as his full-size preparatory sketches. He also turned to watercolour with an enthusiasm missing since the early 1800s, and some of his late drawings show the same freedom of expression as his paintings from the same period.
Constable also explored the possibilities of printmaking, working on a series of mezzotints designed to promote his use of light and shade, which had become a powerful vehicle of expression in his later work.
This chapter in Constable's career had an important impact on the next generation of painters, heralding the beginning of important movements in the late 19th century.
This exhibition brings together majestic oil paintings and plein air sketches of the British countryside, from Hampstead Heath and Stonehenge to Brighton seafront, as well as studies of weather phenomena capturing ethereal cloud formations, dramatic storms, dappled sunlight and rainbows.
Our Friends preview days take place on Wednesday 27 and Thursday 28 October, 10am-6pm, and Friday 29 October, 10am-9pm.
• Please pre-book your ticket to this exhibition (this includes Friends of the RA).
• We kindly ask you to wear a face mask during your visit. Find out more about visiting safely.
• Download our large print guide.

Reviews
"This sublime show recasts John Constable as the godfather of the avant garde."

The Guardian

"It's hard to imagine a more invigorating display of bravura painting."

The Telegraph

"A triumphant showcase for the painter in his final years."

The Times

"It's time to look at Constable again"

The Evening Standard

"Beautifully calibrated and very moving show"

Financial Times
Inside Late Constable
Explore the exhibition with Curator Anne Lyles and find out how the works on show will challenge your preconceptions of one of Britain's most popular artists.
Image gallery
Rainstorm over the Sea, c. 1824-8

Cenotaph to the Memory of Sir Joshua Reynolds, Erected in the Grounds of Coleorton Hall, Leicestershire by the Late Sir George Beaumont, Bt, 1833–6

Cloud Study, 11 September 1821

Stonehenge, 1835

The Leaping Horse, 1825

A Cottage at East Bergholt, c. 1833

Hadleigh Castle, 1829

A Farmhouse near the Water's Edge ('On the Stour'), c. 1830–6