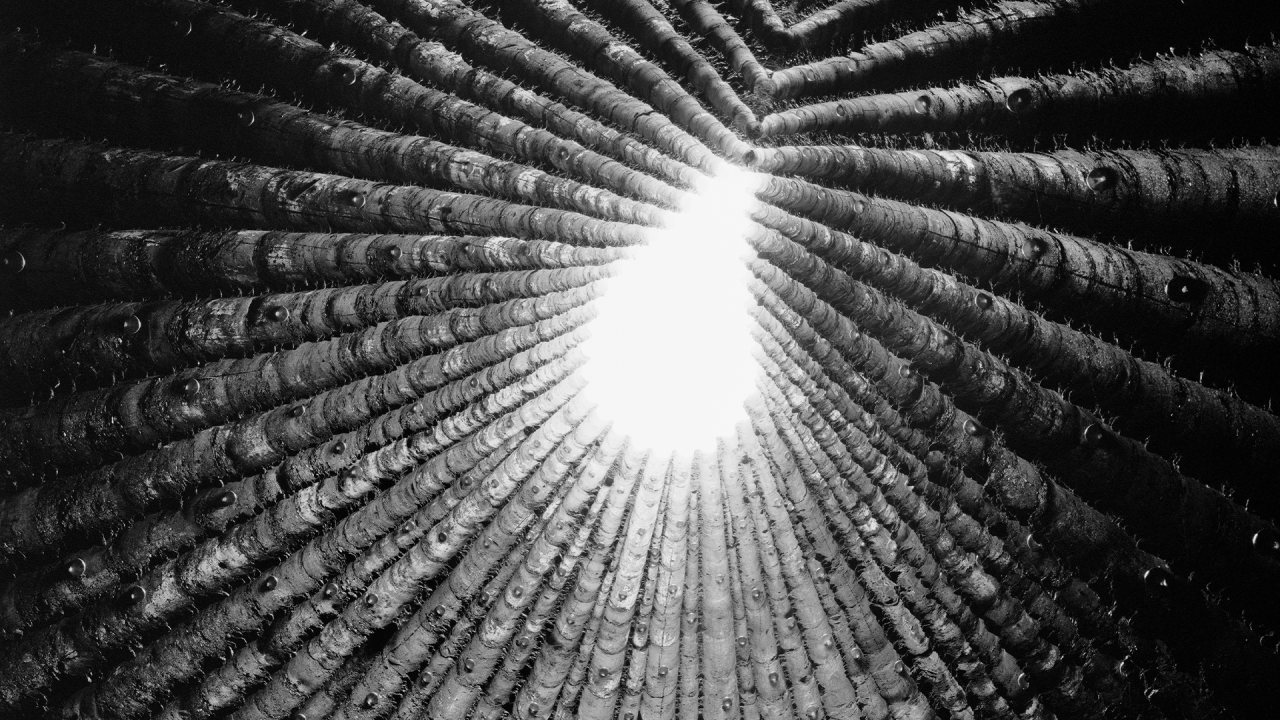 Exhibition
Light Lines: The Architectural Photographs of Hélène Binet
23 October 2021 - 23 January 2022
The Jillian and Arthur M. Sackler Wing of Galleries, Burlington House, Royal Academy of Arts
Tickets £17. Concessions available. Everyone, including Friends of the RA must book a ticket before arriving.
Friends of the RA go free
Rediscover the power and presence of architectural wonders by Le Corbusier, Zaha Hadid RA and others through Hélène Binet's photographic lens.
Please note:

– Visitors are required to wear a face covering inside the RA (unless exempt). Find out more about visiting safely.
– Download our large print guide.

Over the past 30 years, Hélène Binet has travelled the world to photograph historic and contemporary buildings, as well as projects in the making. Considered "the architect's photographer" by many, Binet has worked closely with Zaha Hadid RA, Daniel Libeskind Hon RA and Peter Zumthor Hon RA among others, who have turned to her to interpret their work.
In this intimate exhibition of around 90 photographs, spanning projects from across Binet's career, we foreground her ability to capture the essential elements of architecture. A number of the works are handprinted in black and white at her North London studio, using an analogue camera and film. Binet's powerful, thought-provoking images reveal the light, space and form that unites architecture, be it 1970s brutalism or an 18th-century City church.
A key highlight will be a section focused primarily on Binet's work with Zaha Hadid RA, with whom she built a close professional relationship and captured almost all of the late architect's projects. Other buildings featured include the Thermal Baths at Vals by Peter Zumthor Hon RA, Le Corbusier's La Tourette monastery in France and the Jantar Mantar Observatory in India. Binet's enquiring, contemplative approach to photography extends into her recent work, which includes a set of Five Churches in Cologne by Gottfried Böhm, commissioned to celebrate the architect's centenary, and an iconic yet rarely-seen private house, Can Lis, by Jørn Utzon.
Supporters
Supported by
Reviews
"She takes photographs of life that you can't see."

The Observer

"Visual poetry."

Wallpaper*
Light Lines Tour
Explore the exhibition with Hélène Binet, and find out how some of her most famous photographs were created.
#BinetLightLines
Image gallery
Atelier Peter Zumthor, Therme Vals, Graubünden, Switzerland, 2006

Le Corbusier, Canons de lumière, Couvent Sainte-Marie de la Tourette, Eveux, France, 2007

Zaha Hadid Architects, Vitra Firestation, Weil am Rhein, Germany, 1993

Zaha Hadid Architects, Riverside Museum, Glasgow, United Kingdom, 2010 , 2010

Le Corbusier, Couvent Sainte-Marie de la Tourette, Eveux, France, 2002

Sverre Fehn, Hedmark Museum, Hamar, Norway, 2009

Atelier Peter Zumthor, Bruder Klaus Field Chapel, Wachendorf, Germany, 2009

Gottfried Böhm, Church of St. Matthew, Düsseldorf, Germany, 2020