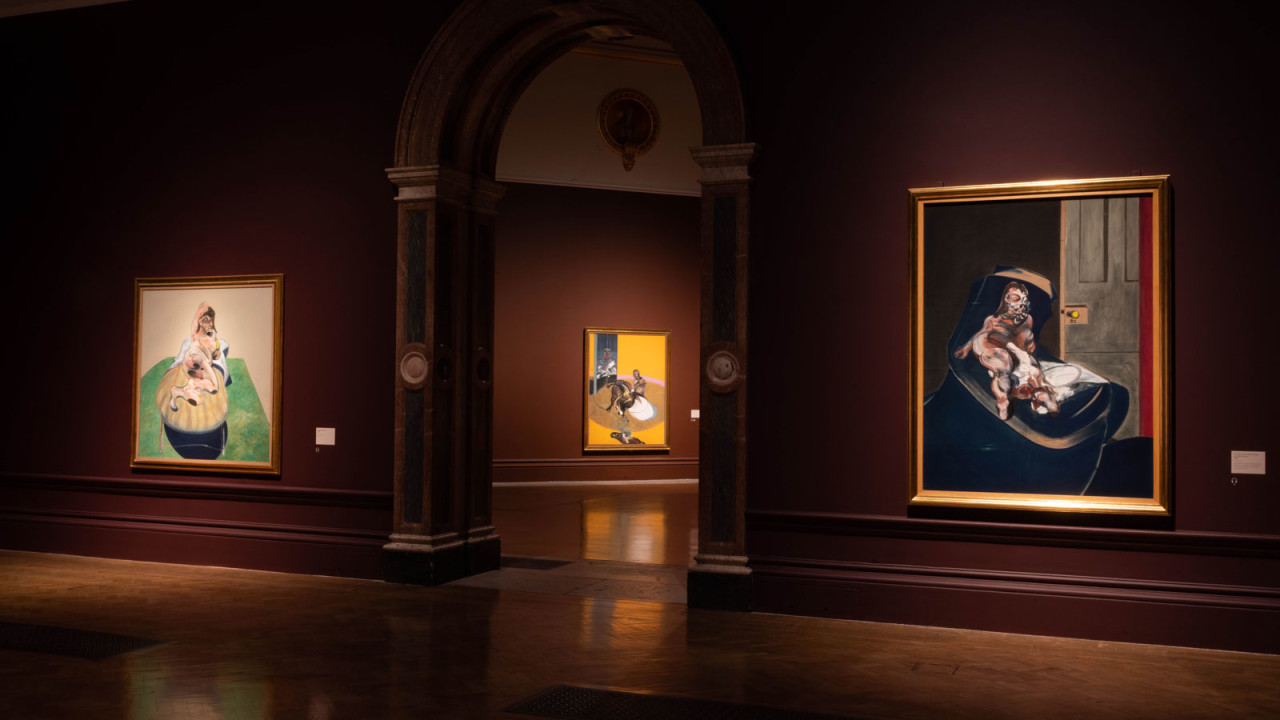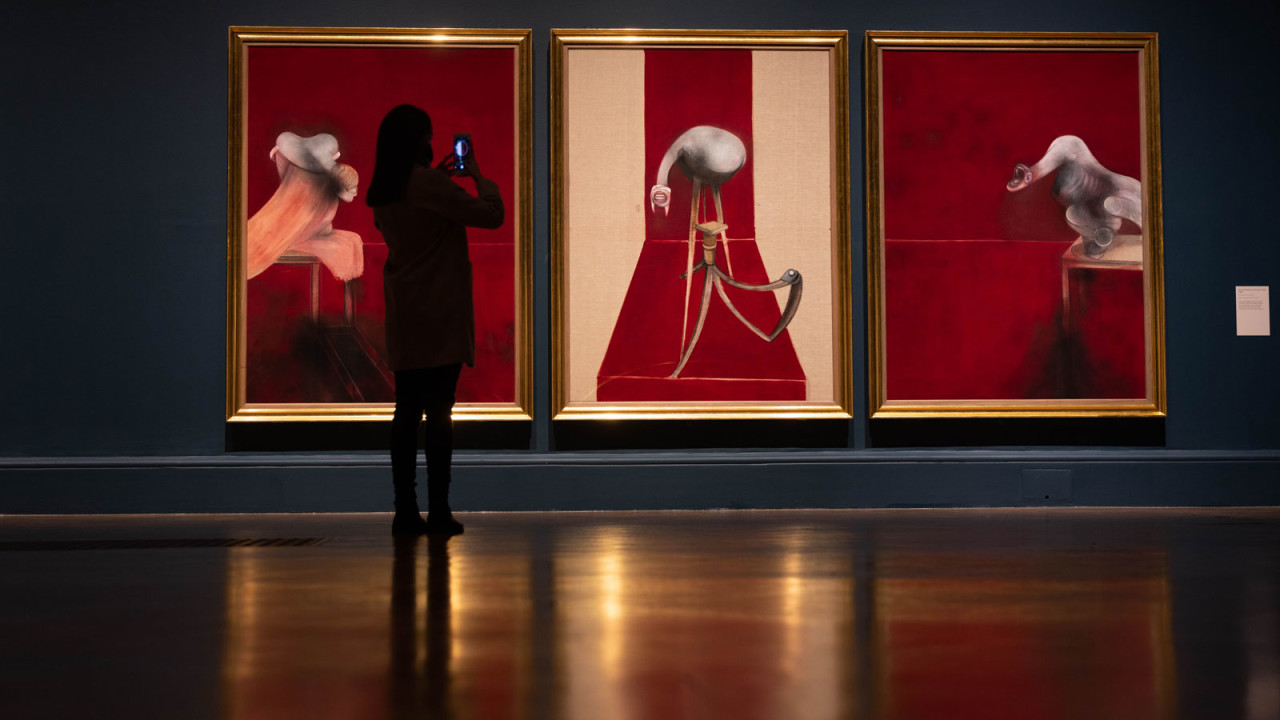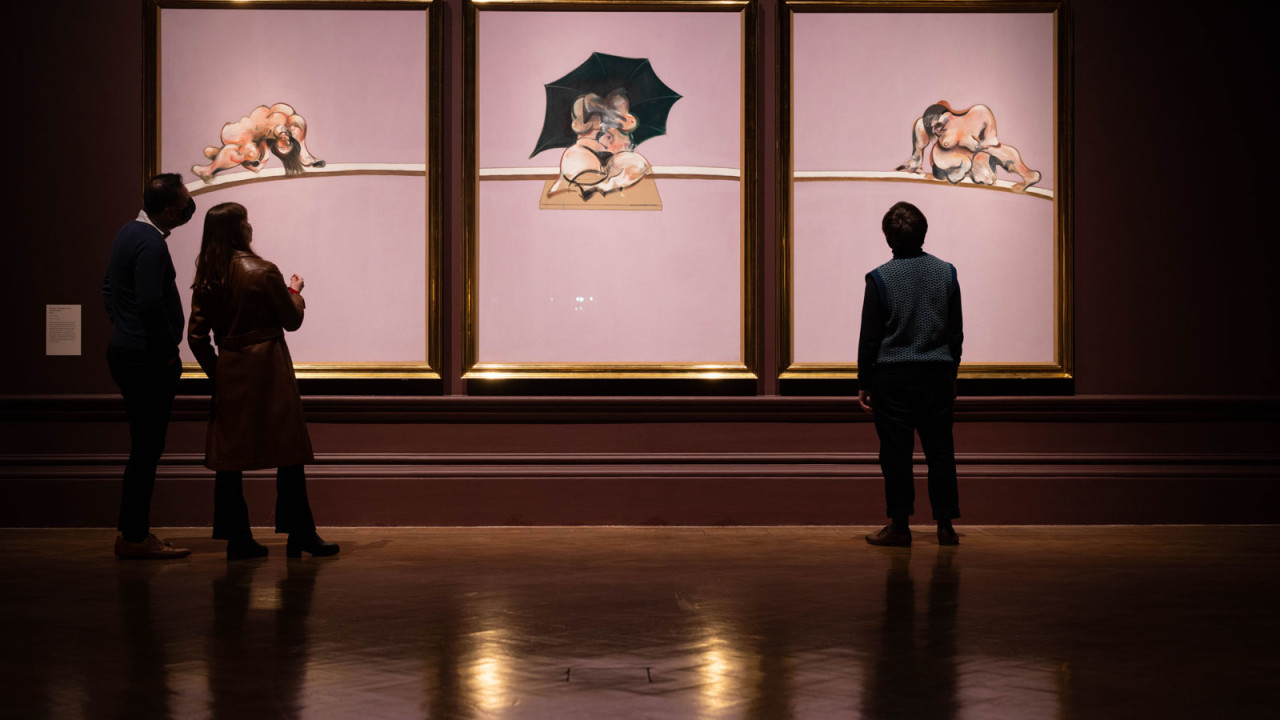 Exhibition
Francis Bacon: Man and Beast
29 January - 17 April 2022
Main Galleries, Burlington House, Royal Academy of Arts
Tickets £24.50 (£22 without donation). Concessions available. Everyone, including Friends of the RA members, must book a ticket before arriving.
Friends of the RA go free
Explore Francis Bacon's profound and moving paintings, where the line between human and animal is constantly blurred, reminding us that our primal instincts lie just below the surface.
Irish-born artist Francis Bacon was the horse-breeder's son who became one of the most important painters of the 20th century.
An openly gay man at a time when homosexuality was illegal, he was banished from his conservative family home by his father at 16. After that, he drifted through Berlin and Paris before establishing himself in London, with his formative years running parallel with some of the 20th century's most profoundly disturbing events.
This powerful exhibition will focus on Bacon's unerring fascination with animals: how it both shaped his approach to the human body and distorted it; how, caught at the most extreme moments of existence, his figures are barely recognisable as either human or beast.
It also explores how Bacon was mesmerised by animal movement, observing animals in the wild during trips to South Africa; filling his studio with wildlife books, and constantly referring to Eadweard Muybridge's 19th-century photographs of humans and animals in motion. Whether chimpanzees, bulls, dogs, or birds of prey, Bacon felt he could get closer to understanding the true nature of humankind by watching the uninhibited behaviour of animals.
Spanning Bacon's 50-year career, highlights include some of Bacon's earliest works and his last-ever painting, alongside a trio of bullfight paintings which will be exhibited together for the first time.
Seen together, these raw expressions of anxiety and instinct – both animal and human – feel poignantly relevant today.
• Please pre-book your ticket to this exhibition (this includes Friends of the RA).
• Friends of the RA can visit this exhibition for free between 6-9pm on the first Friday of the month (exclusive to Friends, last entry 8.20pm).
• Download our large print guide.

Please note this exhibition contains some adult content. If you have any questions please ask a member of staff.
Supporters
Supported by
Reviews
"Astonishingly potent"

Evening Standard

"Totally brilliant"

Time Out

"Profoundly moving"

The Times

"In an era when collective tempers are running high, this show feels like artistic licence to get madder still"

Financial Times

"Gripping"

The Sunday Times

"Often magnificent and properly disturbing"

The Guardian
Inside Francis Bacon: Man and Beast
Curator and friend of Francis Bacon, Michael Peppiatt, talks about the exhibition and how Bacon's vision of humanity was shaped by his interest in animals.
Gallery
Study for Bullfight No. 1, 1969

Portrait of George Dyer Crouching, 1966

Study of a Bull, 1991

Owls, 1956

Head VI, 1949

Figure Study II, 1945-46

Study for Chimpanzee, 1957

Second Version of Triptych 1944 , 1988