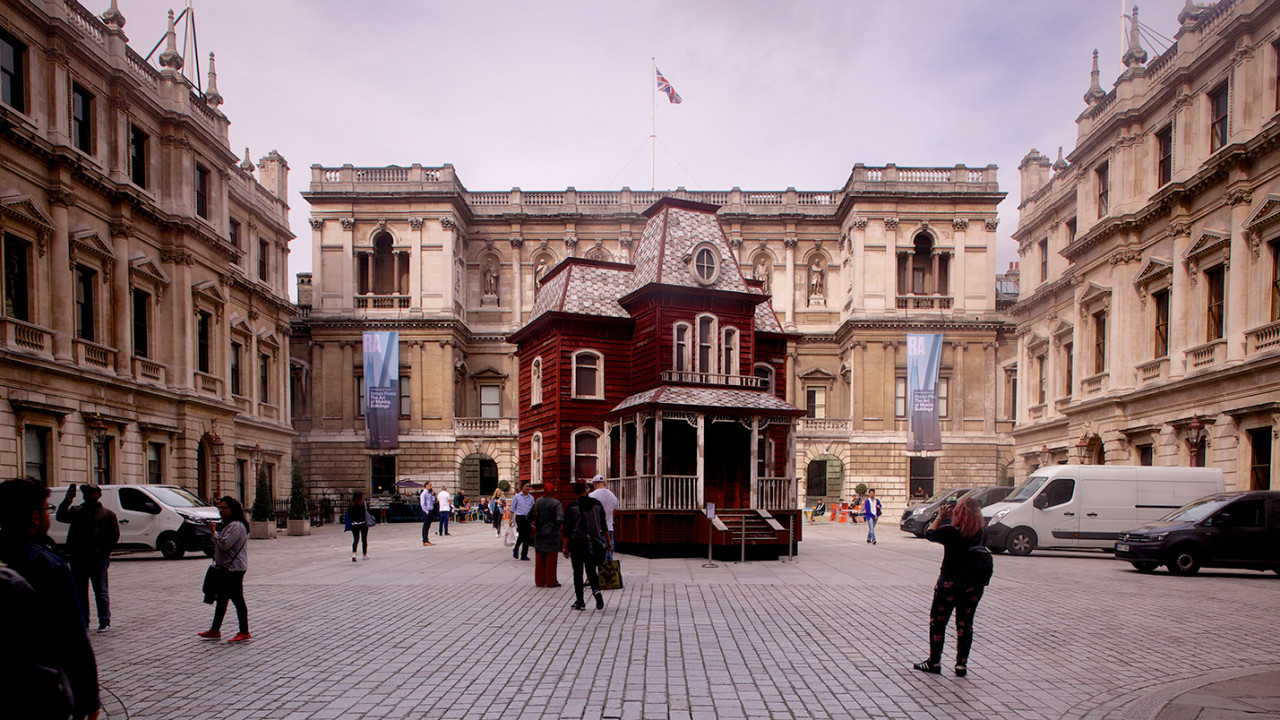 Display
Cornelia Parker RA: PsychoBarn
18 September 2018 - 14 March 2019
The Annenberg Courtyard, Burlington House, Royal Academy of Arts, Piccadilly
Daily 10am – 6pm
Friday 10am – 10pm

Cornelia Parker RA brings her PsychoBarn installation to London and the Neoclassical surrounds of our Annenberg Courtyard.
Cornelia Parker's Transitional Object (PsychoBarn) was first exhibited on the roof of the Metropolitan Museum of Art in 2016, against the dramatic backdrop of Central Park and the New York City skyline.
Standing at nearly 30 feet tall, the structure has multiple layers and complexities of reference. As with many of Parker's projects, the found object is a key element. The components of a dismantled traditional American red barn have been appropriated; the planks of the long sidings becoming the house's walls and its corrugated roof providing material for the roofing tiles. The design is based on the Bates family motel seen in Alfred Hitchcock's film Psycho (1960), which in turn was modelled on a painting by Edward Hopper, House by the Railroad (1925). This painting was also a reference point for Parker, who was drawn to its sparseness and sense of eerie isolation.
As with Hitchcock's stage set, Parker's house is not a real house but a scaled-down façade with the supporting structure deliberately visible behind, both characteristics adding to the illusionary effect. The combination of the red barn – with its connotations of rural wholesomeness – and the sinister psychological complexities of Hitchcock's house, presents a series of deliberate paradoxes. As Parker puts it, it confronts the "polarities of good and evil".
Transitional Object (PsychoBarn), 2016 was commissioned for the Iris and Gerald B. Cantor Roof Garden at The Metropolitan Museum of Art, New York.