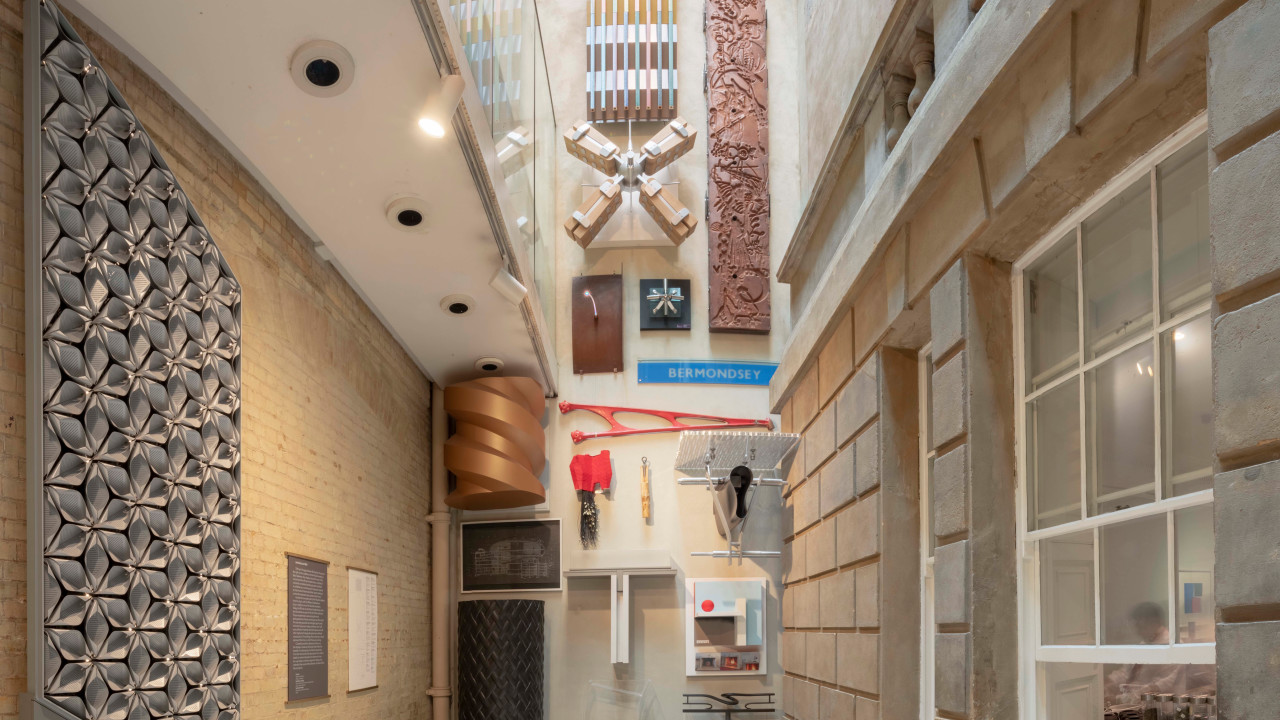 Display
Architecture Wall
1 January - 31 December 2023
Burlington House
Tues–Sun: 10am–6pm
Fri: 10am–9pm
Spencer de Grey RA curates a kaleidoscopic display of current architectural practice.
The Architecture Wall is an 11-metre-high display of works by architect Academicians, curated by Spencer de Grey RA, joint Head of Design at Foster + Partners.
Each architect is represented by a small detail from one of their buildings. From the structural to the decorative, from interior details to external façades, the elements show the way today's architects approach design, the materials they use and the attention to detail within their projects.
This display can be found in the four-metre-wide gap between the back of the original Burlington House and the Main Galleries, which were added in the 19th century. In 1991, Foster + Partners transformed this transitional space with balconies, staircases and a transparent lift to connect the new Sackler Wing of Galleries seamlessly with the RA's other spaces. It was then that it was first suggested that the space beyond the lift be used to display the Academy's collection of plaster casts, which can now be seen in the Dorfman Architecture Court.
"I thought that it was very important that we represent the living, current architectural Royal Academicians, so I had the idea of reinventing the plaster cast in a contemporary way", says de Grey.
"The intention was to show contemporary work and to make a connection between the past, the present and hopefully the future."
Buildings represented in the Architecture Wall
Prototype Façade Panel from the Smithsonian National Museum of African American History and Culture, Washington DC, USA (2016)

Light Dendrite from the Neuron Pod at Queen Mary University, London (2018)

The Holloway Happold Clamp from the Weald and Downland Living Museum, West Sussex (2002)

Cast arm of facade from Western Morning News, Plymouth (1993)

Formliner from the Learning Hub, Nanyang Technological University, Singapore (2015)

Node detail from Portcullis House, London (2000)

Facade fragment from the Brandhorst Museum, Munich (2006)

Tension detail from Hooke Park Refectory, Dorset (1987)

Platform sign from Bermondsey Station, London (1999)

Canopy node from the Berkeley Hotel Entrance, London (2016)

Display case detail from the Triforium Gallery at Winchester Cathedral (1992)

Presentation node assembly for the Orangery at Prague Castle (1992)

Big screw column from the Craft, Design and Technology Building at Bryanston School, Dorset (1986)

Steel casting from Stratford Station, London (1999)