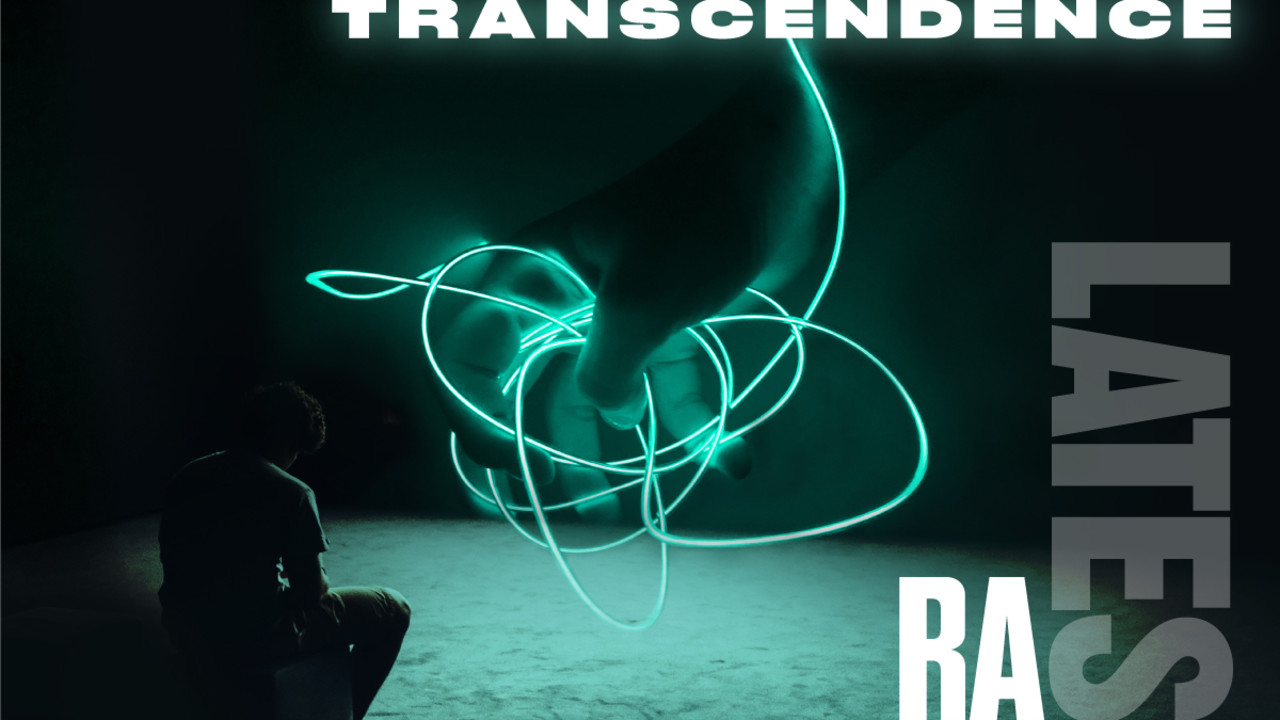 RA Late
RA Lates: Transcendence
Saturday 30 March 2019 7 - 11.45pm
Burlington House, Royal Academy of Arts, Piccadilly
Bill Viola / Michelangelo
Immerse yourself in an otherworldly night of art and performance at this RA Late.
Join us for a special RA Late inspired by the human themes captured in our exhibitions Bill Viola / Michelangelo: Life Death Rebirth and The Renaissance Nude – think (re)birth, gender, mortality, eroticism and the relationship between the body, mind and soul.
With an eclectic line-up of DJs, sensory activities, immersive parties and dance, this one-off event celebrates universal human experiences through sound art, drag performances, life drawing and much more.
Tickets include after-hours entry to the exhibitions Bill Viola / Michelangelo: Life, Death, Rebirth and The Renaissance Nude.
The RA is proud to be partnering with Time Out London.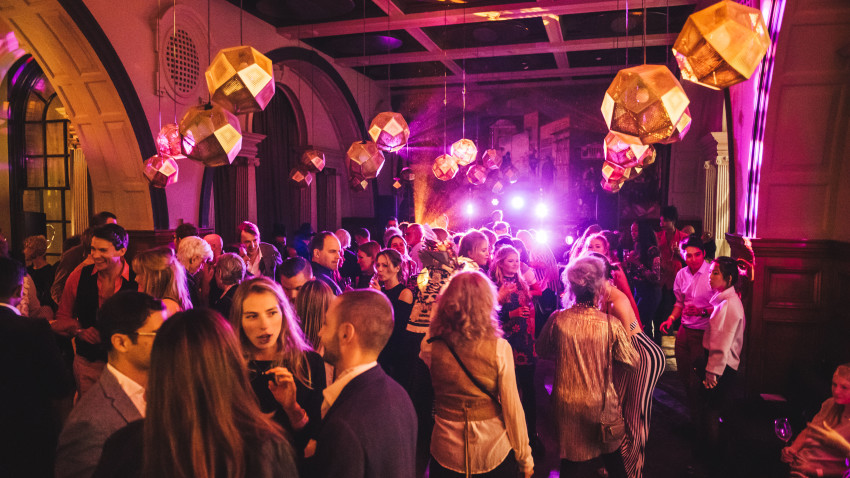 Existential Disco
Philosophical games and party, 7pm - 11.45pm
From Renaissance choir musical chairs, epic singalong power ballads, lip syncing performances, confessions and philosophical games and discussions, join the epic Existential Disco.
7 - 8.30pm | Philosophical games and Renaissance choir musical chairs
8.30 - 9.45pm | Power ballad lip syncing performances 9.45 - 11.45pm | 'Existential Disco' DJ set
Produced by artist Amy Toner, with performances by Harry Dibbs, Charlotte Hannah, Beth Edwards, Jonathan Mewett and Amy Robyn Lyster.
This experience takes place in the Sir Hugh Casson Room, on the Ground Floor of Burlington House, 7 - 11.45pm.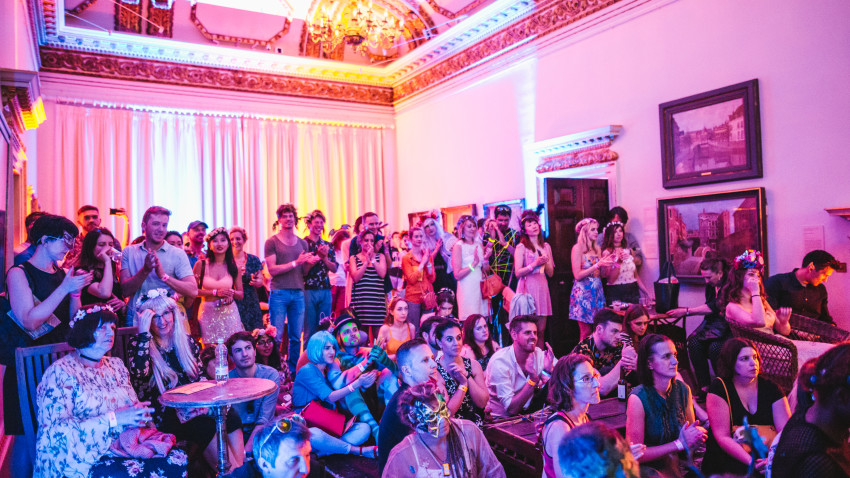 After Violence: love, life and death in Michelangelo
Multi-disciplinary drag and opera performances between 8pm - 11pm
In a new multi-disciplinary performance, _REMIX presents After Violence – a combination of baroque music, synths, drag and lute performances, that explore queer love, life and death in the work of Michelangelo.
Using baroque composer John Dowland's songs as a starting point and drawing inspiration from Michelangelo's love sonnets to the beautiful youth Tommaso dei Cavalieri, an Italian nobleman and the object of Michelangelo's affection, After Violence will be performed against the backdrop of the RA's extraordinary Renaissance paintings. Combining theatre, drag and song, After Violence will be performed by vocalist Ella Taylor, drag queen Rhys's Pieces, musician Benjamin Tassi and lute player Sam Brown.
Performed in three parts over the course of the evening, 8.30pm, 9.30pm and 10.30pm in the Royal Academy's Collections Gallery.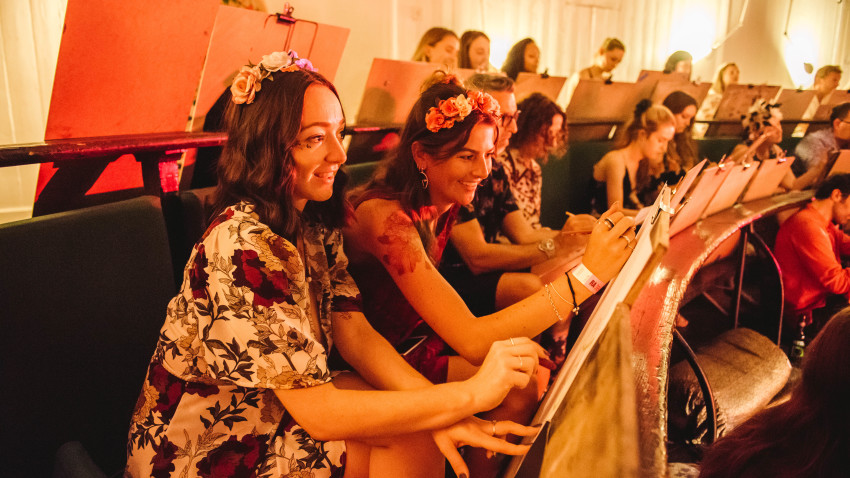 Modern Madonna: Sketch Mother and Child
Life Drawing Experience, 7pm - 8pm
Sketch an intimate scene of modern maternity, observing from life our mother and child model duo. On the eve of Mothering Sunday and inspired by Michelangelo and Bill Viola's visions of motherhood, Art Macabre present a contemporary vision of the classical Madonna and Child tableau vivant. This scene will likely not be silent or completely still, as you are challenged to capture in your sketches the reality of nursing and draw upon the dynamic relationship between a mother and her infant.
This activity takes place in the RA Schools Cast Corridor between 7pm - 8pm.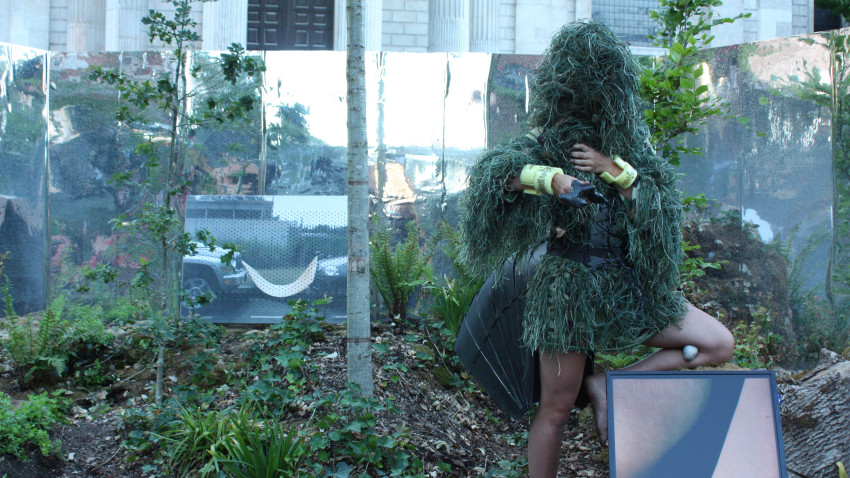 My Night of Unlimited Favour
Performance art party, 8pm - 11pm
In 2016, artist Gaia Fugazza co-curated a warehouse party with performance artists Amelia Prazak and Milda Lembertaite, and record label Polykicks, in an old South London evangelical church. My Night of Unlimited Favour – that infamous party will be resurrected for one night at the RA in this special, one-off fusion of music and performance art.
My Night of Unlimited Favour at the RA will feature a new work by Gaia Fugazza, with music by Nik Void, exploring hallucinations experienced by ultramarathon runners, choreographed and performed by Julie Cunningham and Hannah Burfield. Plus performance art by Amelia Prazak and Milda Lembertaitė; soundscapes and a DJ set from Chooc Ly Tan whose recordings include microbiology and deep space; sound art and experiments in audio frequencies by Haroon Mirza that are designed to induce feelings of 'transcendence'.
This experience takes place in the Royal Academy's Clore Learning Centre in Burlington Gardens, 8pm - 11pm.
Space, time and us
Ideas and discussions, 8pm - 11pm
Join our series of interactive pop-up talks and lively discussions.
Madeleine Botet de Lacaze
Artist and astrologer Madeleine Botet de Lacaze, founder of 'Astrology for Artists', hosts a series of performative workshops and discussions on the importance of astrology for leading a creative life. Astrology describes the very energies that activate us, exploring the meaningful connection between the movements of the planets and the inner world of human consciousness and motivation.
8pm | The Story of the Zodiac
An introduction to astrology, and how it can help you to lead a more spiritual life, with discussions on the different energetic qualities of each sign.
9pm | The Planets Today
Discussions on what is happening in the sky right now, and how we can use these celestial insights in our own lives. Madeleine will explain the current transits of transpersonal planets and how they relate to themes in Bill VIola's work.
10pm | A Journey through the Elements
Madeline describes 'soul growth and inner spiritual development as a political act in these fragile and unpredictable times we are living in'. Here, she will discuss the elements from an astrological perspective, and will share ideas on how astrology can be a tool to lead a more creative life.
Michael Townsend Williams
Our breath connects our mind and our body, as it is the only bodily system that works both consciously and unconsciously. Tonight writer and mindfulness coach Michael Townsend Williams will discuss the benefits of biofeedback breathing techniques to bring you calm and focus.
Talks at 8.30, 9.30 and 10.30pm
All talks take place in the RA Cafe.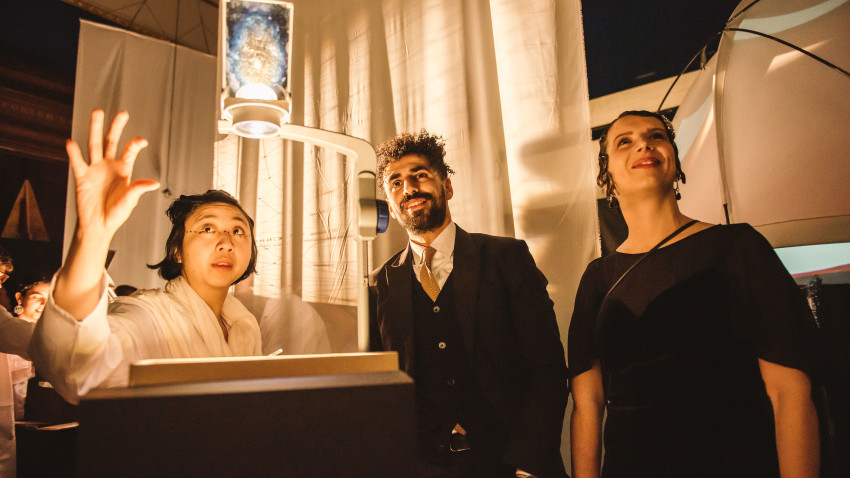 Olfactory Idols
Scented installation, 7pm - 11pm
Taking inspiration from the classical elements of fire, water, earth and wind, AVM Curiosities presents a scented installation which unites the iconography of two great artists. Olfactory Idols is an sensory homage to both Bill Viola and Michelangelo, creating an aromatic experience of masculine beauty, intimacy and memory.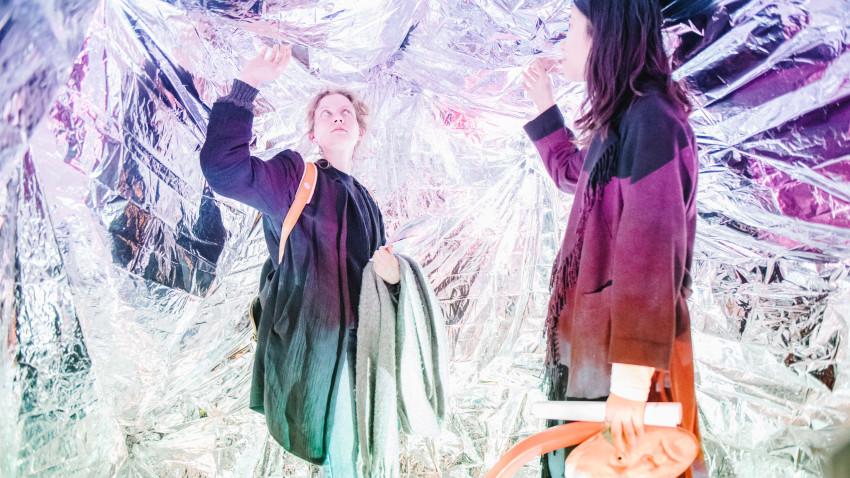 Ascension: the time of your life
Sensory performance from 7pm - 11pm
'Crawl, jump, run, nuptuals, grievance, the end?'
Experience an immersive performance that takes you on a multi-room journey through the circle of life, starting with 'birth' as you crawl through an oversized womb installation built by installation artists Abby and Alice
Then traverse the thresholds of life and death and ascension, produced by performance artists Wilson & Hart.
This performance takes place in the RA's Fine Rooms.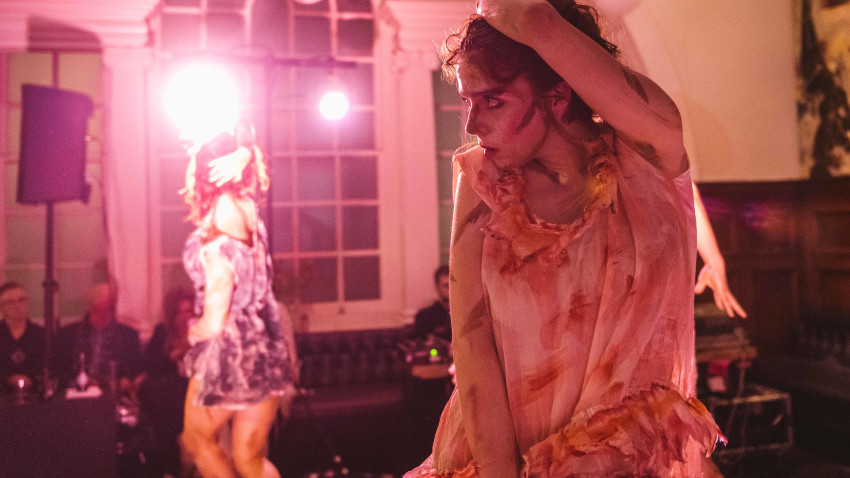 Become a Renaissance life model
Life modelling workshop, 8pm - 10pm
Professional life models Francesca Cluney and Figuration's Roy Joseph Butler demonstrate and teach Classical life drawing poses for you to try yourself at this special activity curated by Art Macabre. Think an aerobics class, but for life modelling. From breathing and sketching techniques, learn how to convey emotion, drama and character through the body. Create your own repertoire of poses and model for a group of sketching artist, drawing inspiration from nudes from the likes of Michelangelo and Titian. Pose in your costumes, or with a selection of props and draped fabric.
This workshop activity takes place in the RA's Benjamin West Lecture Theatre from 8pm - 10pm.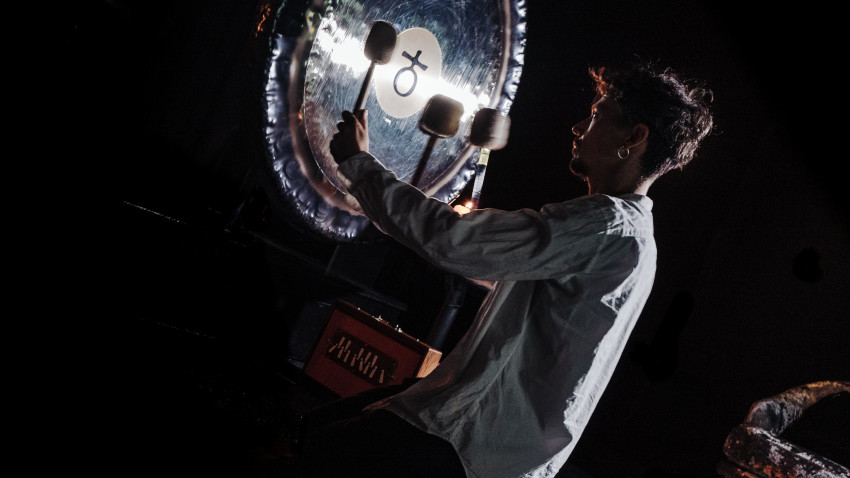 Planetary gongs, crystals, analogue synth drone performance
Salvaticus Selvatico performs – 'Earth >< Sun'
In this immersive sound journey at the RA, Simone Salvatici, aka Salvaticus, will observe the hidden connections of contrasting elements, such as movement and stillness, acoustic and processed sounds. This weaves a fragile balance between two polarities continuously evolving, leading audiences into a contemplative and meditative state. For over a decade, Simone Salvatici has explored resonance and interaction between holistic, intuitive and sacred instruments, such as gongs, crystals and Himalayan bowls, in combination with synthesisers, processed sound and controlled feedback.
This performance will take place in the RA's Benjamin West Lecture Theatre from 10.15pm - 10.45pm.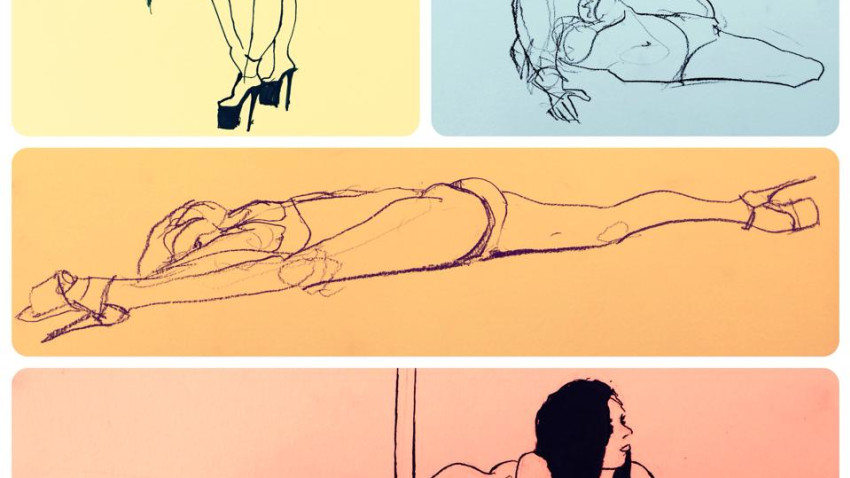 Performing eroticism
Life drawing workshops between 8pm - 11pm
The women of East London Strippers Collective aim to change societal attitudes towards strip-club dancers by challenging stereotypes. They produce their own life drawing workshops to update the relationship between artist and muse.
The idealised beauty and eroticism of Renaissance nudes is juxtaposed with a radical contemporary performance style that rejects stigma and shame, celebrating the raw sensuality of their chosen profession. Capture the powerful physicality and expressive forms of the ELSC models at this unique life drawing event, produced in collaboration with Art Macabre.
This life drawing class takes place in the RA's Life Drawing Room in the Royal Academy Schools.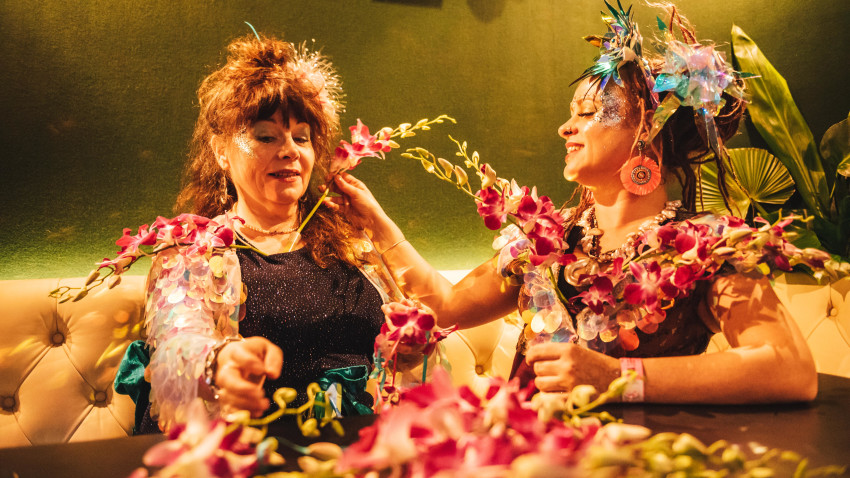 Dress code: the four elements
Fire, water, earth and air
Be inspired by the natural world and the shapes and textures of the elemental forces. Be bold with your looks and think about bright colours, shapes and textures for drama.
Go with a shimmery blue, sea-creature-inspired look for water, translucent materials for air, bright colours and warm tones for fire. Or take inspiration from flowers, foliage and the landscape if you want to evoke the abundance of earth.
Check out our Pinterest board for inspiration.
Booking information
£35: general tickets
Includes:
– Access to all RA Lates curated entertainment, experiences, performances and activities.
– After-hours viewing of RA exhibitions including Bill Viola / Michelangelo: Life, Death, Rebirth and The Renaissance Nude.
– Sound Bath Meditation with Leo Cosendai (Third Ear). Sound meditation teacher, founder of Third Ear and writer, Leo Cosendai will guide VIPs on a sonic meditation.
Sold out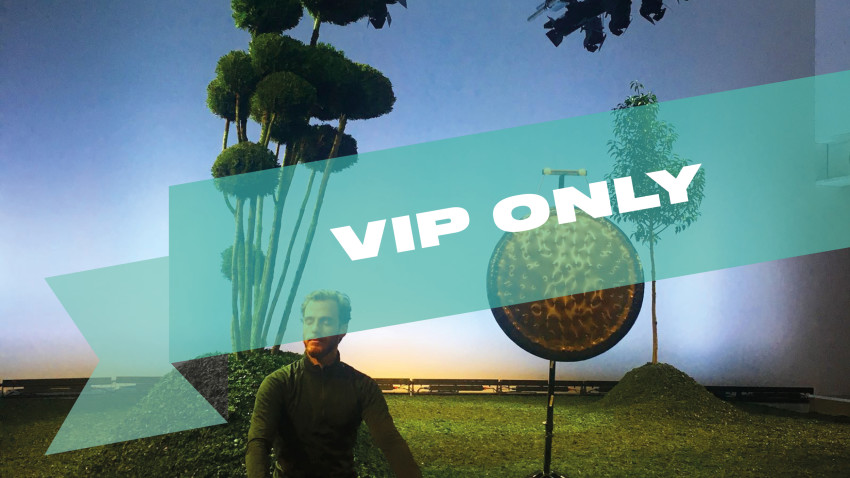 Sound Bath Meditation with Leo Cosendai
Exclusive VIP experience
Leo Cosendai, sound meditation guru, will introduce you to a practice of meditation that is effortless and accessible to everyone. By using sound to help bring your brain and nervous system into altered states of awareness and achieve long term mindfulness.
These half-hour meditative gong baths will take place at 8pm, 9pm and 10pm, for VIP ticket holders only.