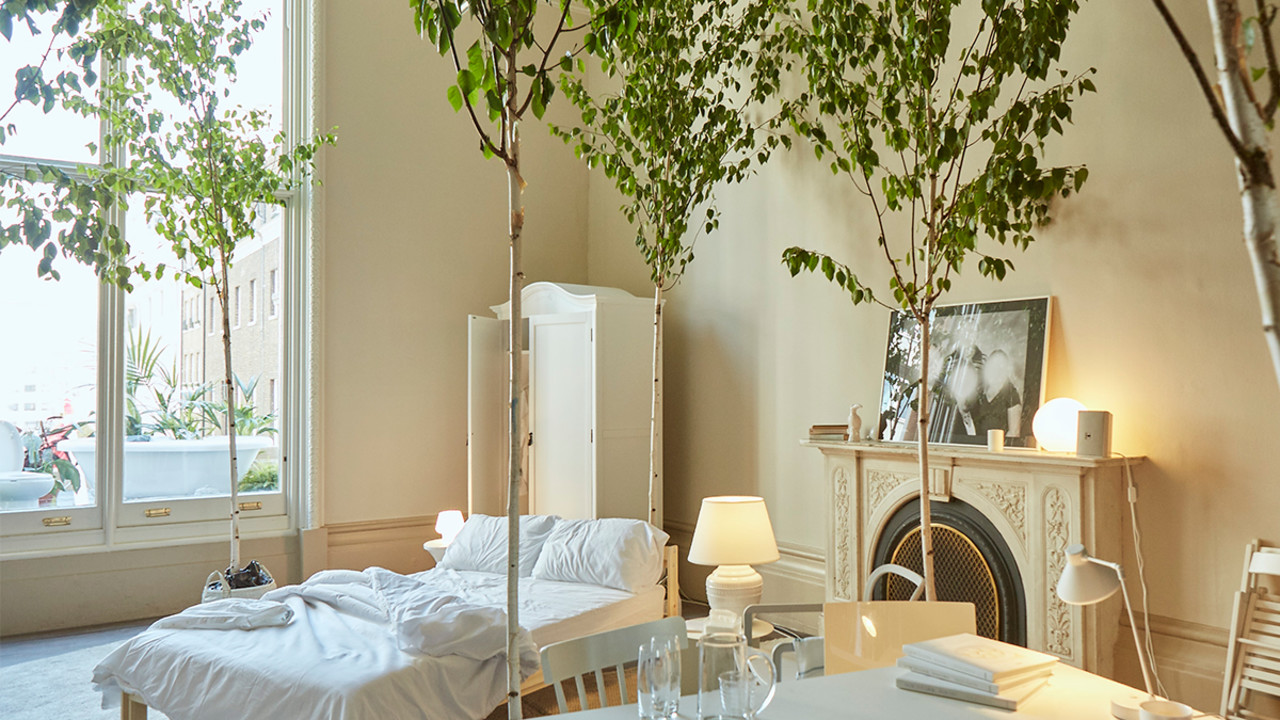 Talk
Open house 2018: pillow talk conversations
Saturday 22 September 2018 3 - 5.30pm
The Architecture Studio, The Dorfman Senate Rooms, Burlington Gardens, Royal Academy of Arts
Free, no booking required.
Invisible Landscapes
Is Alexa redefining gender politics in the home? How is Airbnb transforming the domestic space? What is the meaning of privacy in the Instagram age?
Join us for a series of free in-bed conversations exploring issues around contemporary domesticity and how technology is altering it. A series of intimate interviews led by the RA's Architecture Programme Curator, Gonzalo Herrero Delicado, with architects and artists whose work explores ideas around domesticity, gender and new technologies.
Taking place in the apartment designed by Barcelona-based studio MAIO in response to Invisible Landscapes, the opening series of installations in the new Architecture Studio exploring how digital technologies are transforming our lives and surrounding environments.
Talks run every 30 minutes from 3pm - 5.30pm, free, drop in, no booking required.
Part of the RA's free Open House programme
Timetable:
3pm - 3.20pm: Ana Cuba
Ana is a photographer based in London. Her work has been widely published in some of the most renowned international magazines including The New York Times, Monocle, Wallpaper and Vanity Fair. Recently, she was commissioned by the RA as part of Invisible Landscapes to produce a limited print.
3.30pm - 3.50pm: Ananda Pellerin
Ananda is a London-based writer and Senior Editor at Nowness. Her writing has been widely published in CNN, Dazed, AnOther and The Gourmand, amongst many others. Nowness is currently working with the RA on the commission of a new film in response to Invisible Landscapes.
4pm - 4.20pm: Mariana Pestana
Mariana is an architect and curator. She is co-director of The Decorators, a collective that designs experiences and spatial interventions to test alternative futures for specific places and people. Mariana recently curated the exhibition The Future Starts Here at the V&A, and Eco Visionaries at MAAT in Lisbon.
4.30pm - 4.50pm: Rosana Galián
Rosana is an architect, performer, co-founder of Fru*Fru and director of Garra Studio. Her projects explore issues around domesticity, new media and gender politics, and have been exhibited in organisations such as the V&A and Matadero in Madrid.
5pm - 5.20pm: Dr Sam Miles
Sam is a Research Fellow at London School of Hygiene and Tropical Medicine, where he currently works on young people's sexual and contraceptive behaviour. His PhD explored dating apps including Grindr, Hornet and Tinder and their impact on queer urban spaces, both public and private.