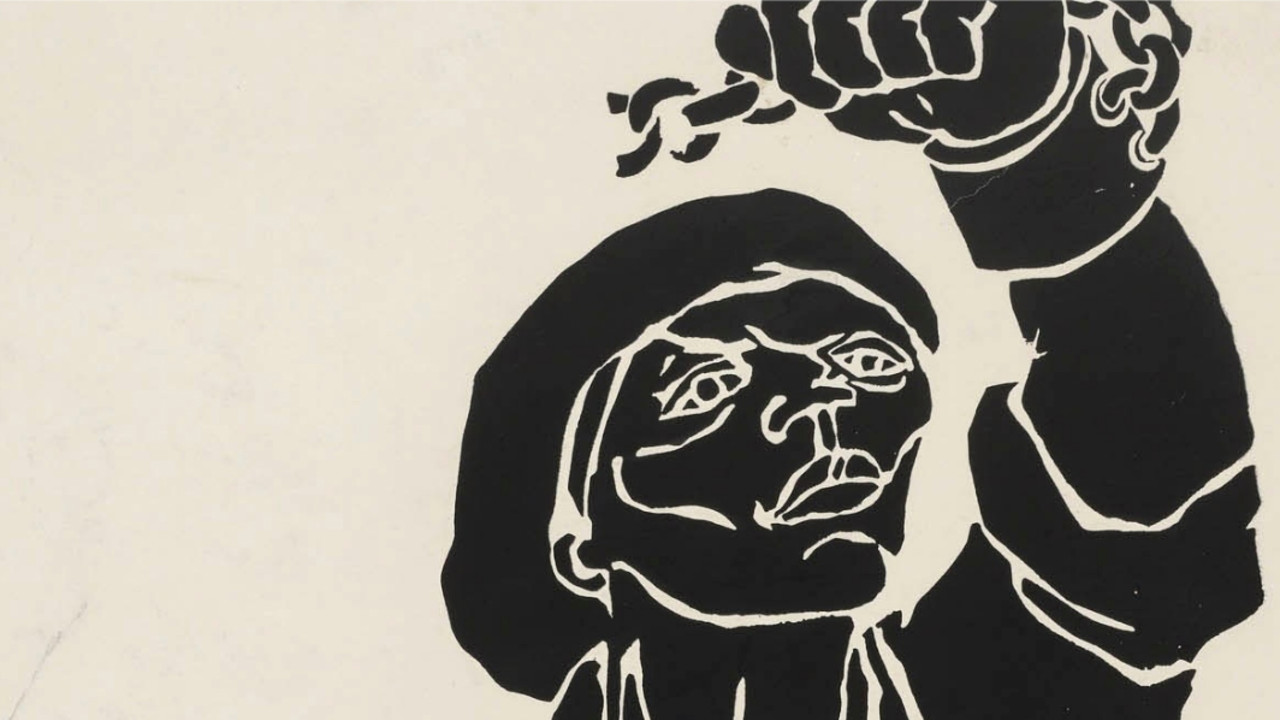 Short course
Protest: art and power
13 February 2024 6.30 - 7.45pm
20 February 2024 6.30 - 7.45pm
27 February 2024 6.30 - 7.45pm
5 March 2024 6.30 - 7.45pm
12 March 2024 6.30 - 7.45pm
19 March 2024 6.30 - 7.45pm
Wolfson British Academy Room | Burlington Gardens
£340. Includes light refreshments and wine receptions throughout the course.
Friends of the RA book first
Entangled Pasts, 1768–now
Join us for this 6-week lecture series as we explore the role of art in some of the world's major protest movements.
In 2020, as the Black Lives Matter movement took hold, a statue was removed from its plinth and toppled into the waters of Bristol Harbour. This act gave birth to a creative movement, generating new ways of thinking about memorialisation and Britain's colonial past and playing into a long tradition of art taking a central role in grassroots activism.
In this course, we will examine the myriad ways art can harness the power for social change. From the French Revolution and the role of art in revolutionary society to the Guerrilla Girls' campaign for gender equality, to the work of contemporary artists such as Olafur Eliasson on the climate crisis, we will discuss the beginnings of activist movements that have shaped our society, and consider the place of art within these.
Exploring prescient issues such as the fight for racial equity, feminism and climate change, this lecture series examines art as both a constructive and destructive medium. Talks are given by academics, curators and art-world professionals, with the opportunity for questions and discussion.
Minimum age 18. If you have any accessibility needs, please contact public.programmes@royalacademy.org.uk.
About the course
Week 1: Art and revolution
An introduction to the history of the long relationship between art and conflict, from revolutions such as the French Revolution and the Haitian Revolution, to the present day.
Week 2: Art and abolition
This week will look at the abolitionist movement with a critical lens, focusing on its popularisation through iconography.
Week 3: Art and feminism
A session that will explore the history of the women's movement and feminism through artistic practice and activism.
Week 4: Art and resistance: The Arab Spring
This talk will explore the role of art in the uprisings that took place in many Arab countries from December 2010 onwards.
Week 5: Art and the institution: Monuments and museums
We will consider the Black Lives Matter movement and the toppling of the Colston statue to discuss where power sits in the context of memorials, monuments and public sculptures.
Week 6: Art and climate
This talk will look at the relationship between art and the environment, through the Land Art movement of the 20th century, to artists like Olafur Eliasson who engage with these debates today.