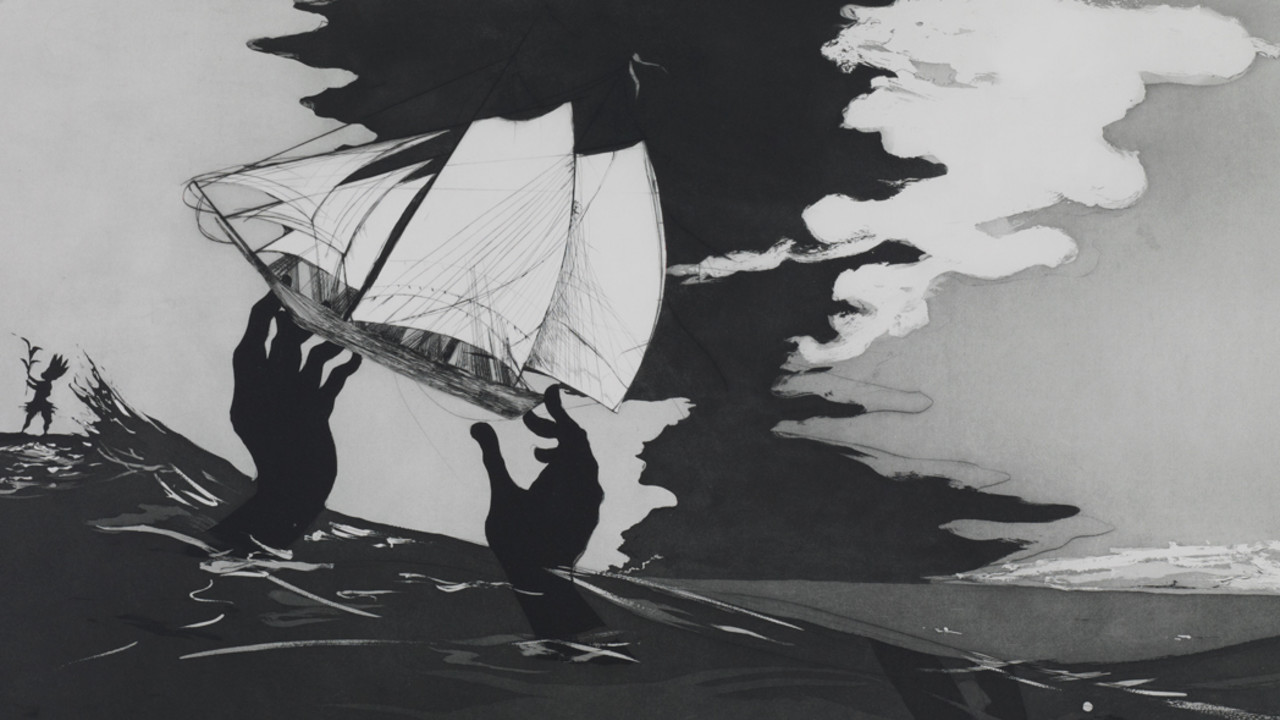 Exhibition
Entangled Pasts, 1768–now
Art, Colonialism and Change
3 February - 28 April 2024
Main Galleries | Burlington House
Tues–Sun: 10am–6pm
Fri: 10am–9pm
Tickets £22
(including donation)
Friends of the RA go free
J.M.W. Turner and Ellen Gallagher. Joshua Reynolds and Yinka Shonibare. John Singleton Copley and Hew Locke. Past and present collide in one powerful exhibition.
Next spring, we bring together over 100 major contemporary and historic works as part of a conversation about art and its role in shaping narratives of empire, enslavement, resistance, abolition and colonialism – and how it may help set a course for the future.
Artworks by leading contemporary artists including Sonia Boyce, Frank Bowling, John Akomfrah and Isaac Julien will be on display alongside works by artists from the past 250 years including Joshua Reynolds, J.M.W.Turner and John Singleton Copley – creating connections across time which explore questions of power, representation and history.
In the setting of our Main Galleries, experience large-scale works including the life-size painted cut-out figures of Lubaina Himid's installation Naming the Money, and Hew Locke's Armada, a flotilla of 'votive boats' recalling different periods and places. Plus, powerful paintings, photographs, sculptures, drawings and prints by El Anatsui, Kerry James Marshall, Kara Walker, Shahzia Sikander, Mohini Chandra and Betye Saar.
Informed by our ongoing research of the RA and its colonial past, this exhibition engages around 50 artists connected to the RA to explore themes of migration, exchange, artistic traditions, identity and belonging.
This exhibition will contain themes of slavery and racism, and historical racial language and imagery. Please contact us for more information.
Our Friends preview days take place 31 January, 10am–6pm, 1 February, 10am–6pm, and 2 February, 10am–9pm.
#EntangledPasts
Supporters
Supported by

With additional support from

Matthew and Brooke Barzun

The David Ellis Marlow Trust
Image gallery
Portrait of a Man, probably Francis Barber, c. 1770

Watson and the Shark, 1778

Whale Falls, 2017

Bust of a Man, 1758
Watch Lubaina Himid RA introduce the exhibition
Lubaina Himid RA, one of the contemporary artists featured in the exhibition, discusses how visiting 'Entangled Pasts, 1768–now' will feel.
Related events
Short course

13 February - 19 March 2024

Short course

17 February - 18 February 2024

Talk