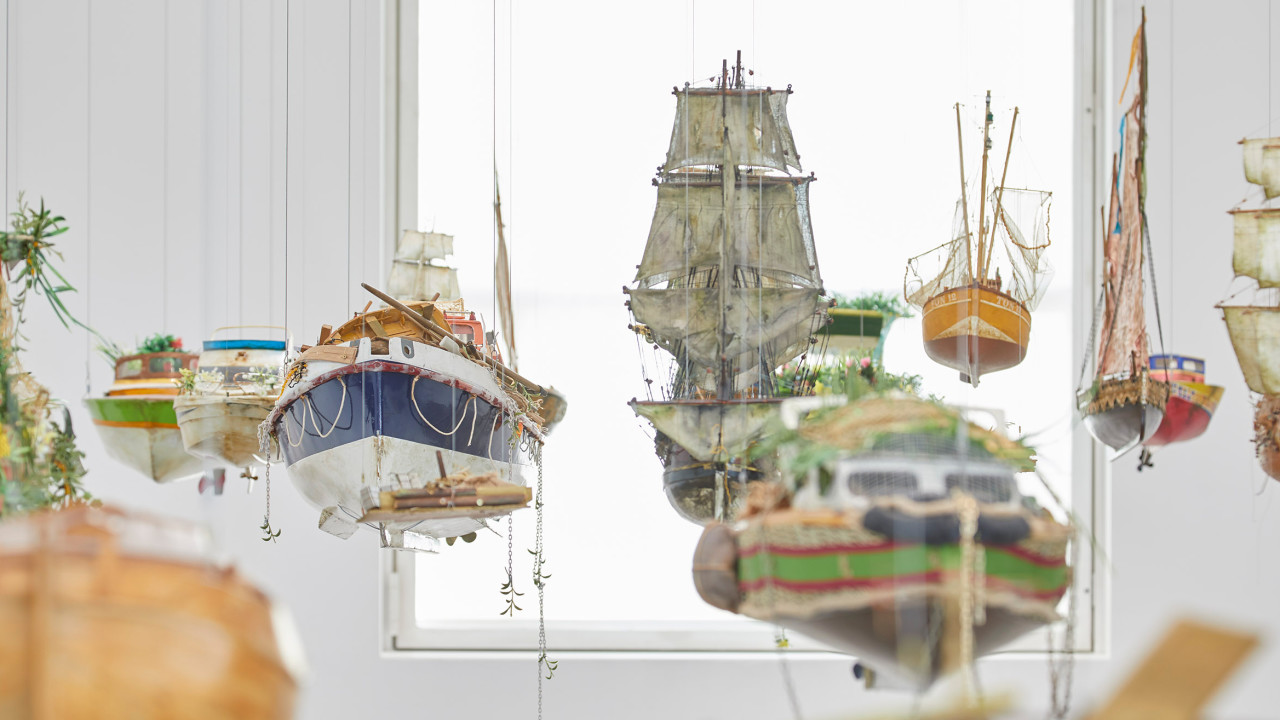 Talk
How does art reframe history?
Panel discussion
Thursday 22 February 2024 6.30 - 7.45pm
The Benjamin West Lecture Theatre | Burlington Gardens or digital livestream
Entangled Pasts, 1768–now
Supported by Bloomberg Philanthropies' Digital Accelerator Programme

Join our panel of artists and art historians to discuss the role art has played in shaping narratives of empire and resistance – and how it can help us set a course for the future.
Our exhibition Entangled Pasts, 1768 – now: Art, Colonialism and Change explores the relationship between art and our understanding of the past. It stages conversations between over 100 major contemporary and historic works to explore questions of power, representation and history.
At a time of urgent public debate about the legacies of traumatic histories, this panel discussion will invite us to question who it is that creates our view of history – and how we might make room for new voices and perspectives. Our speakers will look for new ways of understanding historical artworks and consider how alternative interpretations of these works might help reframe historical narratives.
Professor Cora Gilroy-Ware teaches History of Art at the University of Oxford. She is one of the curators of the exhibition Entangled Pasts, 1768 – now: Art, Colonialism and Change and her first book, The Classical Body in Romantic Britain, was published in 2020 by the Paul Mellon Centre for Studies in British Art. Alongside her academic work, she is an artist and musician who performs and creates visuals under the name Fauness.
Hew Locke RA spent his formative years in Guyana before returning to the UK to study art, later completing an MA in Sculpture at the Royal College of Art. His work explores the languages of colonial and post-colonial power, and how cultures fashion identities through visual symbols of authority. In 2022, Hew was awarded Tate Britain's Duveen Hall commission (culminating in his work The Procession) and The Metropolitan Museum of Art Facade Commission, as well as becoming a Royal Academician. His work is held in numerous collections, including the Government Art Collection, the V&A and the British Museum, and in 2023 he received an OBE.
Chair: Hammad Nasar is a curator, writer and strategic advisor. Presently, he is Senior Research Fellow at the Paul Mellon Centre, London where he co-leads the 'London, Asia' project. Recent exhibitions he has curated/co-curated include: Making New Worlds: Li Yuan-chia & Friends (2023-24); Beyond the Page: South Asian Miniature Painting and Britain, 1600 to Now (2023-24); Divided Selves: Legacies, Memories, Belonging (2023) and British Art Show 9 (2021-22). He was awarded an MBE for services to the arts in 2023.
The event will be accompanied by speech-to-text transcription courtesy of Stagetext.