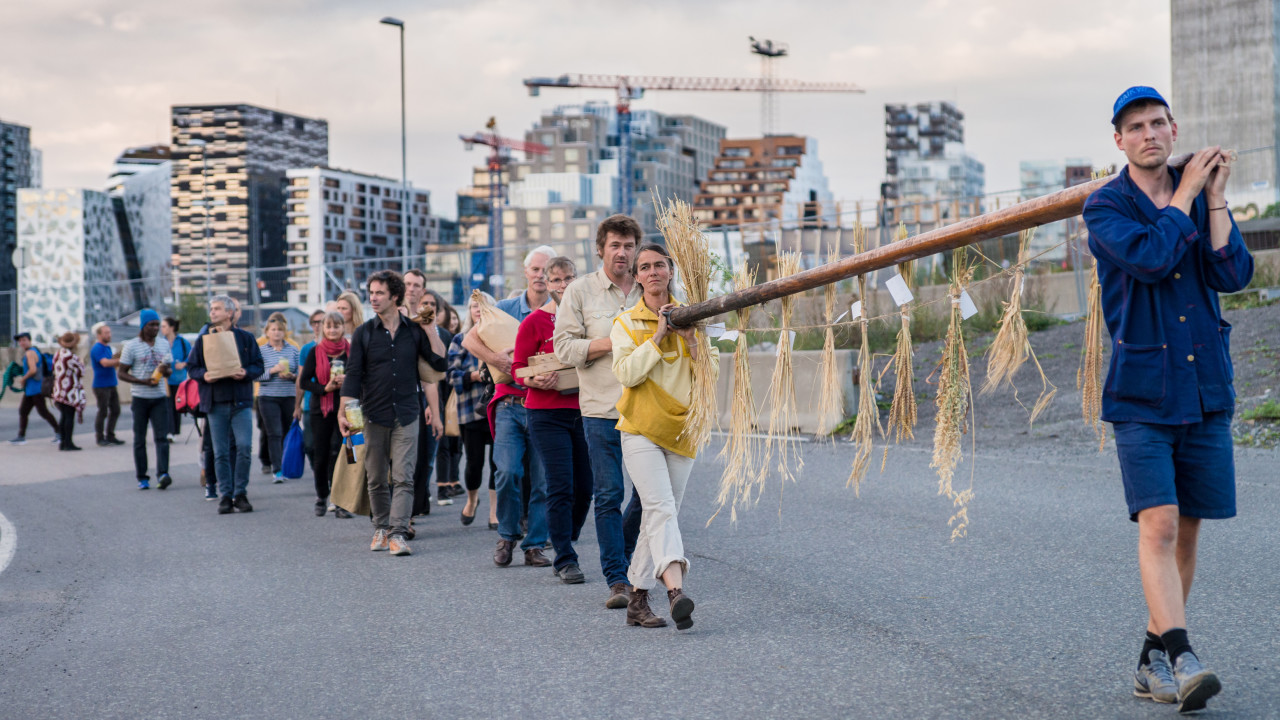 Talk
Confronting a planet in a state of emergency
Eco-Visionaries Symposium
Saturday 22 February 2020 10am - 6pm
The Benjamin West Lecture Theatre, Burlington Gardens, Royal Academy of Arts
Booking opens to Friends at 10am on Monday 18 November 2019. Booking opens to the public at 10am on Tuesday 19 November 2019.
Join us for a day of exploring new research that will help us understand the complexity of current ecological challenges and proposals for how to address them.
The Eco-Visionaries exhibition examines humankind's impact on the planet and presents innovative approaches that reframe our relationship with nature.
As part of the accompanying programme, we bring artists, architects, critics and academics together for a symposium that expands the conversation even further and looks at inventive and critical spatial solutions that reconfigure or address current ecological changes. We hope to highlight a range of approaches, from visualisations of current and projected environmental changes and designs to aid us in adapting to this changing world; to projects that radically reconfigure the relationship between human and nature.
All contributors will be asked to present 15-minute papers as part of two sessions, one focusing on new research that is helping us understand the complexity of the current environmental crisis, the other showcasing future-facing propositions that suggest new ways of living in a changed world. Each session will be followed by a chaired panel discussion, which will also allow time for questions from the audience.
At lunchtime, a keynote lecture will be delivered by Clare Brass, a designer and trainer with a product design background. She is the founder of SustainRCA and Director of Department 22, offering training and education in design, innovation and the circular economy with a focus on food systems.
Following the afternoon session, a second keynote lecture will be delivered by Dr. Alexandra Daisy Ginsberg. Dr. Ginsberg is an artist examining our fraught relationships with nature and technology. Through artworks, writing, and curatorial projects, her work explores subjects as diverse as artificial intelligence, exobiology, synthetic biology, conservation, biodiversity, and evolution, as she investigates the human impulse to "better" the world.
Panel 1: Confronting the present
Panel 1: Confronting the present
Céline Baumann
(French landscape architect interested in creating spaces in formed by the interactive ecology between nature and people)
Queer nature
The Queer Nature project explores the little-known, often-overlooked, and rare intimate behaviour of the botanical world. By opening a post-anthropocene space for reflection, we challenge the belief that matter and intelligence should be dissociated, regarding flora as more than a mere commodity. We explore the power of trees, shrubs, flowers, and herbs as a source of inspiration, providing alternatives to the way we design and act.
Pablo DeSoto and Hanna Musiol
(Pablo DeSoto, PhD, is 2019 NTNU ARTEC Artist in Residence and Visiting Professor at Federal University of Paraíba, Brazil; Hanna Musiol is an Associate Professor of Literature and a Core Member of NTNU ARTEC at the Norwegian University of Science and Technology)
Resist as Forest: Immersive Storytelling and Public Ecological Action
Resist as Forest, an NTNU ARTEC-supported public art /storytelling intervention, was designed by Pablo DeSoto and curated by Hanna Musiol. It took place in Trondheim, Norway, at the height of the Amazon fires, during the Global Climate Strike. Resist as Forest took its name from Eliane Brum's work on deforestation and knowledge-making, and the immersive city-scale project was developed and performed collectively with local and international artists, scholars, technologists, and community members.
Deborah Lopez and Hadin Charbel
(Deborah Lopez and Hadin Charbel are founders of Pareid and currently Teaching Fellows at the Bartlett)
Traces of a Socially Generated Toxi-Cartography
City inhabitants of different territories can be seen as repositories of their every day [toxic] environments, bringing to question the role of architecture and the social in today's context. Follicle responds as being part pavilion, part protocol, and part information. Made of discarded human hair, visitors enter and partake by anonymously providing data and a hair sample to be analysed for toxic elements, the results of which are synthesised and made accessible to the public via a toxi-cartography.
Jan-Peter and James M.L. Muller
(Jan-Peter Muller is Head of Imaging, Department of Space and Climate Physics, UCL, MSSL. James M.L. Muller is a filmmaker at The Happy Umbrella Group.)
How we choose to see the Earth
Upon their brief absence from the Earth, the 24 Apollo Astronauts witnessed an ineffable wonder beyond what they knew as home, Earth as one entity. We are taught to 'see' the world as northbound maps, distorted impressions based on what we have come to believe as truth, a global doctrine. Our purpose is to galvanize a unanimous view, a shared perspective of a future Earth that we will have protected from our capricious nature.
Panel 2: Confronting the future
Stephen Barrett
(Architect and urbanist at Roger Stirk Harbour and Partners and head of RSHP sustainability group. )
The Future of the Motorway
RSHP have imagined the transformation of the motorway network into multipurpose linear parks that prioritise walking, cycling and public transport, but also serve as armatures for renewable energy, biodiversity and recycling. In exploring timelines for both 2030 and 2050, highways are reinvented as flexible "loose fit, long-life" multimodal, multipurpose platforms. These new networks of public space would enhance our quality of life and contribute positively to the challenges of climate change and reduced environmental impact.
Marie Walker-Smith
(Independent filmmaker and designer with an interest in moving fiction away from sci-fi through animation and writing)
Bionic Landscapes & Syperhyphae
As we head toward irreversible ecological disaster, we must consider how to best equip ourselves in order to successfully navigate our future hostile environment, through rehabilitating the planet and undoing our negative global influence. Enter artificial intelligence, a means of managing and adaptation that requires no human interference;Bionic Landscapes explores a hypothetical future where a machine learning system acts as custodian for a forgotten Scottish forest, and how our definition of nature may evolve
Michael Pawlyn
(Director of Exploration Architecture)
Sustainability is Dead; Long Live Regenerative Design
Taking inspiration from Donella Meadows' 1999 essay Leverage Points this talk will argue that nothing less than a series of paradigm shifts will be required if architects are to meet the challenges of the coming decades. The speaker will describe two of these shifts: firstly an urgent evolution of thinking from sustainable design to regenerative design and secondly from a 'conquest of nature' mindset to striving for a state of co-evolution with nature.
Oliver Salway
(Founding director of Softroom, a London based architecture and design studio that creates virtual environments for television, music video and magazines and physical spaces)
What contributions may virtual realities offer towards mitigating climate change?
What roles may virtual realities play towards reducing global consumption and emissions? What can replace the invaluable benefits travel has brought us? Could we become satisfied with virtual bucket list thrills? And, could virtual realities become the final sanctuary of architectural expression? If the profligate use of resources required for expressive buildings becomes indefensible, could virtual realities become a legitimate low carbon outlet for all that architectural imagination instead?
Supported by