Talk
Black art and activism
Panel discussion
Friday 21 April 2017 6.30 - 7.45pm
The Reynolds Room, Burlington House, Royal Academy of Arts, Piccadilly
£12, £6 concessions. Free for carers.
Sold out
America after the Fall: Painting in the 1930s
Join artists Sonia Boyce RA, Dr Kimathi Donkor and Jacob V Joyce and arts practitioner and academic Dr Michael McMillan as they discuss whether black artists today are expected to challenge global and national issues of race and representation.
With race relations in the UK and the USA unresolved, what is the potential agency of art in challenging racial prejudice? Could art provide an alternative to protest movements like Black Lives Matter?
Our discussion uses 1930s America as a starting point, a period when African-American artists such as Aaron Douglas and William Johnson actively engaged with issues about race. Dr Michael McMillan asks artists Sonia Boyce RA, Dr Kimathi Donkor and Jacob V Joyce whether it is the responsibility of black artists today to challenge global and national issues of racial prejudice? Can art and spaces for art contribute to an ongoing dialogue between visual culture and activism in the context of racial prejudice? How do artists see their role? Is art an effective vehicle for protest, grief or hope?
All ticket prices include one complimentary drink at a reception following the event.
ERROR - UnsupportedModule: AudioModule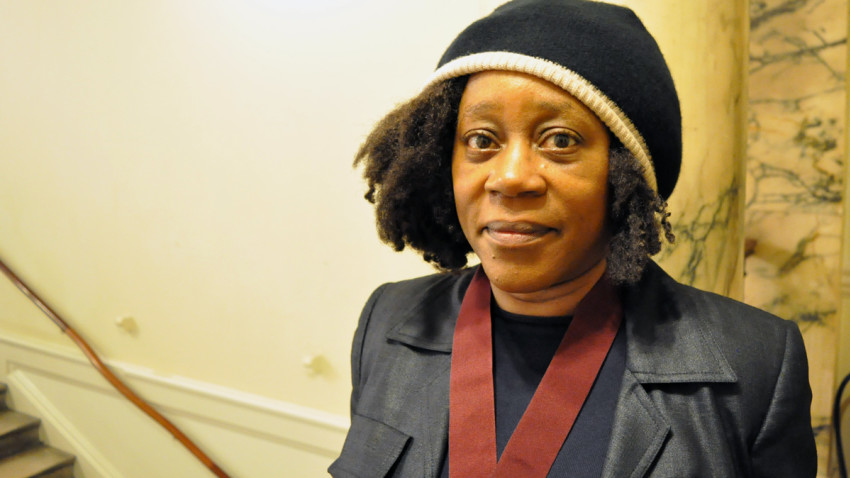 Sonia Boyce MBE RA
Sonia Boyce MBE is a British Afro-Caribbean artist who lives and works in London. She studied at Stourbridge College, West Midlands. Boyce's early work addressed issues of race and gender in the media and in day-to-day life. She expressed these themes through large pastel drawings and photographic collages.
Her work has since shifted materially and conceptually by incorporating a variety of media such as photographs, collages, films, prints, drawings, installation and sound. Her recent work collaboratively brings the audience into sharper focus as an integral part of the artwork, between artist, vocalists and audience, demonstrating how cultural differences might be articulated, mediated and enjoyed. Boyce's significant exhibitions include Five Black Women, African Centre, London (1983); Sonia Boyce: For you, only you, Magdalen College, Oxford and subsequent UK venues (2007 – 2008); and All the World's Futures, 56th Venice Biennale, Arsenale and Giardini (2015).
She is represented in the permanent collections of Arts Council England and Tate Modern, London. In 2007, Boyce was awarded an MBE in the Queen's Birthday Honours List for services to the arts. She is currently Professor of Fine Arts at Middlesex University, London and Professor of Black Art and Design at University of the Arts London.
Dr Kimathi Donkor
Kimathi Donkor is a contemporary artist who lives and works in London, England. His solo exhibitions include Some Clarity of Vision at Gallery MOMO (Johannesburg, 2015), Queens of the Undead with Iniva art, Rivington Place (London, 2012) and Fall/Uprising at the Bettie Morton Gallery, (London, 2005). Group exhibitions include Untitled: Art on the Conditions of Our Time at the New Art Exchange (Nottingham, 2017) and the 29th São Paulo Biennial (Brazil, 2010). He is the recipient of awards, residencies and commissions including the 2011 Derek Hill Foundation Painting Scholarship for The British School at Rome.
Donkor's work re-imagines mythic and legendary encounters across Africa and its global diasporas, principally in painting, but also through drawing, video, assemblage, collage, digital design, performance and installation. Large paintings address historic figures like Toussaint L'Ouverture and Harriet Tubman, as well as contemporary themes such as urban political dissent or the pursuit of leisure, beauty and knowledge. Writing about his work can be found in journals and books including Black Artists in British Art: A History Since the 1950s (Chambers, 2014).
Born in Bournemouth, England in 1965, Dr Donkor earned his PhD at Chelsea College of Arts in 2016 and teaches Fine Art at the University of the Arts London. He also holds an MA degree from Camberwell College of Arts and a BA (Hons) in Fine Art from Goldsmiths College. He is of Ghanaian, Anglo-Jewish and Jamaican family heritage, and as a child lived in rural Zambia and the English West Country.
Art by Kimathi Donkor is held in private and public collections internationally and in the UK, including at The Wolverhampton Art Gallery and the Sindika Dokolo Foundation. He is represented by Gallery MOMO in Johannesburg, by Omenka Gallery in Lagos and by Ed Cross Fine Art in London.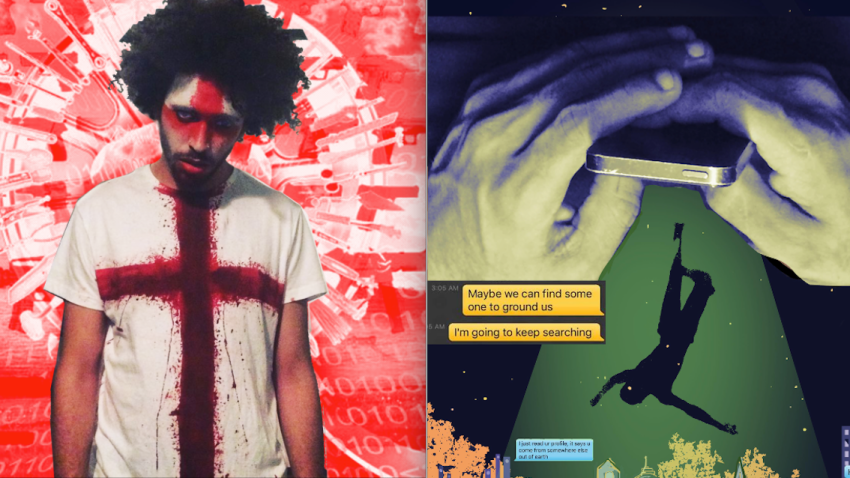 Jacob V Joyce
Jacob V Joyce is a non-binary interdisciplinary artist that disrupts commercial and community spaces with queer and decolonial, creative interventions. Currently working as an illustrator for Global Justice Now, Jacob creates the art work for international human rights campaigns as well as comic books and zines addressing personal and global instances of systemic oppression.
As a member of the sorryyoufeeluncomfortable collective and the front person for the band Screaming Toenail, Jacob's work brings satirical and theatrical critiques to institutional and every day instances of marginalisation. As well as self-publishing a number of illustrated books addressing a variety of political issues, Jacob performs spoken word and solo electronic music that combines ritualistic voice looping with poetic strategies of resistance. In the past Jacob has curated a number of exhibitions including the two-week Brixton-based festival Survival Guides, which featured artworks, performances and workshops by over 50 artists. Jacob was one of many activists involved in organising the five London Queer Social Centres and more recently the QTIPOC (queer trans intersex people of colour) lead/centred Queer Picnic. Studying a Masters in Art and Politics at Goldsmiths until 2018, Jacob intends to continue using art to support and encourage working-class, POC, LGBTQIA and other groups who are perpetually disenfranchised by UK governments to communally and autonomously take direct action and force structural changes in our political landscapes.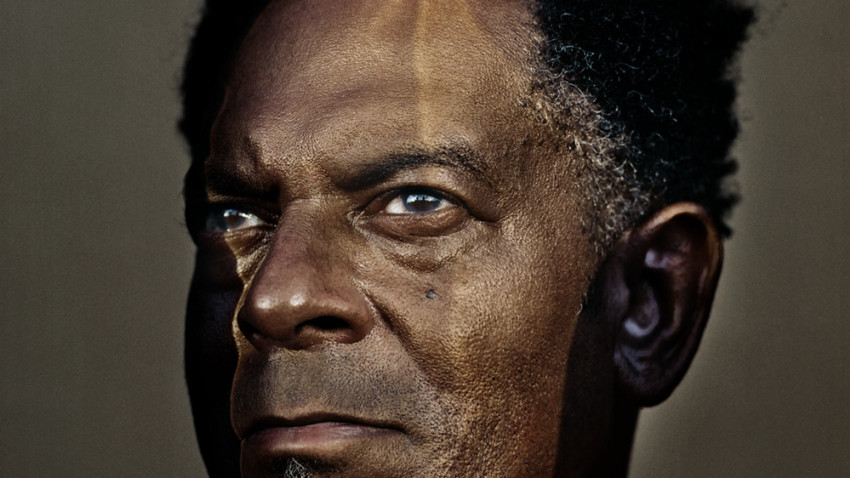 Michael McMillan
Michael McMillan is a writer, playwright, artist/curator and scholar of Vincentian migrant parentage. His plays have been produced by the Royal Court Theatre, Channel 4, BBC Radio 4 Drama, nationally and internationally. His curatorial work includes the critically acclaimed The West Indian Front Room. Recent work includes: My Hair: Black Hair Culture, Style & Politics (2013), Doing Nothing is Not an Option (2015), No Colour Bar: Black British Art in Action 1960-1990 (2015-16) and Rockers, Soulheads & Lovers: Sound Systems back in da Day (2015–16). He has the first Arts Doctorate from Middlesex University (2010) and is currently an Associate Lecturer in Cultural & Historical Studies at London College of Fashion and Associate RAS Researcher at the University of the Arts London. As a research associate with the Visual Identities in Art & Design Research Centre (VIAD) at the University of Johannesburg, he recently curated The Front Room 'Inna Joburg' (2016).