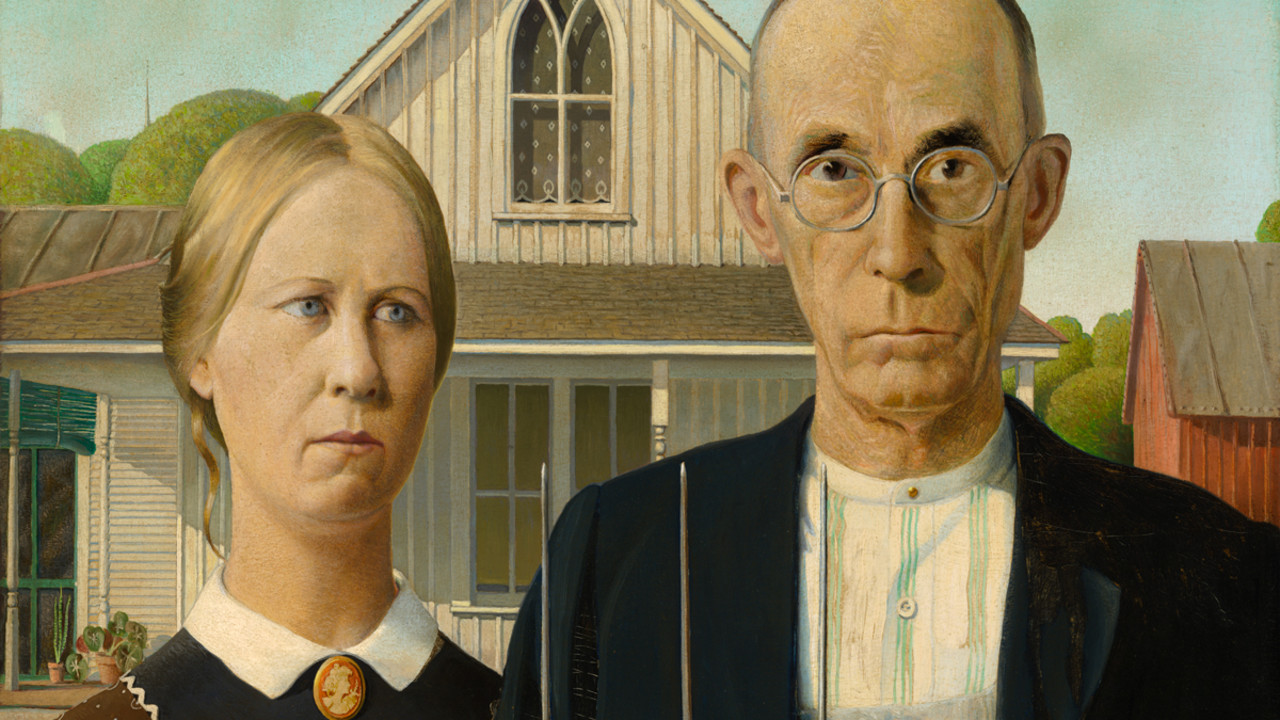 America after the Fall: Painting in the 1930s
25 February - 4 June 2017
The Sackler Wing, Burlington House
Monday – Thursday 10am – 6pm
Friday – Saturday 10am – 10pm
Sunday 10am – 8pm
£13.50 (without donation £12). Concessions available. Friends of the RA, and under 16s when with a fee-paying adult, go free.
Friends of the RA go free
Don't miss the final weekend to see the story of 1930s America through the art of a nation in flux. Artists responded to rapid social change and economic anxiety with some of the 20th century's most powerful art - brought together now in this once-in-a-generation show.
These 45 truly iconic works paint an electrifying portrait of this transformative period. These are works which have rarely been seen together, by artists ranging from Jackson Pollock, Georgia O'Keeffe and Edward Hopper to Thomas Hart Benton, Philip Guston and more. Perhaps the most celebrated work of them all, Grant Wood's iconic American Gothic (1930), has never left North American shores before.
In the devastating wake of the Wall Street Crash, artists sought to capture the changes in urbanisation, industrialisation and immigration that pulsed across the country, resulting in one of the most vital periods for American artists in the 20th century. This was a decade like no other that saw them search for an elusive 'Americanness' through realism, populism and abstraction, rural and urban themes, the farm, the new, the traditional.
As Franklin D. Roosevelt said: "Art is not a treasure in the past or an importation from another land, but part of the present life of all living and creating peoples." So experience the life of 1930s America through the many masterpieces in this landmark show.
Exhibition organised by the Art Institute of Chicago in collaboration with the Royal Academy of Arts, London, and Établissement public du musée d'Orsay et du musée de l'Orangerie, Paris.
All ticket prices include £2.50 for a printed gallery guide.
Supporters
2009-2017 Season supported by

Supported by
2009-2017 Season supported by JTI
Reviews
"Dance marathons, dustbowl farms, brawling sailors, impoverished cotton-pickers... a gripping show."

The Guardian

"A star-studded display"

The Times

"a pungent mix of American horror stories"

The Telegraph

"Nothing less than a condensed museum of art, not to be missed by anyone with the slightest interest in painting"

The Observer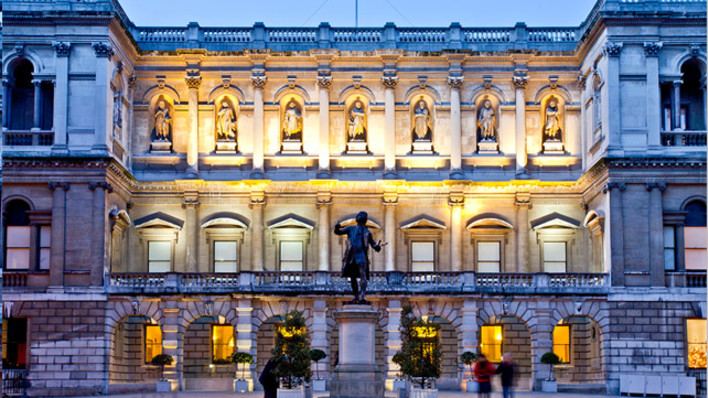 Final weekend – visit late
Spend an evening among iconic works by Grant Wood, Georgia O'Keeffe, Edward Hopper, Alice Neel, Philip Guston and many others.
Remember to take your own #AmericanGothPic after you visit, and share it with us on Instagram or Twitter!
Grant Wood in 60 seconds
Tim Marlow introduces Grant Wood, the artist whose portrayals of small-town life in America include one of the most recognisable artworks of all time – American Gothic.
Edward Hopper in 60 seconds
In our latest 60-second guide, Tim Marlow introduces Edward Hopper – the American realist painter whose depictions of life in early 20th-century America are some of the most distinctive and recognisble in art history.
An introduction to the exhibition
Royal Academy Senior Curator Adrian Locke introduces 'America after the Fall: Painting in the 1930s'.
Gallery
American Gothic, 1930

New York Movie, 1939

Cotton Pickers, 1945

Cow's Skull with Calico Roses, 1931

Pat Whalen, 1935

Bombardment, 1937

Gas, 1940

American Landscape, 1930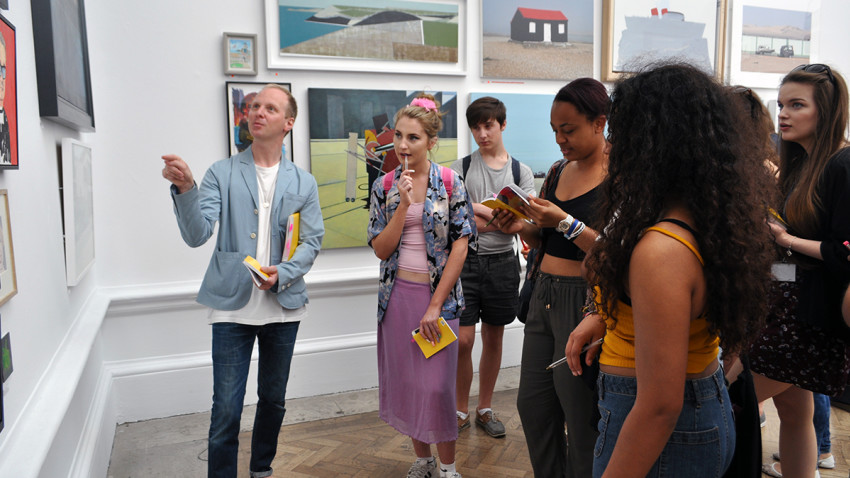 Tours
Get more out of the exhibition
Exhibition tours
45-minute introductory tours, free with an exhibition ticket, no booking required.
Tuesdays at 2.30pm, Fridays at 7pm (until 19 May)
Meet in the first gallery of the exhibition.
Resources
For teachers and students
Delve into the world of the 1930s America through the Exhibition in Focus guide, our in-depth introduction to the exhibition for secondary and further education students and teachers.
Large-print guide
We offer large-print guides to all of our exhibitions, available online or at the galleries for the duration of the show.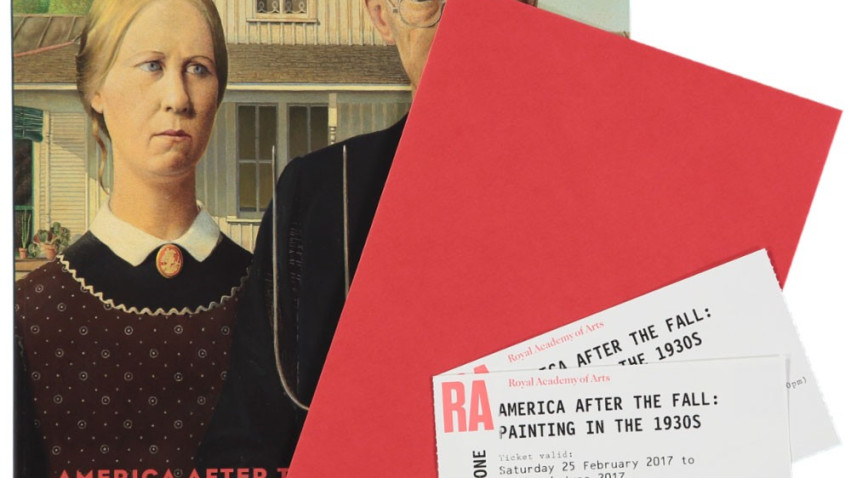 Gift package
This limited-availability gift includes two tickets to our once-in-a-lifetime exhibition America after the Fall: Painting in the 1930s and the accompanying softback catalogue.
America after the Fall brings together 45 iconic works by artists including Jackson Pollock, Georgia O'Keeffe and Edward Hopper.
This wonderful exhibition catalogue provides context to these iconic pieces and explores the 1930s – a fascinating yet uncertain time for America, marked by rapid economic and social change. Fully illustrated with works from the show, it features 105 colour illustrations and 15 black-and-white images over 204 pages.