"After lockdown, there are decisions to be made. Are the arts essential, or a nice luxury?"
Artists in Isolation
By Lubaina Himid RA
Published 21 May 2020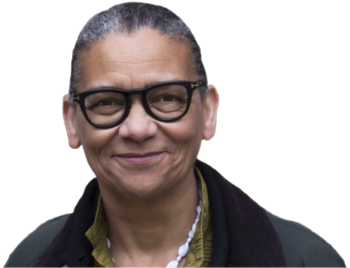 "After lockdown, there are decisions to be made. Are the arts essential, or a nice luxury?"
The latest in our 'Artists in Isolation' series, Turner Prize-winning artist Lubaina Himid RA shares her experience of grieving in lockdown, and explains why, when we come out of it, conversations about the value of art have never been more vital.
I'm always making work – not a lot stops me. During lockdown, I've been getting up at 6am, as I have for 30 years, painting five or six hours a day, having the odd phone call, walking round the park opposite my house in Preston. In a strange way, life hasn't been all that different to before – except I feel very different, and everything outside is very different, and will continue to be different after this.

The period of lockdown has coincided with my mother dying. She died in late February, aged 91, and my work went quite quiet when that happened. I'm usually known for work with multiple colours, and I had been working on some large canvases that I left in my studio when lockdown happened. Now I'm working at home, and my canvases are smaller and greyer; there's a sort of foggy feel to them. They're somehow in a time suspended between feeling things and not feeling things.

There are lots of other requests, too – magazines like Vogue and Harper's have asked me to do pages for their July issues. In contrast to my grey paintings, they're wanting quite uplifting work, which I also feel needs doing, so I've been working on those too.

It's been hard to differentiate between what it's like to be working in isolation, and what is grief. Some days I feel terrible, others ok. But lockdown has given me the opportunity to think about it and deal with it, I suppose, in a way I wouldn't have if I'd gone to Brussels and Montreal for the shows I had planned, or been in and out of the University of Central Lancashire, where I teach.

Will those things be different, when we come out of this? I do think about that. Presumably there'll be fewer spaces to show art, less work in those industries, fewer projects happening, less money to be spent. Decisions will need to be made about what's important.

In my view, shared spaces for making – like the print room at the University, equipped for lithography, screenprinting, etching – are vitally important. Universities are rightly realising that there are hundreds of courses that can happen without having 120 people sitting in a lecture theatre. But to lump all courses together in that respect would be very dangerous.

Art courses rely on being in a space together, students popping in and seeing what one another are doing. Skill-sharing and encouragement happens as students come and go, and I think there's enormous potential for that to become a model for education more broadly.
A lot of people don't understand that some creative human being is on the beginning end of everything that's essential to our civilised world.
But their future will depend on whether the government believe that artists, designers and creative thinkers are really essential, or whether they think that art is an added extra, a nice luxury. It seems so obvious, but a lot of people simply don't understand that, at the beginning end of all the things that are essential to a civilised world is a creative human being. That the cars that they drive in, and the suits that they're wearing, these items all started off with work by a creative person. That if it wasn't for artists and designers, you would have had to walk out without your clothes on.

There has been an attempt to undermine artists and creative people from both ends – destroying it in schools, by implying that it isn't useful or a proper thing, and then under-funding museums, grants and projects.

Museums themselves have a role to play as well – to learn to collaborate rather than compete, to invite more making to happen in their spaces. Everything is still too secret and separate. I hope this situation might just force that to change, to open up.

So, I see part of my job in this period, as it is always, to keep banging on about how vital art is, and the importance of opening up access to it. We have to keep talking about it and pointing it out. In the meantime, whether the exhibitions I had coming up are to go ahead or not, I'm continuing to make the work for them.

It's sobering that mum won't be able to see it, but I showed her a lot of my work, and I knew when she liked it and when she didn't. She was a textile designer, and she was really rather good at it. I spent most of my life avoiding pattern, and then a few years ago I suddenly realised I had an incredible love for it.

I'm currently working on a very, long, thin painting of about 60 different patterns, that will, I hope, go all the way around the room at a museum in Brussels; a Japanese pattern next to a Nigerian pattern, next to an Austrian pattern. You'll see connections between them, and the point I'm trying to make is about the world we live in – that there are conversations to be had between these different patterns. It's not an impossible combination. It's not an impossible world.

Interview by Louise Cohen