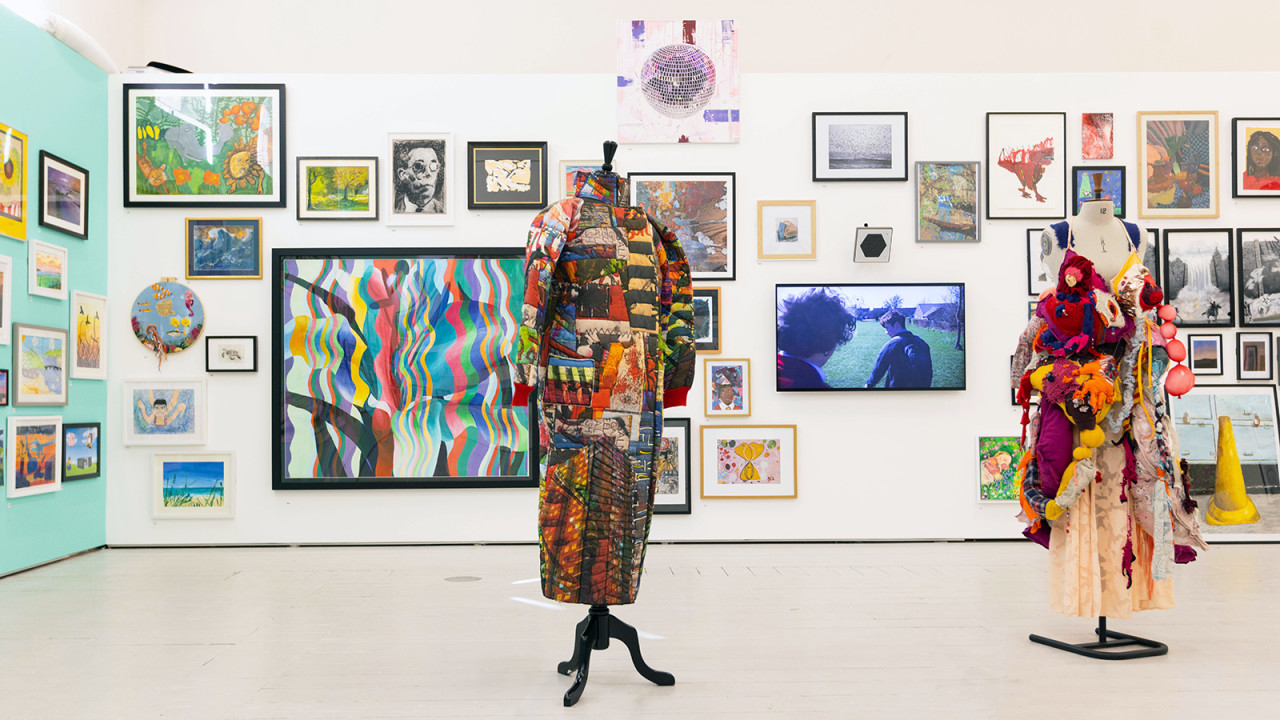 Display
Young Artists' Summer Show 2022
19 July - 14 August 2022
Clore Learning Centre
Friends of the RA go free
From sausage dogs to human sardines, beating hearts and blooming books, the artists featured in the fourth year of the Young Artists' Summer Show have astounded us once again.
Artists are at the heart of everything we do at the Royal Academy of Arts – we've been championing them since 1768 and firmly believe in nurturing young talent and celebrating the next generation of artists.
Now in its fourth year, the Young Artists' Summer Show is a free, open submission exhibition for students aged 4–19 studying in the UK. Artworks are judged by a panel of passionate artists and arts professionals, with selected artworks displayed online and on-site at the Royal Academy of Arts.
More than 21,000 students participated this year, thanks to the commitment of teachers, parents and guardians who are championing the role of art in education. Our judges were overwhelmed by the passion, insight and skill in the artworks they saw, and all expressed how difficult it was selecting the artworks exhibited.
Rebecca Salter, President of the RA, has awarded a variety of prizes to this year's artists and you can vote for your favourite artworks in our annual People's Choice Award.
#RAYoungArtists
Meet the Artists
Hear from some of the stars of this year's Young Artists' Summer Show about what inspired them and how they created their artworks.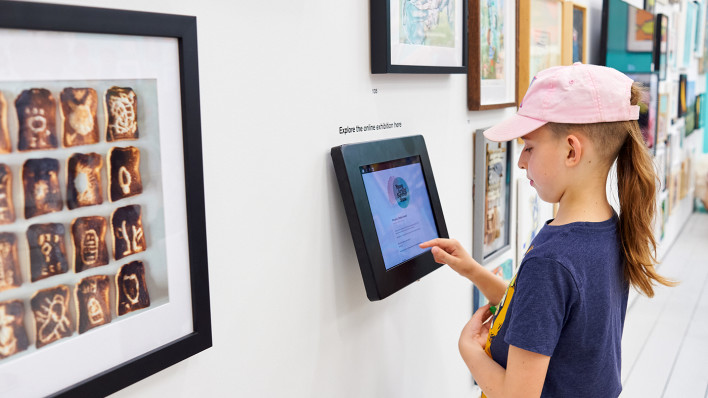 Online exhibition
See all of the selected artworks in the Young Artists' Summer Show online exhibition, and vote for your favourite artworks in our annual People's Choice Award.
Highlights from the Young Artists' Summer Show 2022
Beneath the Willows,

I've always been intrigued by the beauty of romantic artwork focused on emotion, imagination, and moods. With this self-portrait painting, I wanted to express my own melancholic emotions and vivid imagination by placing myself beneath a weeping willow tree, surrounded by beautiful nature, like a dream.

Identity Flag ,

The children were inspired by the question, "what is identity?". We had a discussion and shared our ideas about our cultures, where we come from, race and LGBTQ+. The children then chose a textile square each to create a symbol of their identity. They used glue or sewing to add things onto their squares. We assembled the squares as a wall hanging. The children are very proud of this work!

Roast Dinner,

My favourite food is roast chicken! I looked around my house and found lots of different objects to make my sculpture. I used bleach bottles, fabric detergent bottles, string for the yorkshire puddings and an egg carton for potatoes. I used candles for peas and Sharpie pens for carrots. It was 100% fun to make!

"With great power comes great responsibility.",

I love all things Spider-Man and really wanted to try oil pastels. This is my tribute to him and his archenemies. The characters are all very exciting and unusual to draw. I love the bright colours and wanted it to look like a comic. Spider-Man uses his power for good and this is very important.

"With great power comes great responsibility."

The Starling Theatre ,

I love the starling murmuration in Brighton and I thought it was a perfect opportunity to capture a photo. I chose to shoot in black and white as I think black and white brings your attention to the main subject as sometimes colour can distract you from what the photographer intended for you to focus on. I love this photo because it amazes me how starlings work together to create stunning abstract shapes and the gloomy misty sea brings the whole piece together, in my opinion.

Robin Hood's Oak Tree,

The tree is over 1000 years old and looks beautiful now spring is coming.

Fluffy and Ginger,

This is a sketch of my two pet guinea pigs I drew, based on a photo I took about a year ago of them peering out of their cage.

Science and Art,

We were inspired by Hilma af Klint to create a collaborative piece of art. When we observed her art, we noticed the links to maths and science and wanted to incorporate that into our piece. For example, we have written the completion date in roman numerals!
Take a photo tour of the display
null