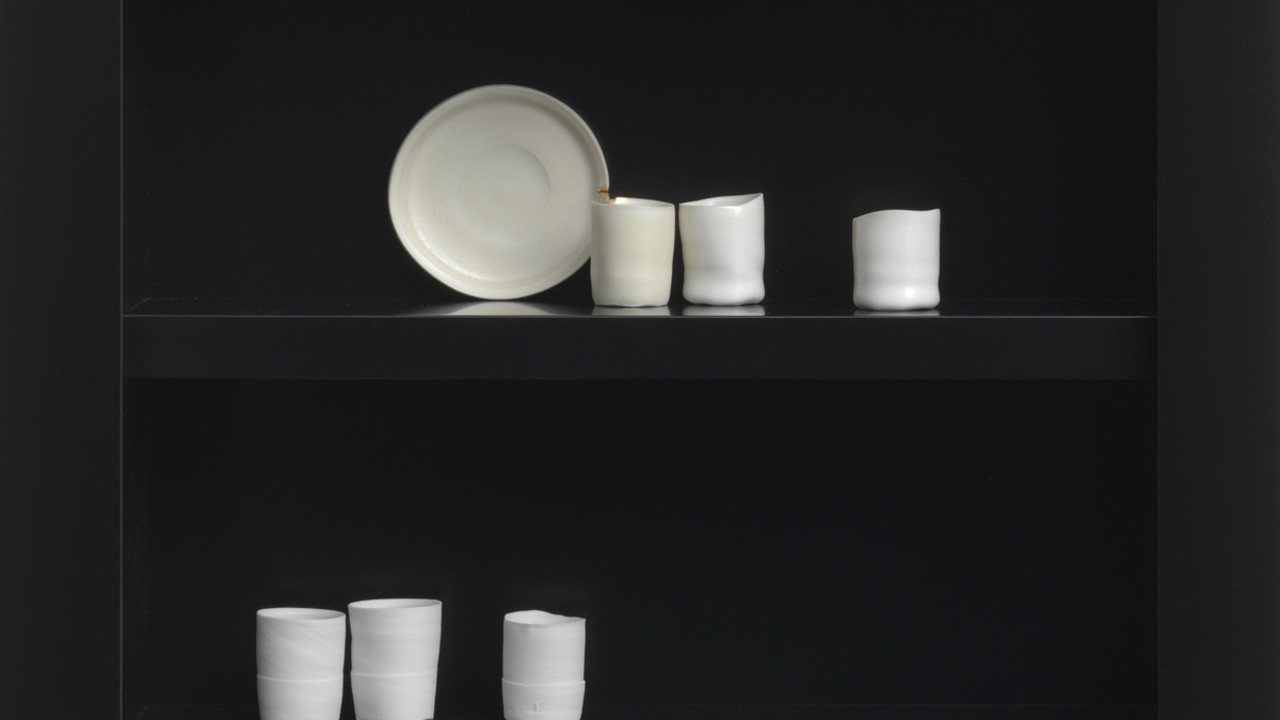 Exhibition
white
a project by Edmund de Waal
26 September 2015 - 3 January 2016
The Library and Print Room, Burlington House
Open Thursdays to Sundays, 10am – 6pm, late night Fridays to 10pm
Final week open Monday – Sunday
Christmas closures
*Please note that the RA will be closed on the 24, 25, and 26 December 2015. On Friday 1 January 2016, the gallery will be open from 12 – 6pm
£5. Under 16s go free when accompanied by a fee paying adult. Timed entry slots will operate. Booking essential.
This unique project in the RA Library and Print Room is an exploration of the colour white and the impact that white objects have on their surroundings; an interweaving of words and books with sculpture, paintings and photographs.
Artist Edmund de Waal is the best-selling author of The Hare with Amber Eyes and the forthcoming The White Road. He has conceived and curated white, a project which sets objects in dialogue with one another and with the spaces around them.
White is not a neutral colour: it forces other colours to reveal themselves. Its blankness suggests both beginnings and endings, while its purity evokes impossibility and obsession. As a nexus for explorations of abstraction, minimalism and the spiritual, white has had special significance to artists across generations, and has fascinated de Waal himself since he made his first pot as a child.
From classical Greek statuary to a marble lantern by Ai Weiwei, and from Kazimir Malevich's Suprematist Teapot to porcelain pots by de Waal, diverse artworks united by the colour white await discovery alongside little known parts of the Academy's own collections, including J.M.W. Turner's porcelain palette. Interspersed amongst the library's shelves and cabinets, these unexpected encounters invite a quiet and serendipitous journey of discovery.
Visiting the Library
For the duration of the project the RA Library and Print Room will be open to readers by appointment Mondays – Wednesdays only.
Supporters
Supported by
'white' by Edmund de Waal
Edmund de Waal introduces his project 'white' in the RA Library and Print Room.
Gallery
The Hare with Amber Eyes, c.1880

It's Open Clear Light, 2014–15

Fir trees on the banks of Dornoch Firth between Ardgay and Fearn, c.1850

4'33" Manuscript,

Bust of a woman, possibly Ippolita Maria Sforza, c.1473

FOLDED, 2004

South Arabian calcite alabaster anthropormorphic stele, C 1st BC/C1st c AD