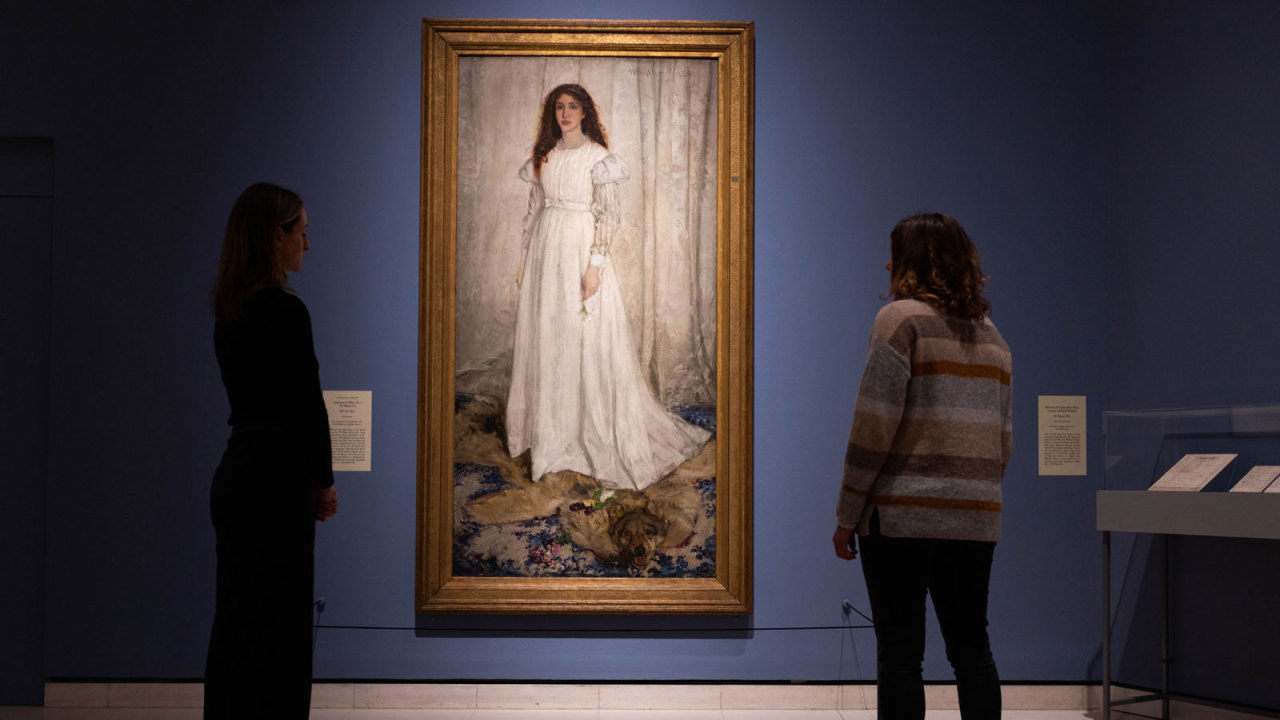 Exhibition
Whistler's Woman in White: Joanna Hiffernan
26 February - 22 May 2022
The Jillian and Arthur M. Sackler Wing of Galleries
Tickets £17 (£15 without donation). Concessions available. For the best experience, book ahead.
Friends of the RA go free
Joanna Hiffernan's relationship with Whistler ran deeper than artist and muse. In this rich exhibition we explore her life and role as a friend, model, lover and collaborator.
Many of James McNeill Whistler's works feature the red-haired figure of Joanna Hiffernan. Her close professional and personal relationship with the artist lasted for two decades, yet little about her role or influence in his life has been explored – until now.
Today considered one of the best-known names of the late 19th-century Aesthetic Movement, Whistler moved to London as a young painter hoping to forge his reputation. It was here that he met Joanna Hiffernan, an Irish model who would become his muse, confidante and more.
In this exhibition, we uncover the role Joanna played in the artist's career and discover how Whistler's revolutionary paintings featuring Hiffernan went on to influence other artists from the Pre-Raphaelites to Klimt.
This exhibition is organised by the Royal Academy of Arts, London and by the National Gallery of Art, Washington.
• For the best experience and to ensure entry at your preferred time, book ahead.
• Friends of the RA can visit this exhibition for free between 6-9pm on the first Friday of the month (exclusive to Friends, last entry 8.20pm).
• Download our large print guide.

Supporters
Supported by
Reviews
"Brings to life one of the most revolutionary moments in the story of art"

The Guardian

"A fascinating story"

The Telegraph

"Whistler's woman in white finally has her day at the Royal Academy of Arts"

The Art Newspaper

"She may be the most mesmerising figure in modern art history"

The Telegraph
Who was Whistler's Woman in White?
Take a tour of the exhibition with its curators Ann Dumas and Margaret MacDonald, and delve into the life of the artist's principal model.
Gallery
Symphony in White, No. 1: The White Girl, 1861–63, 1872

Symphony in White, No. 2: The Little White Girl, 1864

Purple and Rose: The Lange Leizen of the Six Marks, 1864

Portrait of Hermine Gallia, 1904

Jo, The Beautiful Irish Girl, 1866

Sea and Rain, 1865

Wapping, 1860-64

Iyo Province: Saijô, 1855