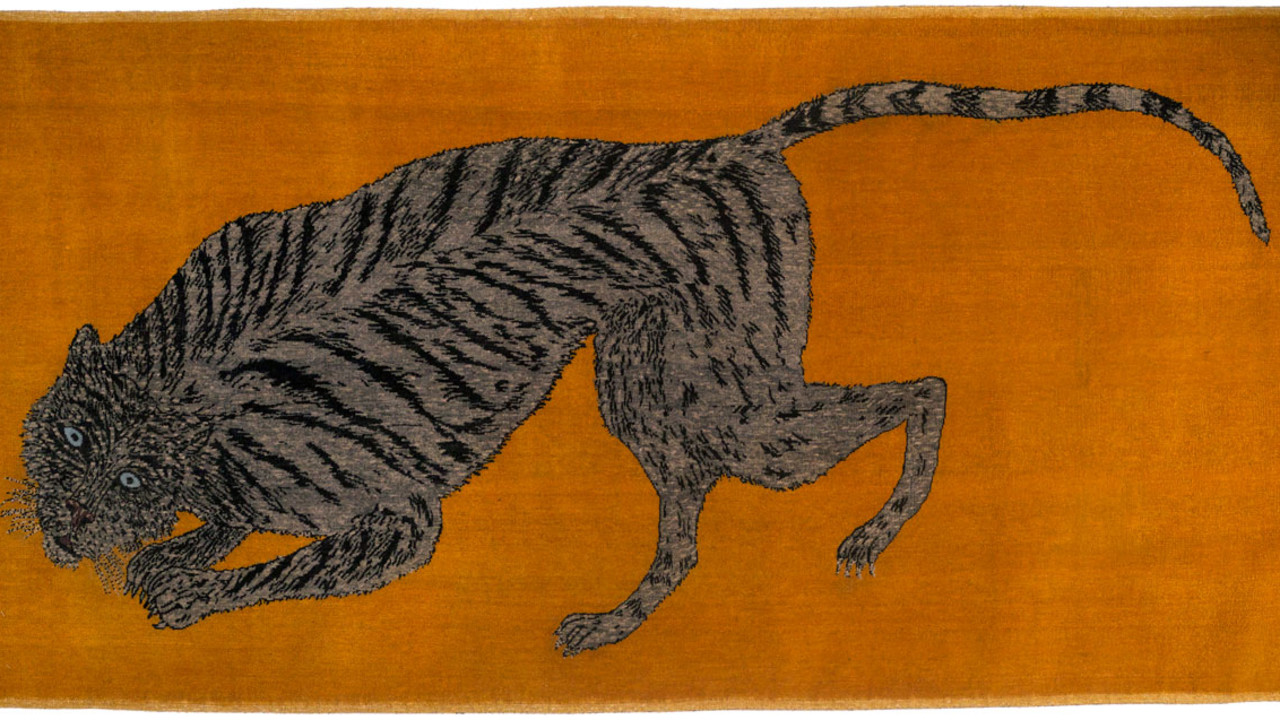 Display
Tomorrow's Tigers
12 September 2019 - 1 January 2020
The Academicians' Room, Burlington House, Royal Academy of Arts
Mon 10am – 6pm
Tues – Sat 10am – 11pm
Sun 10am – 6pm
Free, no booking required. If you would like to see the display, please request a day pass by emailing academiciansroom@raarts.org.uk or visiting the Membership Desk in Burlington House.
Originally devised and curated by Artwise for WWF, 'Tomorrow's Tigers' features limited-edition art rugs by internationally renowned artists, including Royal Academicians Gary Hume, Rose Wylie, Anish Kapoor and Kiki Smith.
Woven by hand in the hills of northern India using the finest natural wools and silks, each artist rug is unique. Incorporating innovative weaving techniques with specialist hand-dyeing, these pieces push the boundaries of weaving as an art-form meeting the vision of each participating artist.
The Tomorrow's Tigers project was originally curated to raise awareness and funds to support WWF Tx2 goal – a global commitment to double tiger numbers in the wild by 2022. These ten works show how art can help positively shape our relationship to nature and our environment.
Featured artists: Kiki Smith Hon RA, Gary Hume RA, Rose Wylie RA, Anish Kapoor RA, Francesco Clemente, Bernard Frize, Reena Saini Kallat, Maya Lin, Harland Miller and Raqib Shaw.
Buy art at the RA
All works are available for sale through the RA Editions programme, which generates valuable revenue for the RA and in particular the RA Schools. Visit roy.ac/raeditions or contact raeditions@royalacademy.org.uk. Alternatively, please call: 0207 300 5933.
Image gallery
What the Tiger Says: Begali: gorgon Finnish: grrrrrr Thai: ai hhoun houn For how many times?, 2018-19

Water Tiger, 2018

If, 2019

Untitled, 2018-19

With the Weight of Each Step, 2018-19

Ode to the Tigers of Bandhavgarh, 2018-19

Ruled Paper, 2018-19

Tiger Tiger, 2018

Map of What is Effortless, 2018-19

Pounce, 2018