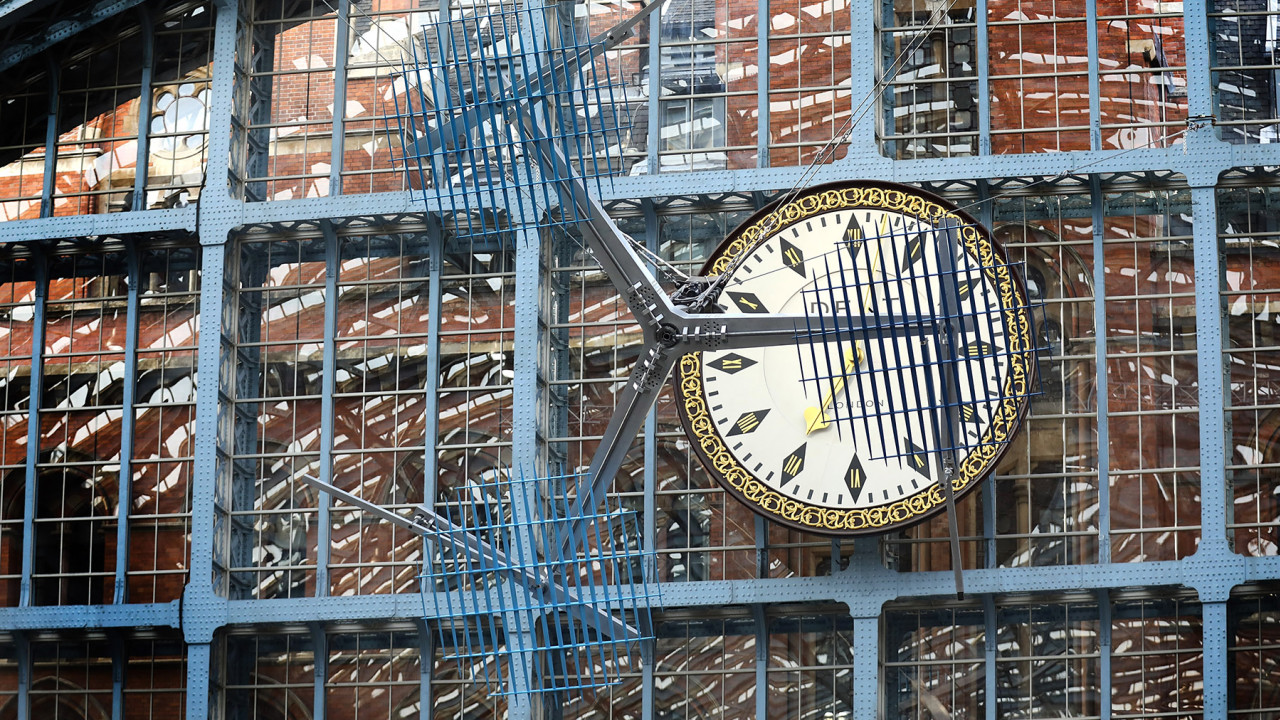 The Interpretation of Movement (a 9:8 in blue)
Terrace Wires: Conrad Shawcross RA
22 June - 18 December 2017
St Pancras International station
Sculptor and Royal Academician Conrad Shawcross presents a new public installation in St Pancras International station.
The Interpretation of Movement (a 9:8 in blue) is Conrad Shawcross RA's largest mechanical work to date, stretching out to a 16m diameter as it methodically turns above the station. Consisting of three articulated arms driven by a complex sequence of gears, the mechanism drives three "optic sails", which expand and contract in an orbit from the centre where they eclipse each other.
The piece continues the artist's long-term interest in the visualisation of harmony and attempts to articulate the essence and complexity of ratio in order to question number itself. Despite its conceptual origins and inspiration, the work is an epic visceral machine and is also a real celebration of mechanics and engineering.
The interpretation of movement (a 9:8 in blue) marks the fifth year of the Terrace Wires public sculpture commission at the station and the third in partnership with the Royal Academy, following Cornelia Parker RA's One More Time in 2015 and Ron Arad RA's Thought of Train of Thought in 2016.
The commission is the Royal Academy's only external public sculpture series in London and is free to view.
Supporters
In partnership with
The making of 'The Interpretation of Movement (a 9:8 in blue)'
Take a look behind the scenes at the making of Conrad Shawcross RA's Terrace Wires installation for St Pancras International.