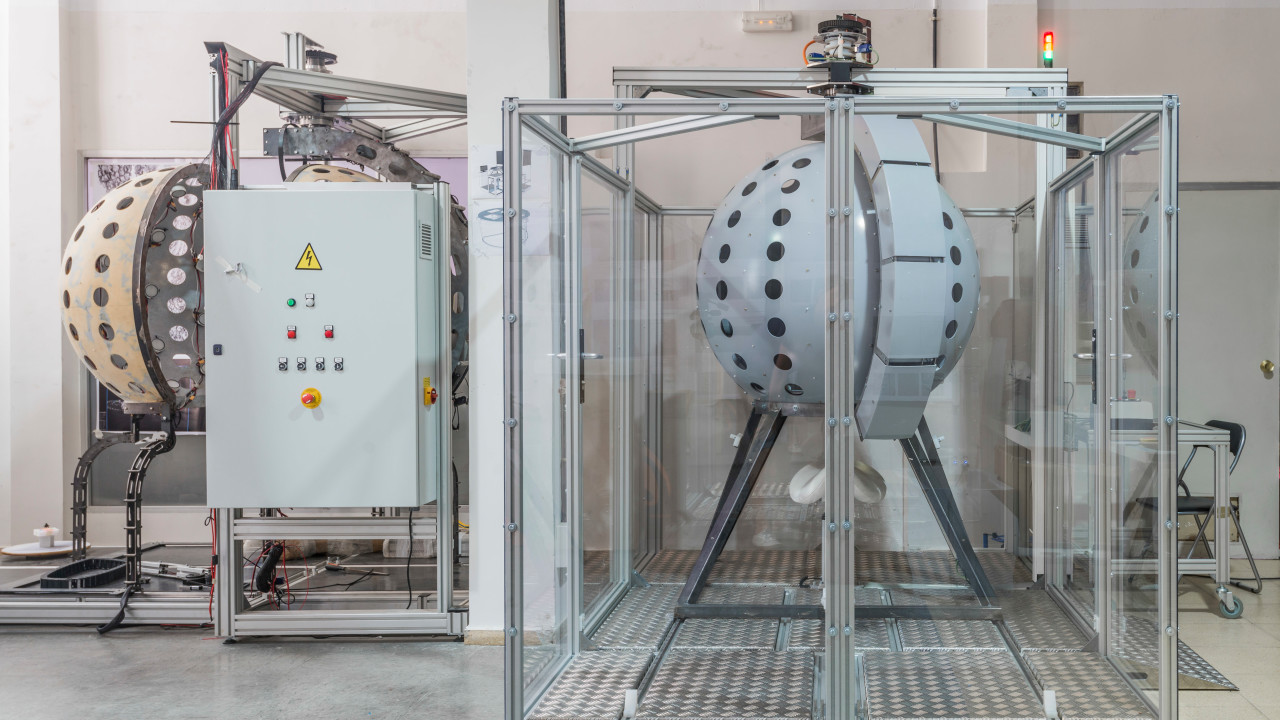 The Veronica Scanner
Live 3D portraiture
2 September - 11 September 2016
Weston Rooms, Burlington House
Saturday–Thursday 10am – 6pm
Friday 10am – 10pm
3D scans now fully booked.
Friends of the RA go free
Art has always sought to reproduce a true likeness between image and form: from Pygmalion falling for his own sculpture in Greek myth, to the rise of photography in the 19th century.
Vera = true, from the Latin
Eikōn = icon or image, from the Greek
A new interactive project at the RA celebrates the next stage in this story: the art of 3D photogrammetry in the 21st century. For ten days in September, we will be home to the Veronica Chorographic Scanner, a bespoke 3D head scanner. In a matter of seconds, the scanner uses eight cameras to capture 96 high resolution photographs of the human head from every angle, mapping even the finest surface details. These images can then be processed into a digital 3D model, replicating every feature of the face in intricate detail.
Come and see the Veronica Scanner in action as it converts the images it captures into stunning digital portraits. As the 3D models are processed, they will be uploaded to an online gallery, accessible to the public.
Visitors can enter the Weston Rooms for free and watch as the images taken from the scanner are converted into 3D portraits in real time and added to a growing studio display. The project space has been designed by RIBA award-winning architect Charlotte Skene Catling, of Skene Catling de la Peña.
As part of the experiment, every day one scan will be selected at random to be carved into a wooden bust by a highly specialised robot, lent from the Bartlett School of Architecture at University College London. A group of 3D printers will also create busts, allowing the public to witness the 3D printing process in real time. The display will be supported by a curated exploration of 3D photography through the ages: the process by which art and science together have striven to perfectly capture and replicate the complexity of human features.
The Veronica Scanner is a project by Factum Foundation, whose previous work includes a scan of Tutankhamun's tomb in Luxor, Egypt and a re-materialised copy of Caravaggio's Nativity with Saint Francis and Saint Lawrence in Italy. Factum Arte, the workshop in Madrid that built the scanner and from which the Foundation emerged, has worked with a number of Royal Academicians including Anish Kapoor, Grayson Perry, Conrad Shawcross and Gillian Wearing.

The Veronica Scanner: Live 3D Portraiture is the result of a partnership between Factum Foundation, the Rothschild Foundation and the Royal Academy of Arts. Robot and robot supervision provided and operated by the Bartlett School of Architecture (UCL). 3D printers provided and operated by iMakr (MyMiniFactory). Software for processing on-site provided by Capturing Reality. Software for cloud processing, Ember: Precision Desktop 3D Printer and virtual online gallery provided by Autodesk. Original artworks lent by Tomasso Brothers, London & Leeds
The Veronica Scanner: Live 3D Portraiture will be exhibited at Waddesdon Manor from 22–30 October 2016. Bookings for 3D scans will open later this month, sign up here to be first to know when bookings open.
Free entry to view the project. General tickets for scans have now sold out.
The camera is a brutal distorter. It distorts according to the shape of the lens. A photograph is the flat representation of a convex image that takes the shape of the outermost part of the lens. This misrepresentation always disturbed me. Everyone knew what I looked like except me... Now, at least I know what I look like.
Daniel Wolf
3D scanning
The scan
When you arrive in the Weston Rooms having booked a scan, we'll ask you to confirm that you're happy with the terms and conditions related to this Project. A hair and makeup technician will be on hand to provide assistance in preparing you for your scan. The scan itself takes only a few seconds, after which the process of amalgamating the photographs taken into a 3D portrait will begin.
Photogrammetry has difficulty capturing the data of shiny surfaces and flyaway hairs. Operators will therefore attempt to mitigate these issues by applying a thin layer of translucent powder to the skin and/or matte wax to the hair. Long hair will be tied back. These actions will help achieve the most accurate results possible during the scan. However, there are no guarantees, and data might still be lost, particularly in the area of the hair. In the history of portrait busts, accurately representing hair has always been problematic; digital technology makes way for new advancements in the field, but in the trajectory of portraiture some things never change.
Due to the nature of the scanner, participation will not be suitable for those with medical conditions such as claustrophobia or photo-sensitive epilepsy. Due to the specific dimensions of the scanner it should be noted that at this time in its design we can't accommodate wheelchair using participants.
The portrait
The images are expertly processed to create a 3D portrait, which will be sent to you via email in the days following your scan. The file can then be rematerialised as a physical bust through 3D printing, or used in its digital form online.
A 3D scan is the foundation of a 3D model, which is in turn the foundation of a 3D printed object. A 3D model must be completely closed if it is to be sent to a 3D printer. If you receive a file with holes, 3D modelling software and modelers can close the holes, digitally sculpt the hair and enhance features. Factum Foundation is inviting participants to be part of a highly experimental process, in the most rapidly growing field of 3D scanning, and the technology is being improved every day.
Please note that Factum Foundation will retain the licence to reproduce your 3D image.
The model
Once you've received your file, you can choose to keep it as it is, or take it to a 3D printer to create your own bust. The images on this page show just some of the options: previous scans have been used to create busts in alabaster, plaster, lead glass or gilded bronze. The miniature above was created through using a 3D printer to create a wax model of the scan, so that it could be cast in silver.
Veronica's data can be used by a whole host of output devices that print in layers, harden liquids, carve or use other methods to materialise a tangible object from a cloud of points. The data can be printed in in any size and in an array of materials. It is even possible to print in chocolate, ice, salt and sugar or many other edible or transient materials.
Once you have received your digital 3D model, you can contact Factum Arte to produce a commissioned portrait bust in any of the materials listed above.
About our partners
Waddesdon Manor
Waddesdon Manor was built by Baron Ferdinand de Rothschild from 1874 to display his outstanding collection of arts and to entertain the fashionable world. It combines the highest quality 18th-century French decorative arts, magnificent English portraits and Dutch Old Master paintings with one of the finest Victorian gardens in Britain, famous for its parterre and ornate working Aviary. Bequeathed to the National Trust in 1957, Waddesdon is managed by the Rothschild Foundation on behalf of the National Trust. Additional information is available here.
The Rothschild Foundation
The Rothschild Foundation is a UK charity chaired by Lord Rothschild. In addition to its ongoing commitment to Waddesdon Manor, it undertakes major projects and provides financial and other support across a range of interests, in particular arts and heritage. Additional information is available here.
Factum Foundation
Factum Foundation was founded in 2009. It grew out of the experimental work of Factum Arte's workshops in Madrid. Factum Arte is committed to developing new technologies and building bridges between digital mediation and traditional craft skills in the creation of contemporary works of art for many artists from around the world. Factum Foundation is devoted to applying these technologies to the preservation of cultural heritage and to the dissemination of the important role technology to deepen our understanding of the importance of the artifacts of the past.
Our sponsors
RealityCapture: the cutting-edge all-in-one photogrammetry software that is setting the world standard in quality and speed of creating digital 3D models from ordinary 2D images. It features automatic calibration, image registration (alignment), meshing, simplification, colouring, texturing, filtration, smoothing, scaling, measurement, inspection, geo-referencing, coordinate system conversion, DSM, parallel projections and others. The choice for your own virtual realities - from cultural heritage (art and architecture), through to full-body scanning, gaming, visual effects to surveying and mapping etc. The only product which works in linear time and can mix unordered photographs with terrestrial laser scans automatically.


BMADE, Bartlett Manufacturing and Design within the Bartlett School of Architecture, UCL, is a multidisciplinary centre that strives to foster the next generation of thinkers, designers and makers. BMADE invites academia, industry and the public to engage with new and traditional tools, processes and materials. Our aim is to stimulate work generated at the interface of craft, science and technology. Material and process-agnostic, working though, rather than within the disciplines, BMADE underlines the Bartlett's role as a national and international resource for innovation in design and manufacturing.


Autodesk, a leader in cloud-based 3D design and engineering software, makes software for people who make things. If you've ever driven a high-performance car, admired a towering skyscraper, used a smartphone, or watched a great film, chances are you've experienced what millions of Autodesk customers are doing with its software. Autodesk's latest portfolio of photogrammetry and laser scanning solutions is also enabling museums, archaeologists, artists, scientists, designers and engineers to digitise reality in a scalable way. For more information, visit Autodesk Reality Solutions.
Founded 2013, iMakr is the world's leading retailer for desktop 3D printers and 3D scanners, both online and offline with iconic flagship store and showroom in London, UK and New York, USA. iMakr's engineers select and approve the best desktop printers and scanners worldwide. iMakr offers these best-in-class products alongside with support and training services, accessories and supplies, softwares and more.
iMakr participate regularly in prominent events and exhibitions where they demonstrate 3D Printing in an effort to help people understand what this technology can do for them. iMakr have been invited by world leading companies and brands to showcase 3D Printing technology in a range of environments and spaces.


MyMiniFactory, launched in 2013, is the world's leading curated social platform for 3D printable objects; much like the Vimeo or SoundCloud for 3D printing. On MyMiniFactory, one can find tens of thousands of 3D designs ready to download for free. These will work with any desktop 3D printer: every single one has been tested so that it is guaranteed to print.
MyMiniFactory's values center around quality and openness: quality curation to assure all the models are printable, and openness with free downloads on all printable objects. We believe that with our team, our community and our values we can empower 3D designers and help them become the stars of the next decade.
Skene Catling de la Peña architects is an award-winning practice based in London and Madrid formed by Charlotte Skene Catling and Jaime de la Peña in 2003. Their work addresses a wide variety of typologies with a particular interest in the borders between architecture and other disciplines. There is a strong emphasis on research throughout the development of their projects which leads to the rigorous exploration of ideas and possibilities at all scales from concept to detail. They are experienced in the design and integration of contemporary projects into Grade I and II listed buildings, and in creating interventions within sensitive historic contexts such as Waddesdon Manor, Buckinghamshire, and the Perm World Heritage Site, Russia. Other disciplines are cross-referenced as a means of questioning design solutions and they run explorative projects in areas such as film and music in parallel with their practice.
Skene Catling de la Peña has won numerous awards including the RIBA House of the Year 2015, and has been extensively published internationally. Charlotte Skene Catling was named a Debrett's 500 People of Influence in Architecture & Design in 2016 and was shortlisted for the 2016 Architectural Review Women in Architecture award.