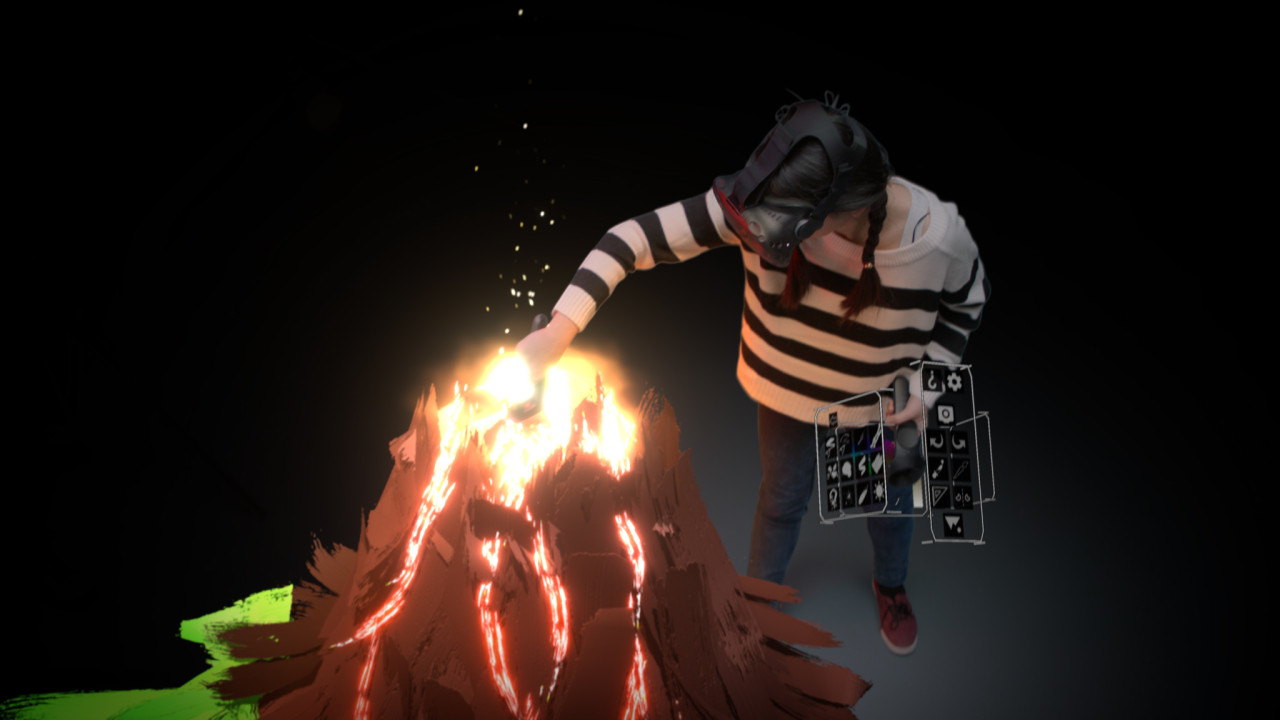 Virtually Real
12 January - 14 January 2017
John Madejski Fine Rooms and The Keeper's House, Royal Academy of Arts
£45. Includes complimentary drink. Tickets are now sold out.
Step into virtually real works of art this January.
Please note that tickets have now sold out for this event.
We're starting 2017 with Virtually Real, a collaborative pop-up project between the virtual reality platform HTC Vive and our contemporary art school, the Royal Academy Schools. Graduates Adham Faramawy and Elliot Dodd, together with third-year student Jessy Jetpacks, have been selected to create works of art using HTC Vive. This virtual reality technology lets you experience hundreds of simulated worlds, where the normal rules of gravity don't apply.
The artists will be using software like Kodon and Tilt Brush by Google, a palette that lets you paint in virtual 3D space to produce installations that you, the visitor, will be able to move through and interact with. You'll also be able to see their creative processes from start to finish with HTC Vive's playback technology. As a world-first, we'll be 3D printing these artworks and exhibiting them, so you will have the chance to interact with them both virtually and in real life. You'll also be able to try your hand at creating a virtual reality masterpiece of your own.
Adham, Elliot and Jessy all have a background in working with virtual technology, apps and multimedia, but this will allow both them and you to experiment in the relatively unchartered waters of virtually made art.
Third-year RA Schools students will be taking over the DJ booth in the Keeper's House from 7-11pm each night:
Thursday 12 January – Fani Parali and Sam Austen
Friday 13 January – Josephine Baker-Heaslip
Saturday 14 January – Richie Moment
Please read the full terms and conditions before booking this event.
Supporters
Virtual reality partner

The experience
With your ticket, you'll receive entry to a night of fantastic entertainment and fascinating digital art.
Using HTC Vive technology, you'll be able to interact with virtual artworks within the world in which they were created, watching how the artistic process played out thanks to playback technology. You'll even have the opportunity to design your own virtual artworks using the TiltBrush, which we'll save as a digital snapshot and send to you after your visit.
After that, you're free to explore the installation, created by 3D-printing each artist's virtually-designed artwork. DJs will turn the Keeper's House into a dancefloor, with snacks on hand and a complimentary drink for each guest.
Please read the full terms and conditions before booking this event.
£45
• Entry to the Keeper's House and John Madejski Fine Rooms
• 15-minute session with HTC Vive technology
• Digital jpeg of your virtual artwork
• One complimentary drink on arrival*
• DJs in the Keeper's House
• 3D virtual reality art installation
• The chance to opt-in to our 'Friend for a day' scheme, giving you a free day pass to one of our exhibitions
*Please note that this event is only open to guests aged 16 and over. Soft drinks will be served to under-18s.
The headset can be worn over glasses. This event is wheelchair accessible. Read HTC Vive's safety regulations here
What it's like to make art in virtual reality
Artists Adham Faramawy, Elliot Dodd and Jessy Jetpacks talk about what it feels like to make art in virtual reality, using software like Kodon and Tilt Brush by Google.
Tilt Brush on video
Tilt Brush lets you paint in 3D space with virtual reality. Unleash your creativity with three-dimensional brush strokes, stars, light, and even fire. Your room is your canvas. Your palette is your imagination. The possibilities are endless.
Artist biographies
Adham Faramawy
Alumnus, RA Schools
Adham Faramawy (b. 1981, Dubai) is a London-based artist of Egyptian origin. His work spans media including moving image, sculptural installation and print, engaging and using technology to discuss issues of embodiment and identity construction. Solo exhibitions include Janus Collapse (the juice-box edition), Bluecoat, Liverpool, Hydra, Cell Projects, London, Feels Real, Marian Cramer Projects, Amsterdam and Hyperreal Flower Blossom, VITRINE, London.
Elliot Dodd
Alumnus, fellow, RA Schools
Elliot Dodd (b.1978, Jersey), previously studied at the Slade School of Art, London and graduated from the Royal Academy Schools in 2016. Dodd works with surfaces and techniques which embody the spirit of the global techno-macho-man. He designs sculptural objects, drawings and moving images that reconfigure the languages of desire, confidence and authority into a new fluid, composite structure.
Jessy Jetpacks
Final-year student, RA Schools
Jessy Jetpacks (b. 1987, Dubai) is a London-based multi-disciplinary artist. Her mediums include painting, sculpture, film, music, audio/video installations, and performance. Subverting polemical binaries, Jetpacks explores her themes with sensitivity, finding humour and intrigue within the ouroboros-like metastructures, never wholly consistent or complete, which underpin any narrative of reality.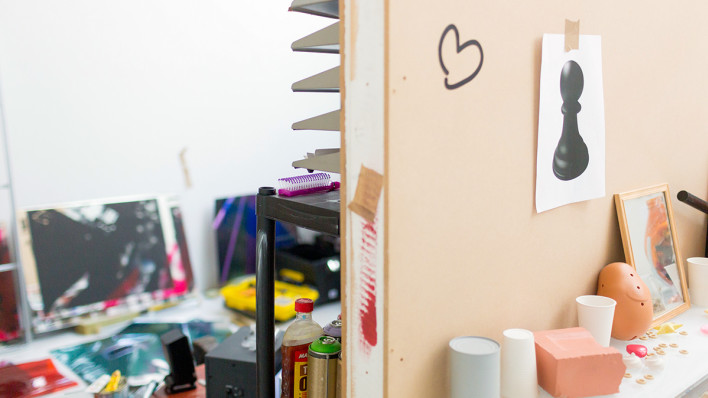 The RA Schools
Britain's longest-running art school, the RA Schools was founded in 1769 and remains independent to this day. Offering the only free post-graduate three-year art course in Europe, the Schools accepts up to 17 artists each year.
About HTC Vive
Vive
Vive is a first-of-its kind virtual reality system developed in partnership by HTC and Valve (priced at £759.00). Vive was designed from the ground up for room-scale VR, allowing true-to-life interactions and experiences thanks to an adjustable headset displaying stunning graphics, two wireless controllers with HD haptic feedback and 360° absolute motion tracking.
HTC
HTC Corporation aims to bring brilliance to life. As a global innovator in smart mobile devices and technology, HTC has produced award-winning products and industry firsts since its inception in 1997, including the critically acclaimed HTC One and HTC Desire lines of smartphones. The pursuit of brilliance is at the heart of everything they do, inspiring best-in-class design and game-changing mobile and virtual reality experiences for consumers around the world.