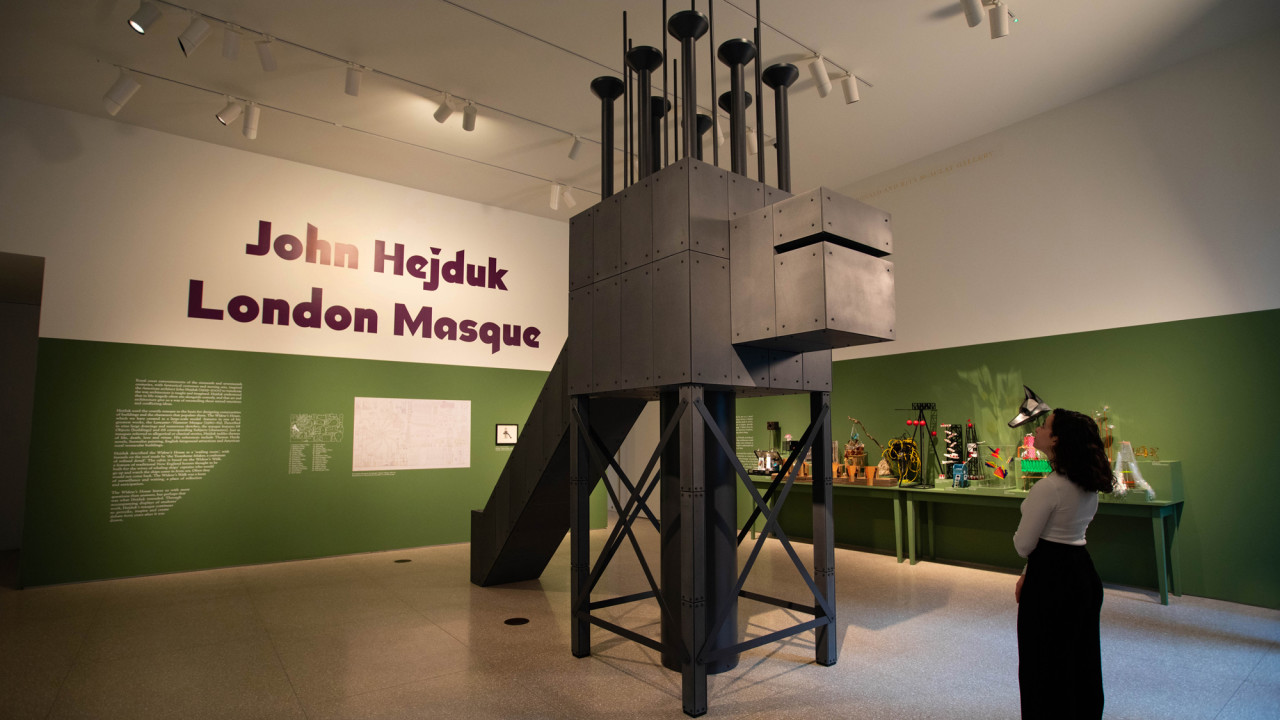 Display
John Hejduk
London Masque
22 March 2022 - 21 May 2023
Ronald and Rita McAulay Gallery | Burlington Gardens
Tues–Sun: 10am–6pm
Fri: 10am–9pm
Experience the architectural brilliance of John Hejduk with this large-scale model of the 'Widow's House' at the heart of the RA.
Architecture in the Ronald and Rita McAulay Gallery is a new free exhibition space at the heart of the RA. This ambitious installation features Hejduk's design for the Widow's House, one of 68 "objects" in his seminal Lancaster / Hanover Masque, brought to life.
The late American architect John Hejduk (1929 – 2000) believed that ideas were as important as buildings and that architecture had the power to evoke alternative worlds. Masques – popular royal entertainments of the 16th and 17th centuries featuring fantastical costumes and moving sets – inspired Hejduk to transform the way architecture is taught and imagined.
The Lancaster / Hanover Masque draws inspiration from an eclectic range of sources, including the novels of Thomas Hardy, English fairground attractions and American agricultural buildings. Hejduk used allegorical stories and a large cast of characters to deal with themes of life, death, love and virtue. The Widow is one such character in the masque.
Hejduk described the Widow's House as a "wailing room", with the funnels on the roof made by "the Trombone-Maker, a craftsman of refined detail". It refers to the Widow's Walk, a feature of traditional New England houses thought to be built for the wives of whaling ships' captains who would go up to these cupolas and watch the ships come in from sea. Often they did not come back. The Widow's Walk was a form of surveillance and waiting, a place of reflection and anticipation.
This dark and mysterious tale contrasts with the comical, zoomorphic form of the structure with its four legs, head and tail. Hejduk saw that in life tragedy often sits alongside comedy, and that art and architecture give us a way of reconciling mixed emotions and conflicting ideas.
'London Masque' was developed in collaboration with students from the Royal College of Art MA Interior Design programme. During the life of the London Masque a series of workshops will explore Hejduk's Lancaster / Hanover Masque and the resulting models and drawings will be displayed alongside the Widow's House.
Design John Hejduk, built with permission granted by the Estate of John Hejduk.
Download our large print guide.
#RAJohnHejduk
Supporters
Supported by
Gallery
Presentation drawing for the Lancaster/Hanover Masque, 1980-1982

Widow's House from Lancaster/Hanover Masque, 1980-1982

Widow's House from Lancaster/Hanover Masque, 1980-1982
Architectural Association: London Un-masqued
Students from the Architectural Association's Diploma Unit 11 have created work that expands our understanding of London. The students' work speaks of London as a strange and familiar place, where alternative cities exist within the city – an idea inspired by China Miéville's fantasy novel Un Lun Dun (2007).
Led by Shin Egashira, the students worked together to investigate the urban transformation of London through a collage where unbuilt designs sit alongside existing as well as demolished buildings.
John Hejduk's masques, which symbolise cities made up of subjects and objects, inspired each student to write their own brief for an object. On display alongside one of Hejduk's objects, the Widow's House, the students' models represent fragments of the city, tools or reimagined neighbourhoods. Using materials including wood, steel, plaster and pewter, the work shows how our imaginations come together with reality to make the cities we live in.
London Un-masqued was open 7 February – 21 May 2023.
RA Young People's Programme: We Built This City
This display features work by students aged 15–21 from the RA's attRAct programme. In August 2022 the group took part in a week of practical, discursive and collaborative workshops inspired by John Hejduk's Lancaster / Hanover Masque (1980–82), led by Mark Hampson, artist and Head of Fine Art Processes at the RA Schools, and Enej Gala, RA Schools student.
The attRAct programme is a free, year-long opportunity for young people, with monthly workshops led by professional artists, architects, and other creatives. Supported by The Nicholas Bacon Charitable Trust.
We Built This City was open 11 October – 5 February 2023.
RA Family Programme: Friendship and Alchemy
This display features work by participants from the RA's Family programme for children with special educational needs and disabilities (SEND) who have built landscapes and imaginary cities inspired by John Hejduk's Lancaster / Hanover Masque (1980-82).
In May and June 2022 a group of families who met at the RA and have formed a close-knit community, were invited to attend four short workshops led by artist-educator Cash Aspeek. Each week they used a distinct colour or material to reflect a theme in Hejduk's masque. A silver city presents buildings with human as well as animal characteristics; black materials were used to create a world of slotted structures; the colour red represents the fireworks and fairground attractions that inspired the architect, while natural materials express imaginary farming communities and animal enclosures.
The RA's Family programme for children with SEND is supported by The Lord Leonard and Lady Estelle Wolfson Foundation.
Friendship and Alchemy was open 12 July – 9 October 2022.
Royal College of Art: Translations
This display featured models made by students from the Royal College of Art MA Interior Design programme during a three-week project in October 2021.
Inspired by the Lancaster / Hanover Masque, students were asked to translate a character from Hejduk's sketches and text into their designs as 3D models using personal interpretations and stories from their own experiences and culture.
Translations was open from 22 March – 10 July 2022.