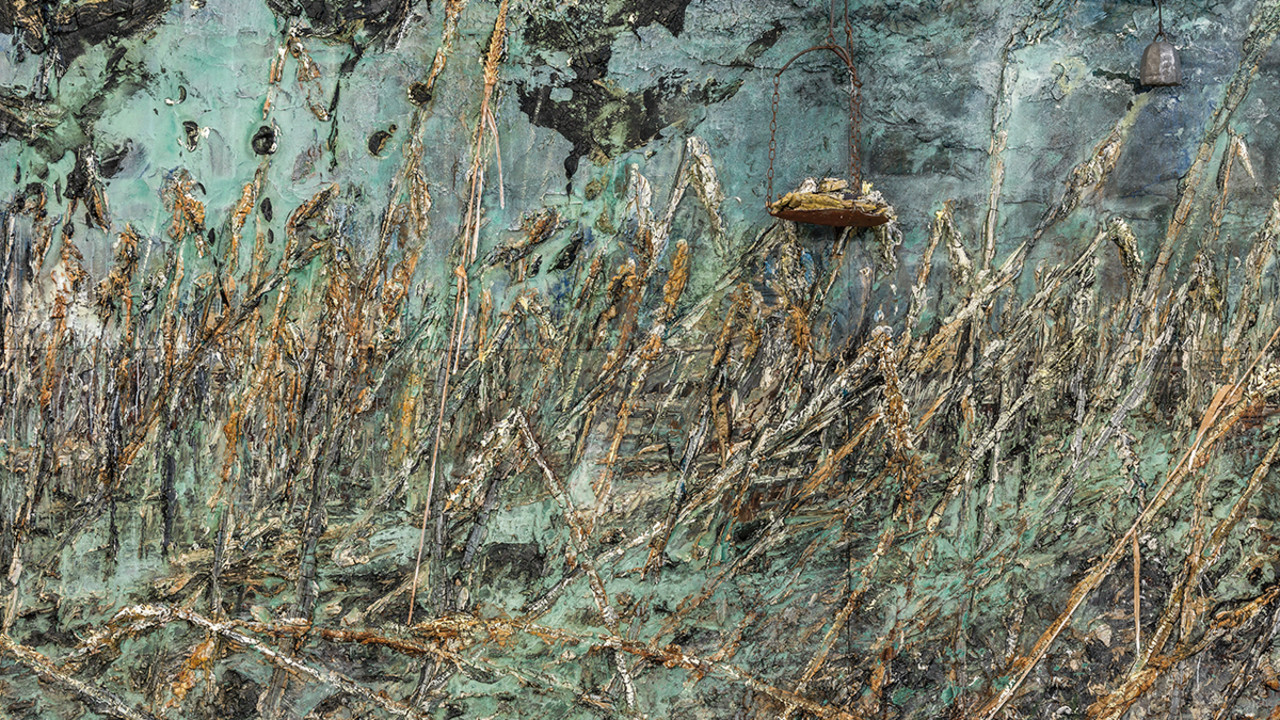 Anselm Kiefer
27 September - 14 December 2014
Main Galleries, Burlington House
Saturday – Thursday 10am – 6pm
Friday 10am – 10pm
This exhibition is now closed.
Friends of the RA go free
Join us for what the Guardian calls "the most exciting show in Britain this autumn", as Anselm Kiefer takes over our Main Galleries.
Over the last decade, our single artist shows have captured the imagination of the public. Always large in scale, ambitious in scope and astonishing in execution, we've seen artists including Anish Kapoor and David Hockney take on our Main Galleries. Now, this autumn, it's the turn of a man described as "a colossus of contemporary art" to make his mark: Anselm Kiefer.
This will be the most significant exhibition of the German artist's work ever held in the UK, spanning his entire 40 year career and unveiling new work created in direct response to our spaces.
Kiefer's extraordinary body of work includes painting, sculpture and quite simply monumental installations. Uncompromising in the subject matter he tackles, Kiefer's work powerfully captures the human experience and draws on history, mythology, literature, philosophy and science.
Full of brave and provocative work, this exhibition will be a testament to the career of a man driven to confront himself and the audience with the big and complex issues of our world's past, present and future.
Supporters
Lead Supporter

Supported by

Media Partner
Reviews
"An exciting rollercoaster ride of beauty, horror and history."

Jonathan Jones

"Be prepared to be swept off your feet."

The Times

"Kiefer is one of the most imaginative, original and serious artists alive."

The Guardian

"Feel Anselm Kiefer's power in his thrilling Royal Academy retrospective."

Waldemar Januszczak, Sunday Times

"Mythology, war, poetry, death - Anselm Kiefer makes big art with big themes."

Evening Standard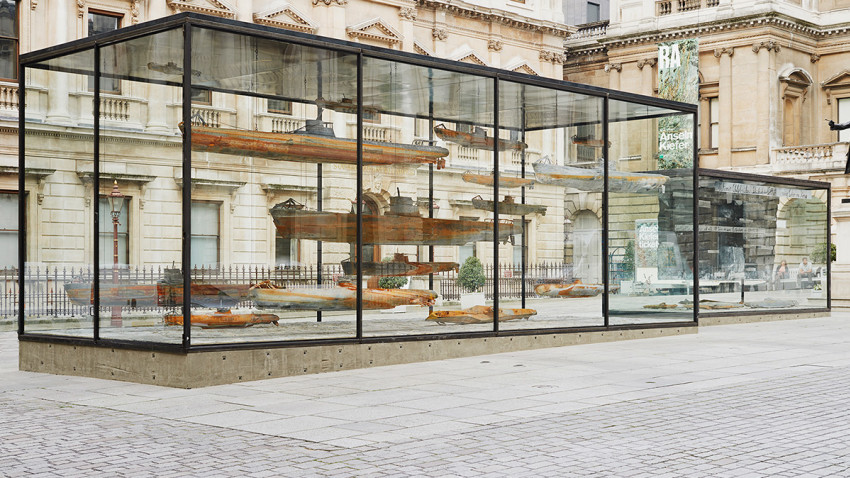 In the Annenberg Courtyard
Velimir Khlebnikov: Fates of Nations: The New Theory of War
Anselm Kiefer often dedicates his works to intriguing figures of the past, be they poets or philosophers. This piece is one of a number of works emerging from Kiefer's ongoing exploration of the Russian Futurist avant-garde writer, theorist and absurdist Velimir Khlebnikov (1885-1922).
After years of study, Khlebnikov concluded that a major sea battle took place every 317 years, or multiples thereof. Kiefer celebrates this heroic and ludicrous activity with a work that is both monument and anti-monument. Measuring almost 17 metres in total and consisting of two large glass vitrines, Kiefer creates a transparent, reflective sea-scape in three dimensions that calls to mind the Romantic sublime of painters from JMW Turner to Caspar David Friedrich. Kiefer uses the frames of the vitrines to stage a mysterious drama, in which viewers, seeing each other and their own reflections, become participants.
Gallery
The Orders of the Night, 1996

Osiris and Isis, 1985-87

Nothung, 1973

Morgenthau Plan (detail), 2013

The Language of the Birds, 2013

Heroic Symbol V (Heroisches Sinnbild V), 1970

The Rhine (Melancholia) (Der Rhein (Melancholia)), 1982-2013

Black Flakes, 2006

Interior, 1981
Part one of our Anselm Kiefer video series
We talk to Kiefer, curator Kathleen Soriano and Director of Artistic Programmes Tim Marlow, in the lead-up to the exhibition.
Part two of our Anselm Kiefer video series
Behind the scenes in the artist's studio at Barjac.
Part three of our Anselm Kiefer video series
Take a look inside the exhibition.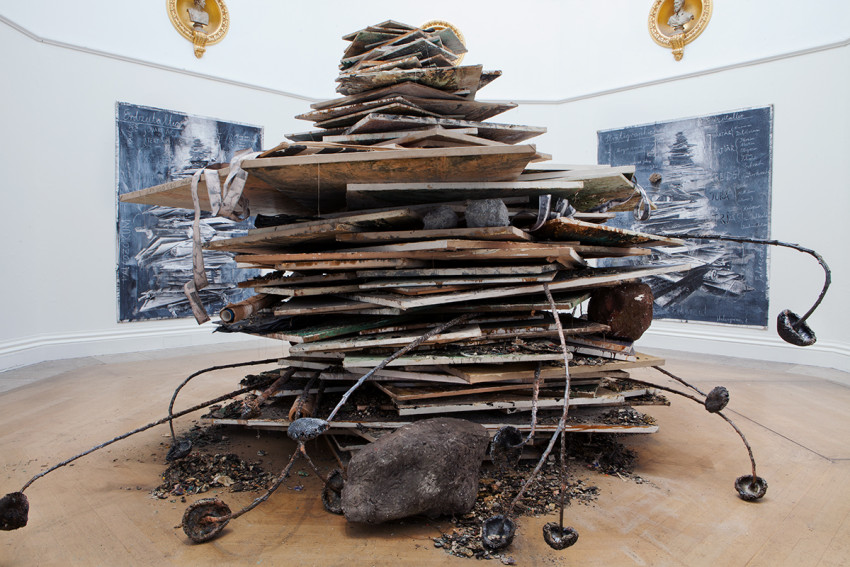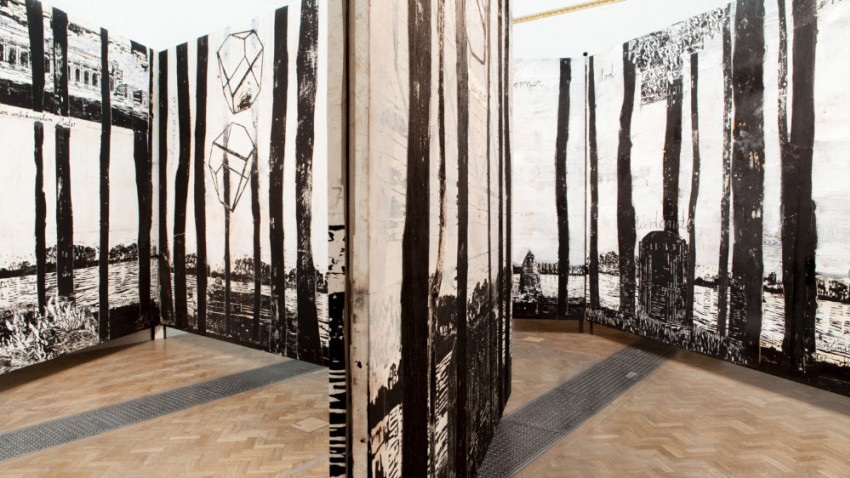 Work in focus: The Rhine
An extract from our Gallery Guide
In the final gallery of the exhibition is a work constructed specifically for this exhibition. In this Kiefer returns to the woodcut and to the Rhine of his homeland. Kiefer's interest in the Rhine, which marks the division between Germany and France, is linked to his consideration of borders. The basement of Kiefer's childhood home, close to the river's banks, would regularly flood with the springtime meltwaters, raising the question of where the border now lay, and whether France had indeed entered his basement.
In this 'forest' through which we can walk, its leporello format echoing the pages of a book, Kiefer also makes reference to the influence of the great German writer Johann Wolfgang von Goethe (1749–1832), as well as to Paul Celan and the German artist Albrect Dürer (1471–1528). The totemic Rhine runs across the works, and key motifs such as the melancholic polyhedron, the crucible of flames, the Holy Trinity and the bomb-damaged defences and bunkers of the Siegfried Line, are also recorded here.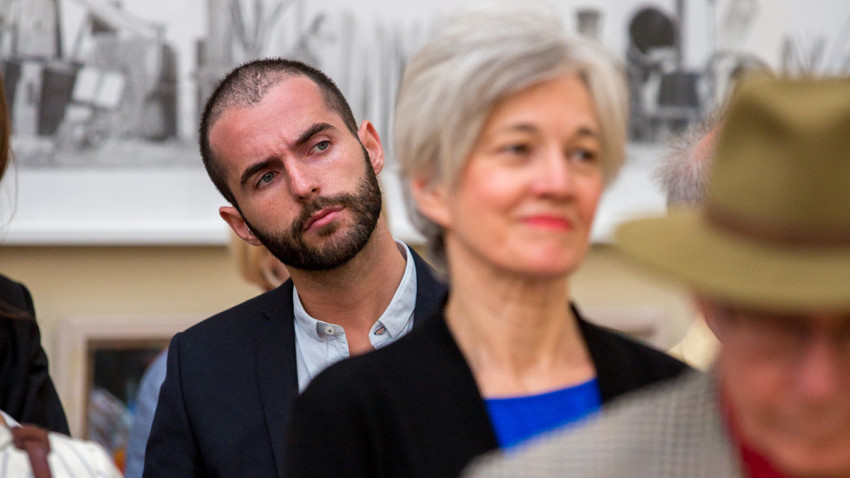 Talks and tours
Get more out of the exhibition
Exhibition tours
45 minutes
Free with an exhibition ticket, no booking required.
Wednesday 2.30pm
Friday 7pm (1 October – 5 December)
Exhibition spotlight talks
10 minute talks on individual works from current exhibitions, free with exhibition entry.
Thursday 3pm
ERROR - UnsupportedModule: AudioModule
Three Academicians' views
Ann Christopher RA
"I look in two ways at his work. Initially, as a viewer, I am compelled by his portrayal of dereliction, his use of a limited palette and the textural qualities of his paintings and sculptures. Secondly, as a sculptor, I am fascinated by the manipulation of so many unexpected materials, often raw and natural – plants, earth and ash – but also brutal materials such as concrete and metal."
David Chipperfield RA
"Kiefer's monumental architectural paintings explore this theme of the ruin. Along with railway tracks, the forest and the huge textured landscapes, the architectural ruin has been a recurring image and reference in Kiefer's work. The ruin reminds us of both the temporary nature of our lives and visions and the lasting persistence of the physical, the built – for despite all circumstances and actions, something remains."
Barbara Rae RA
"Brightness, that sharpness, often disappears in painting. When the beholder looks at Kiefer's imagery they are caught by some of the bright elements held in the dark sections. Their curiosity is sparked. The eye is telling the brain something that is provoking greater interest."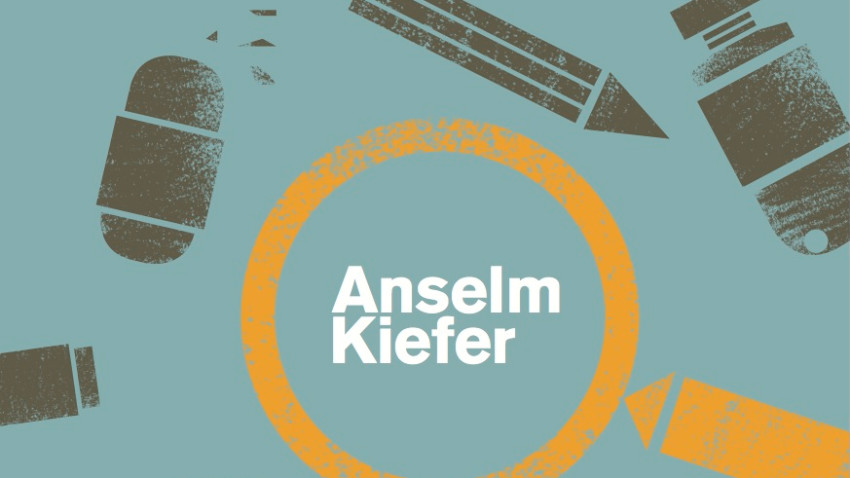 Art Detective
A guide through the exhibition for young visitors
As an artist, Kiefer confronts history directly, often creating works that refer to ideas of memory, identity, knowledge and spirituality. His paintings and sculptures have many layers of meaning, and are often made up of many different materials.
Let's explore...
Shop
'Anselm Kiefer' catalogue
The official catalogue to accompany Anselm Kiefer's 2014 retrospective at the Royal Academy of Arts, featuring sculpture, paintings and monumental installations that span Kiefer's forty-year career. The catalogue includes in-depth essays exploring the themes of history, religion and mythology in Kiefer's work, as well as numerous studio photographs taken by the artist himself.
Barbara Wiggins Leather Shoulder Bag
Stay stylish this autumn with this beautiful Barbara Wiggins Leather Shoulder Bag. Subtle but roomy, this bag is the perfect size for transporting all your daily essentials.
Graphite stick
This hand crafted graphite stick is perfect for creating large scale drawings, its practical canvas pouch makes it perfect to slip in your pocket or bag and keep with you for when inspiration strikes. This water soluble graphite allows you to add water to the marks you've made to blend and create light and dark, making it a truly interesting way to adapt and enhance your drawings.