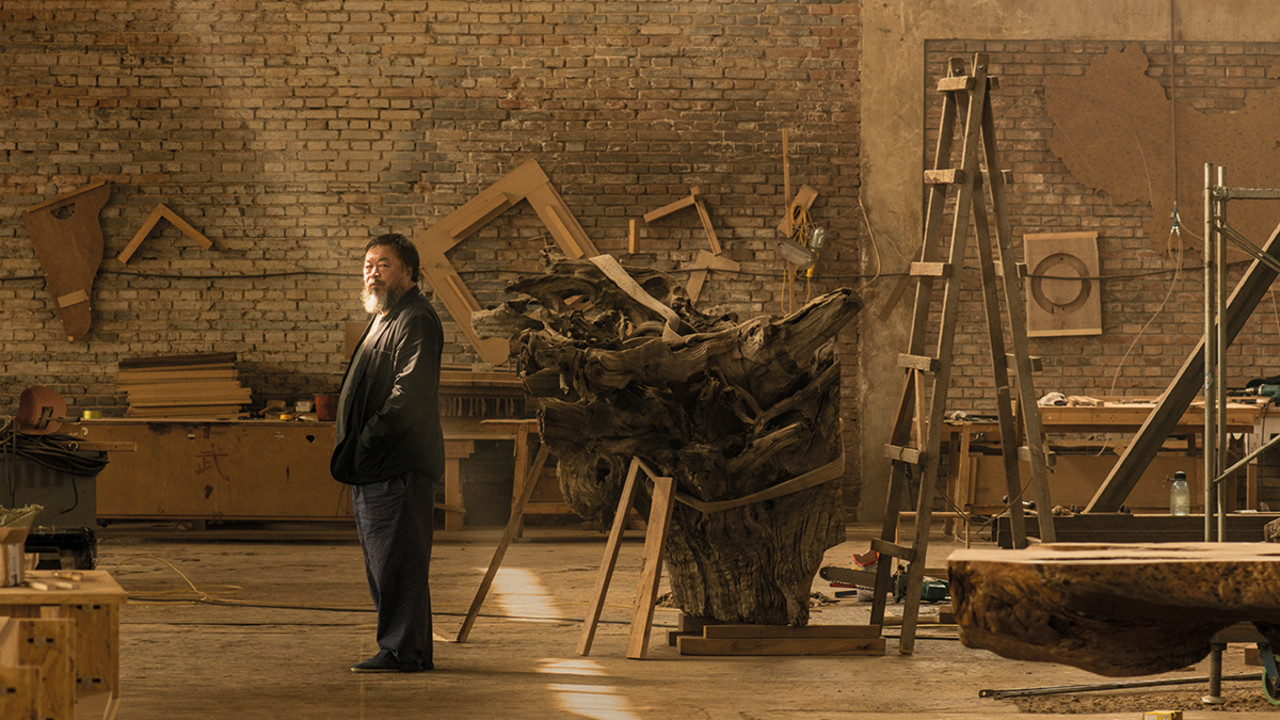 Exhibition
Ai Weiwei
19 September - 13 December 2015
Main Galleries, Burlington House
Final weekend opening times: Open from 10am on Friday 11 December until 6pm Sunday 13 December.
£17.60 (without donation £16). Concessions available. Friends of the RA, and under 16s when with a fee-paying adult, go free. Tickets include a multimedia guide and Friends of the RA will receive one for free.
Friends of the RA go free
Major artist and cultural phenomenon Ai Weiwei takes over our main galleries with brave, provocative and visionary works.
Our most recent single artist shows have seen some of the true greats of contemporary art animate our Main Galleries with unforgettable, powerful work. Hockney, Kapoor, Kiefer – you need to be a special artist to embrace the immensity of our historic spaces. Who better then to take up the challenge this autumn than Ai Weiwei, one of China's most influential artists.
Please note that all advance and walk-in tickets for this exhibition are now sold out.
Ai became widely known in Britain after his sunflower seeds installation in Tate Modern's Turbine Hall in 2010 but this is the first major institutional survey of his work ever held in the UK and it bridges over two decades of his extraordinary career.
Curated in collaboration with Ai Weiwei from his studio in Beijing, we present some of his most important works from the time he returned to China from the US in 1993 right up to present day. Among new works created specifically for our galleries and courtyard are a number of large-scale installations, as well as works showcasing everything from marble and steel to tea and glass. 
With typical boldness, the chosen works explore a multitude of challenging themes, drawing on his own experience to comment on creative freedom, censorship and human rights, as well as examining contemporary Chinese art and society.
"The work that you will see at the RA transcends the world of the gallery… This is an exhibition that reveals art's greatest potential." - The Times
Supporters
Supported by

Royal Academy International Patrons

Royal Academy International Patrons

Iwan and Manuela Wirth

and 1,319 Kickstarter backers
Reviews
"A great artist, and a great exhibition. Not to be missed"

Mail on Sunday
Watch the exhibition trailer
Major artist and cultural phenomenon Ai Weiwei takes over our main galleries with brave, provocative and visionary works.
Ai Weiwei and Tim Marlow in conversation: Part 1
In this video, recorded at his studio in Beijing, Ai Weiwei talks to the RA's Artistic Director Tim Marlow about his artistic influences and the role of politics in his work.
Ai Weiwei and Tim Marlow in conversation: Part 2
Ai Weiwei's monumental work Straight is the heaviest sculpture ever shown at the Royal Academy. The work is made from straightened steel reinforcing bars, salvaged from the ruins of the 2008 Sichuan earthquake. In this video, the second in our series about Ai Weiwei, the RA's Artistic Director Tim Marlow asks the artist about the origins of this work.
Ai Weiwei and Tim Marlow in conversation: Part 3
Artist Ai Weiwei tells the RA's Artistic Director Tim Marlow about the origins of his work S.A.C.R.E.D. (2011-2013).
Ai Weiwei in conversation with Tim Marlow: Part 4
In the final video in our series, Ai Weiwei tells the Royal Academy's Tim Marlow about the chilling moment when he discovered the extent to which he was under surveillance by the Chinese government – and the art he made in response.
An Evening with Ai Weiwei
In this event, streamed live over YouTube on 16 September, Tim Marlow talks to Ai Weiwei about his artistic influences, the role of politics in his practice and his work within the context of Chinese heritage and culture.
Gallery
Surveillance Camera, 2010

Tree, 2009-10, 2015

Bicycle Chandelier, 2015

Coloured Vases, 2015

Marble Stroller, 2014

Souvenir from Shanghai, 2012

Straight, 2008–12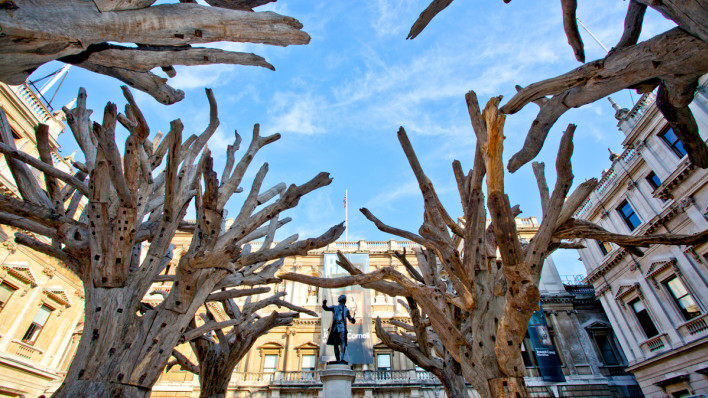 You brought Ai Weiwei's Tree to London
Thank you to our 1,319 Kickstarter backers who contributed £123,000 to bring Ai Weiwei's monumental installation, Tree, to our courtyard.
Made from reassembled pieces of dead wood from the hills of southern China, Tree has been likened to the modern Chinese nation, where ethnically diverse peoples have been brought together to form 'One China', a state-sponsored policy aimed at protecting and promoting the nation's sovereignty and territorial integrity.
Read more about Tree in curator Adrian Locke's blog.
Watch a timelapse video of the installation of Tree here.
Image: Ai Weiwei, Tree, 2009-10, 2015. Installation at the Royal Academy of Arts, London 2015. Photo: Fraser Marr.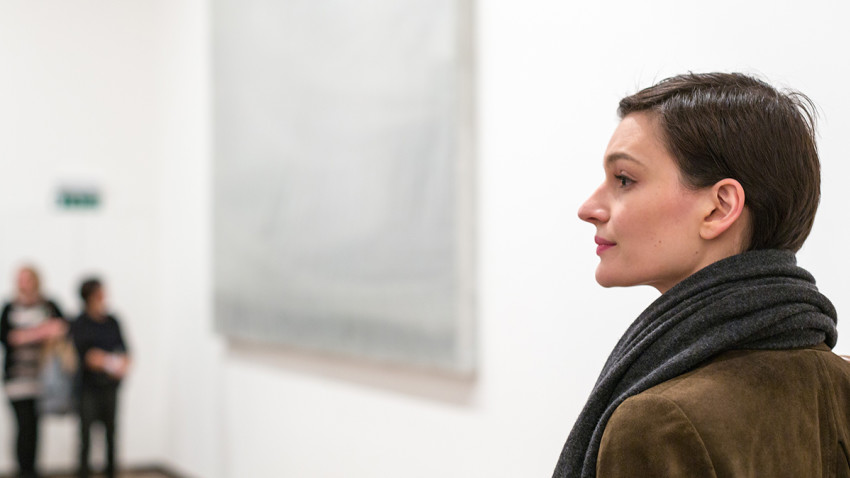 Talks and tours
Get more out of the exhibition
Exhibition tours
45 minutes, free with an exhibition ticket, no booking required
2.30pm Wednesdays, 7pm Fridays (23 September–4 December)
Resources
Exhibition in focus guide
Read up on Ai Weiwei with our guide to the exhibition, a beautifully illustrated introduction which presents the central themes of the exhibition and key artworks. Written especially for secondary students and teachers, the guide is nevertheless suitable for all.
Large print labels
Although large print labels will be available in every room of the exhibition, you can download them before arriving at the RA.
Art Detective: A Guide Through the Exhibition for Young Visitors
This exhibition at the RA looks back at artworks Ai Weiwei has produced over the last 22 years, and features ceramics, photography, video, sculpture, wallpaper, furniture and so much more, including new work created just for this exhibition.
Let's explore…
Shop the Ai Weiwei Exhibition
'Surveillance' silk scarf
Add elegance to any outfit with this silk scarf. Decorated with a standout contemporary print – featuring handcuffs, security cameras and Twitter's Larry Bird logo – the scarf combines stylish design with a powerful political message.
Finger telescopic umbrella
Don't let the rain get you down with this cheeky Raise Your Finger Umbrella, inspired by a series of works by Ai Weiwei. When open, each canopy gives you the chance to give 'the finger' to the weather.
Ai Weiwei hardback catalogue
A beautiful illustrated catalogue produced by the RA with Ai Weiwei's studio, featuring an exclusive interview with the artist and the RA's Tim Marlow, coloured images and essay contributions from curators and experts.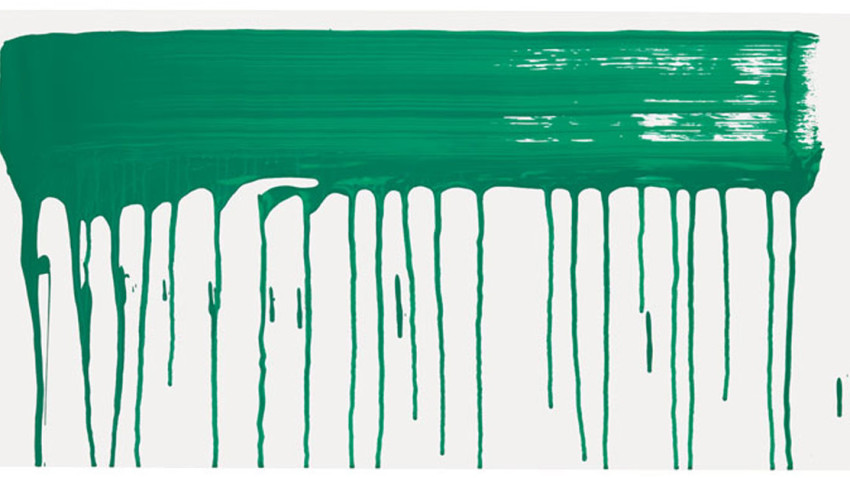 Ai Weiwei limited editions
Shop a unique series of limited editions by Ai Weiwei, from exhibition catalogues with individually painted dust jackets, to handmade porcelain flowers.
The dust jackets for the limited edition of the catalogue of Ai Weiwei's 2015 exhibition at the Royal Academy have been individually painted by the artist in one of ten colours. You can also buy beautiful porcelain chrysanthemums, universal symbols of both freedom and remembrance, which have been manufactured especially for the Royal Academy.