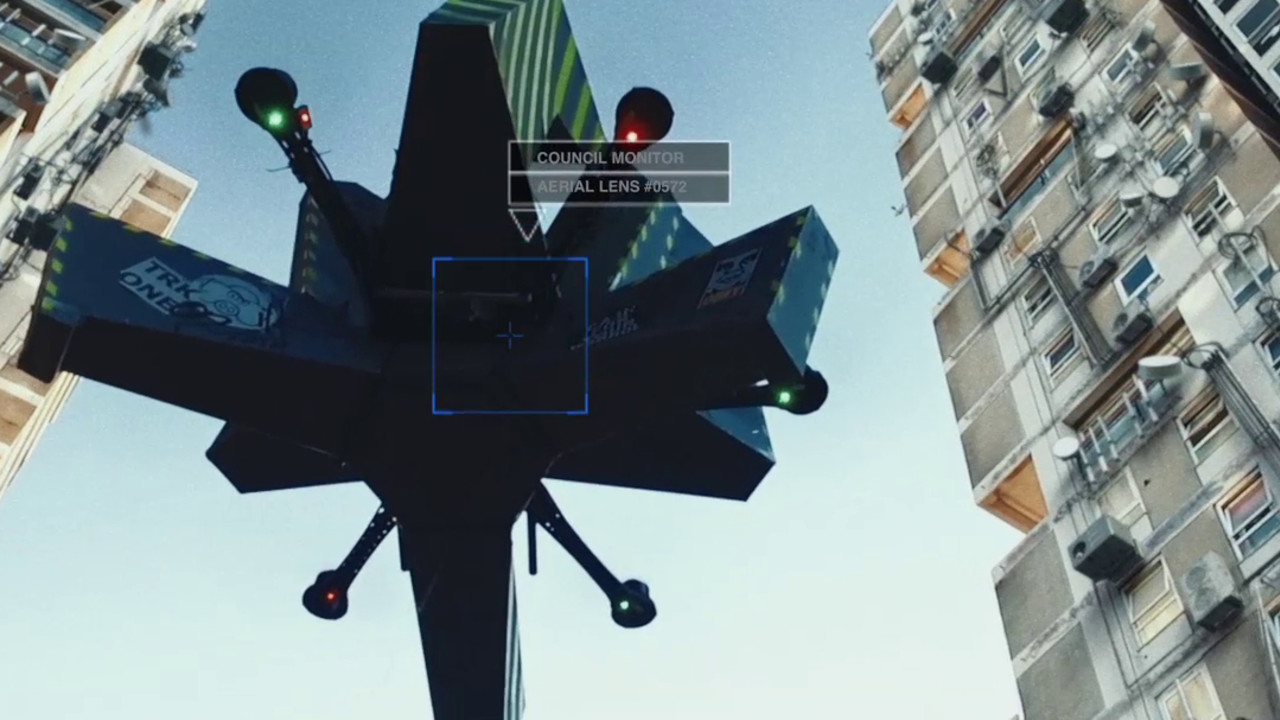 Talk
Film | Making | Space
Making Space Series
Monday 13 February 2017 6.30 - 8.30pm
Geological Society, Piccadilly, W1
£12, £6 concessions. Includes talk and drinks reception.
Sold out
During this evening of short screenings and performances, our contributors explore how filmmaking can open up new ways of thinking about architecture.
Established practices of drawing in the visual representation of architecture tend to make us think of space outside time. They limit not only our communication of temporal aspects of architecture, but also design thinking. Introducing the dimension of time through film can bring a space to life. Used as both a creative and critical design tool, film can generate an affective relationship with architecture, a form of empathy with the building.
Film can capture the atmosphere of a space, the additive layers of weathering and the regular patterns of light and shadow cast on the skin of a building. Equally it can unlock the story-telling and emotive potential of design, reveal traces of history and personal memories and frame the daily intimacy of occupation, as well as accentuate and contextualise the link between architecture and identity.
Join us for an evening of short screenings, performances and discussion to explore how filmmaking can open up new ways of thinking about architecture.
Speakers include:
Dr Penelope Haralambidou – architect, researcher and lecturer at the Bartlett School of Architecture, UCL
Dr Richard Martin – public programmer at Tate and a teaching fellow at King's College London
Clara Jo – Berlin and London based filmmaker and artist, previous Starr Fellow at the Royal Academy of Arts
Kreider & O'Leary – a poet and an architect who collaborate to make performance, installation and time-based media work
Liam Young – a speculative architect who operates across design, fiction and futures
Following the screenings and discussion, works by PhD students from the Bartlett School of Architecture will be shown in the library. Find out more about their work on the Film | Making | Space blog.
Film | Making | Space is organised in collaboration with the doctoral programme at the Bartlett School of Architecture, UCL.
Participants
Clara Jo
'Tilt' is a film installation which creates a contemporary parallel of an Enlightenment World, employing current museological digital imaging technologies as devices to penetrate the surface of scientific and artistic objects. Rather than performing direct incisions into material culture, these new technologies create a surrogate and abstracted experience of objects and bodies for public consumption. This film draws from the RA Collections and Archives, folding in material from other London institutions such as the Burlington Courtyard Learned Societies and the Imaging and Analysis Centre at the Natural History Museum.
Kreider + O'Leary
'Thirteen Points, Expanded' has been filmed over 18 months in Belfast, systematically visiting each of the thirteen urban clusters of Interfaces that divide Nationalist and Unionist communities. Contemporary HD Video footage is overlayed with historical archival footage and sound to render a layered representation of the various 'Interface Areas' of the city. Composited text presents a commentary on the implementation and resilient longevity of the 'Peacewalls'. Rather than looking at specific walls or clusters of urban barriers, the work positions the INTERFACE as a vast urban system that includes walls, derelict spaces, urban infrastructure, telecommunications, historical events, surveillance, policing and policy documents as all part of the same resilient organism.
Liam Young
'Where the City Can't See' is the world's first narrative fiction film shot entirely with laser scanners. Set in the Chinese owned and controlled Detroit Economic Zone (DEZ) and shot using the same scanning technologies used in autonomous vehicles, we see this near future city through the eyes of the robots that manage it. Exploring the subcultures that emerge from these new technologies the film follows a group of young car factory workers across a single night, as they drift through the smart city point clouds in a driverless taxi, searching for a place they know exists but that the map does not show. They are part of an underground community that work on the production lines by day but at night, adorn themselves in machine vision camouflage and the tribal masks of anti-facial recognition to enact their escapist fantasies in the hidden spaces of the city.