"The 21st century is proving pretty nasty. Let's reflect on art's relationship with our times."
By Bob and Roberta Smith RA
Published 30 January 2017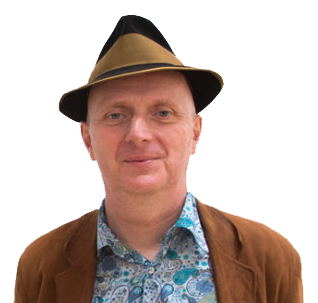 "The 21st century is proving pretty nasty. Let's reflect on art's relationship with our times."
A hundred years on from the Russian Revolution and the Great Depression, should artists get involved in politics like the Constructivists? Or should they remain distant like Thomas Hart Benton? Having the choice is fortune indeed, says artist Bob and Roberta Smith.
In 1983 I visited Moscow and Leningrad as a student at Reading University. We visited the Hermitage in Leningrad, the Tretyakov in Moscow, as well as various monuments and graveyards. We were even shown students drawing from casts in the Repin Art Academy. We saw almost nothing of the Suprematists and Constructivist art we naively thought we could see.

I had gone to the USSR a fan of all things red, utopian and geometric but after seeing a nation mired in a wartime economy, obtaining vitamin C from kiosks selling rather mouldy lemons, when back in London I headed to Pizza Hut and the transitory joys of low-end capitalism.

That 10-day trip to Russia changed my life. At the beginning of the 1980s, I would have said I was not interested in visiting America and that the USSR had more to offer. By 1988, I was living in New York and loving every moment. I loved Warhol and pop art – but it was the depression, the dust bowl, Woody Guthrie, John Steinbeck's Of Mice and Men, American Gothic that spoke to me of the innate humanism of art. Art revealing big city blues. Quiet, knowing reflection. Rural poverty and Edward Hopper's loneliness. These artists were a different kind of dreamer and idealist.
People get shot in revolutions and starve in economic depressions. But through ingenuity and art, life goes on.
The Royal Academy's recreation of a large part of 1932's Suprematist exhibition, in the forthcoming Revolution: Russian Art 1917-32, reveals to us the capacity for art to transform the visual world. Art can create a new frame to look at how we relate to each other, whilst in hindsight making us despair at politicians' cruel exploitation of culture, leaving us stunned at the brutality and short sightedness of Soviet politicians' philistinism.

A hundred years on, the same questions arise. Do artists get involved like the Constructivists did, attempt to design the future? Or do they purposefully remain distant, and reveal what's going on like Thomas Hart Benton did? Of course, artists will do both, but time, the making of exhibitions and the chance to absorb the huge questions these two great shows afford is fortune indeed.

We consider ourselves lucky to avoid the huge economic and violent shocks the world went through in the teenage years of the 20th century. But the 21st century is proving pretty nasty. As we look at the art in both these shows, which is inextricably connected with what was happening then, let's reflect and think about contemporary art's relationship with our life and times.

People get shot in revolutions and starve in economic depressions but through ingenuity and art, life goes on. Through art, if we are lucky, we are changed. I was changed.
Some of Bob and Roberta Smith's political work