"It has never been more important that we play our part in the art community and the recovery ahead"
By Axel Rüger and Rebecca Salter PRA
Published 15 February 2021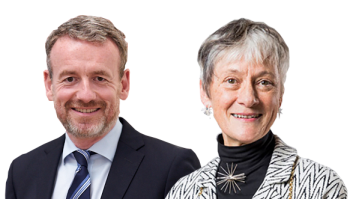 "It has never been more important that we play our part in the art community and the recovery ahead"
Covid-19 has pushed arts institutions to their limits. President of the Royal Academy, Rebecca Salter, and our Secretary and Chief Executive, Axel Rüger, reflect on the challenges faced by the RA.
The RA has thrived through 250 years of challenge and change – but we've never seen a year like this. Covid-19 has pushed arts institutions – along with artists, students and so many others – to their limits, with doors closed and incomes disappearing practically overnight. Even when lockdown is lifted, to open safely with vital social distancing measures in place, our capacity will be reduced by as much as 80%.

The RA is a home for artists and architects, and in this crisis, it is our foremost challenge to protect the vital forces at the heart of that: the living artists and architects who lead us, the Royal Academicians, alongside our world class Exhibitions programme, including the historic Summer Exhibition, the Schools, our rich Collection and our Learning programme. We know that at this difficult time, it has never been more important that we play our part in the extended artistic community – supporting artists and connecting art with a world which needs it now more than ever.

The responsibility that comes with that is very clear, as is the challenge presented to us in a year like this one. Yes, we have a grand Piccadilly address, a world-class reputation, a roster of leading artists and architects working with us. But the reality is that we don't have deep pockets, and our funding is not guaranteed: unlike many other cultural institutions, the RA is unique in not receiving government funding. We rely fully on income we generate ourselves, through the energy and passion of our artists and our supporters. We are only able to do what we do and fulfil our mission because our visitors, Friends and Patrons choose to keep supporting us.

Over the past six months, the RA has had to make very difficult and painful decisions. We have reduced every cost and reconsidered every aspect of what we do in order to keep our head above water as an organisation. We have cut our operational budget by 25%, and – most painful of all – we have had to remove almost 100 staff roles, each one an individual and a part of what the RA represents. Over 250 years, the RA has had to reinvent itself many times and in 2020, we did it once more.

Over the past year, we have also worked hard to stay connected to you: our visitors, art lovers, artists, students, school children, teachers, carers, parents and all for whom art provided the necessary diversion, inspiration and solace throughout this crisis. With all of you alongside us, the RA is now ready to play its part in the recovery ahead – ensuring that art will play its vital and exciting role in the rebuilding of public life and confidence.

Besides your continuing engagement, we have also been able to rely on much generous support from our Friends, Patrons and Corporate Partners. That money goes directly to enabling not only our exhibitions, our Collection and our programme, but to ensuring that these are accessible to everybody.

As we move into 2021, the RA relies on you more than ever to keep that spirit not just surviving but thriving. On behalf of our artists, students and staff, and above all the wider community who value the RA so deeply, thank you.

Axel Rüger, Secretary and CEO Rebecca Salter PRA, President
Make a donation

An independent charity, we receive no revenue funding from the government. At this difficult time, we're reliant on the support of our Friends, visitors and online audiences. Thank you.