"The pandemic is giving us time to think about the kind of life we want afterwards."
Artists in Isolation
By Yinka Shonibare RA
Published 14 May 2020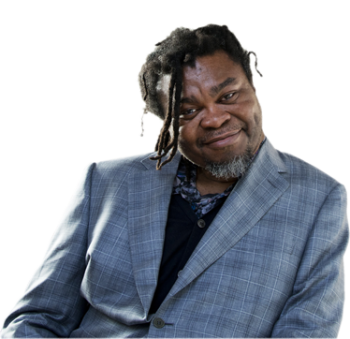 "The pandemic is giving us time to think about the kind of life we want afterwards."
The Covid-19 pandemic may have isolated us, but for Yinka Shonibare RA it's given him the space he needs to truly become an artist again.
I don't think any of us will come out of this the same. But that's not necessarily a bad thing.

As an artist, I'm introspective and I like to create, but that's not what my life was like before lockdown. I found myself running a large studio which employs seven people, and I was always in meetings. It was constant and I didn't intend for that to happen, although I'm very grateful for it. The pandemic has given me back the time to really think about the artist I want to be.

I've been spending lockdown in my house in Bow, in East London. When I wake up I have to do my exercises, just to make sure I'm keeping my physio up, then it's usually lunchtime. I live with my partner, Rachel, and one of the nicest things about being at home has been listening to her practise the piano. I suddenly listen to the news less; it wasn't doing me much good. What's also been keeping me sane is that I have a small studio at the end of my garden. I pretend I'm actually going to work when I go to the end of my garden.

There, I have space for reflection and to work. I read, I work, I watch films. It's more like my natural state. Making art is like writing a diary, I think – it's like therapy. For that reason I think art can actually play a huge role in a crisis like this. It's doesn't have to be to make money. People can create for the same reason that we ultimately all make art – for their own spiritual nourishment.
Life is not meant to be a party all the time. A bad situation is not always a bad situation – some good can come out of it.
All of my projects connect to social responsibility in one way or another. Most prejudice actually comes from ignorance – it's really because people don't understand each other and they're scared. But by actually exposing people to other cultures and other ways of doing things, it expands their horizons and their imagination as well. That's what I'm trying to do in my work. Coronavirus is a major challenge when you're talking about exchange, but still, I don't see my work stopping – although some projects have, like everyone else's life and work, had to pause.

I was running Guest Projects in East London, where artists would get a free month and a platform to show their work, and in the lockdown I realised we can't really do that. I also started a project called Guest Artists Space in Nigeria through the Yinka Shonibare Foundation, where we'll host around three artists for a three-month residency at two locations: a three bed multifunctional studio space in Lagos, and on a 54-acre farm two hours out of Lagos. I employ ten people on the farm, and I've planted about two hectares of maize, two hectares of plantain and some local vegetables. We're going to have a studio on the farm, but I also want to do residencies with agricultural researchers, so it's not just artists, it's people who might be interested in doing some research or might contribute something to local skills. That project was meant to open in 2021 and because of what's happened I'm moving it to 2022.

But, artists are good at finding creative ways to continue to work, because we don't have to follow established norms. During this time, I want to have some kind of online presence for the residency so I can continue to create some kind of dialogue, but we're still working on what that presence will be.
I've also been inspired to begin creating some new work. I've worked on a poster for Wolfgang Tillmans's Solidarity 2020 project. The idea is that different artists design posters, and organisations who are struggling for funding can then sell the posters for £50 each to raise money.

I'm also making montages that try to make sense of the whole coronavirus situation, which are a combination of drawings, photographs, colour and linework. I'm interested in the fundamental issue of mortality, and questions around rebirth and newness, and finding a new way of looking at the world. It's kind of a contradiction between good and evil — I'm trying to understand how death can actually lead to rebirth.

Work is still quite busy, but at the moment, I'm not really at the point of thinking how I'm going to show any of it yet. I'm more about trying to get something out, then we'll see. I'm finding that I don't actually need an audience as much as I used to, and I have to say, I actually like that – for now anyway.

I think for all of us, the pandemic is giving us time to think about the kind of life we want to have afterwards. Maybe you want to continue doing the same thing. Or, for people doing really stressful jobs, this might be a time to think "actually, I need to change direction," or "I never have time for my family. Now is the time to change that."

Life is not meant to be a party all the time. A bad situation is not always a bad situation – some good can come out of it.