Now in its 246th year, the Summer Exhibition remains the world's largest open entry exhibition, showcasing works in all styles and media selected by a panel of experts.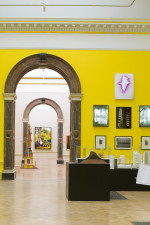 Saturday – Thursday 10am – 6pm
Friday 10am – 10pm

Please note: We will be closed on 4 June from 1pm and all day on 23 June.


09 June — 17 August Main Galleries, Burlington House £12. Concessions available. Friends of the RA go free.

This year, our judges include Eileen Cooper RA, Chris Orr RA and Emma Stibbon RA. Most works are also for sale and artists range from talented newcomers to some of the biggest names in the contemporary art world. The works are selected and hung by Royal Academicians and entry is open to all artists. In 2013, nearly 70% of the exhibits were by non-Academicians, £70,000 worth of prizes was awarded and over 5,000 works were sold.
History of the Summer Exhibition

Originally simply known as 'The Exhibition', where the likes of Gainsborough, Turner and Constable sharpened their skills

Nowadays, although there's a plethora of art fairs, commercial galleries and contemporary exhibitions to choose from, the galleries at Burlington House make an unrivalled setting for artists to display and sell their artworks.

Today the show reflects the gamut of contemporary practices, with works by established and emerging artists often being hung side-by-side.
Information for artists

Digital submission to the 2014 Summer Exhibition

For the first round of the selection process, artists must submit digital photographs of their work online. The judges will shortlist up to 4,000 entries to be delivered to the Academy for a second round.

How to enter
Entry forms for this year's exhibition have sold out, but if you would like to find out more about the process please visit our artists' website: https://summer.royalacademy.org.uk

Check on the progress of your submission
Find out the latest on your submission by logging in to our artists' website: https://summer.royalacademy.org.uk
The difference between an amateur and professional artist is interesting. A professional is someone who got lucky and found an audience willing to pay for their work.
Lundahl & Seitl: Symphony of a Missing Room

Archive of the forgotten and remembered

Imagination takes over — and the intangible becomes real

Each year the Royal Academy of Arts is transformed by the Summer Exhibition, as more than 1,000 works go on display in the world's biggest open-submission art show. But what is left after the art works have gone?

Lundahl & Seitl's 'Symphony of a Missing Room' is your chance to find out. Using multi-sensory technology, invisible dance and whispered illusion, it leads you on a collective and extremely personal journey through the Royal Academy's public and private spaces, revealing the building as never before.

Watch a video interview with the artists

Presented by LIFT and the Royal Academy of Arts. Supported by Festivals in Transition — Global City Local City with the support of the Culture Programme of the European Union.

With support from the Embassy of Sweden.

Six performances daily from 10am
19 May—8 June
Tickets £25 (£18 concs.)