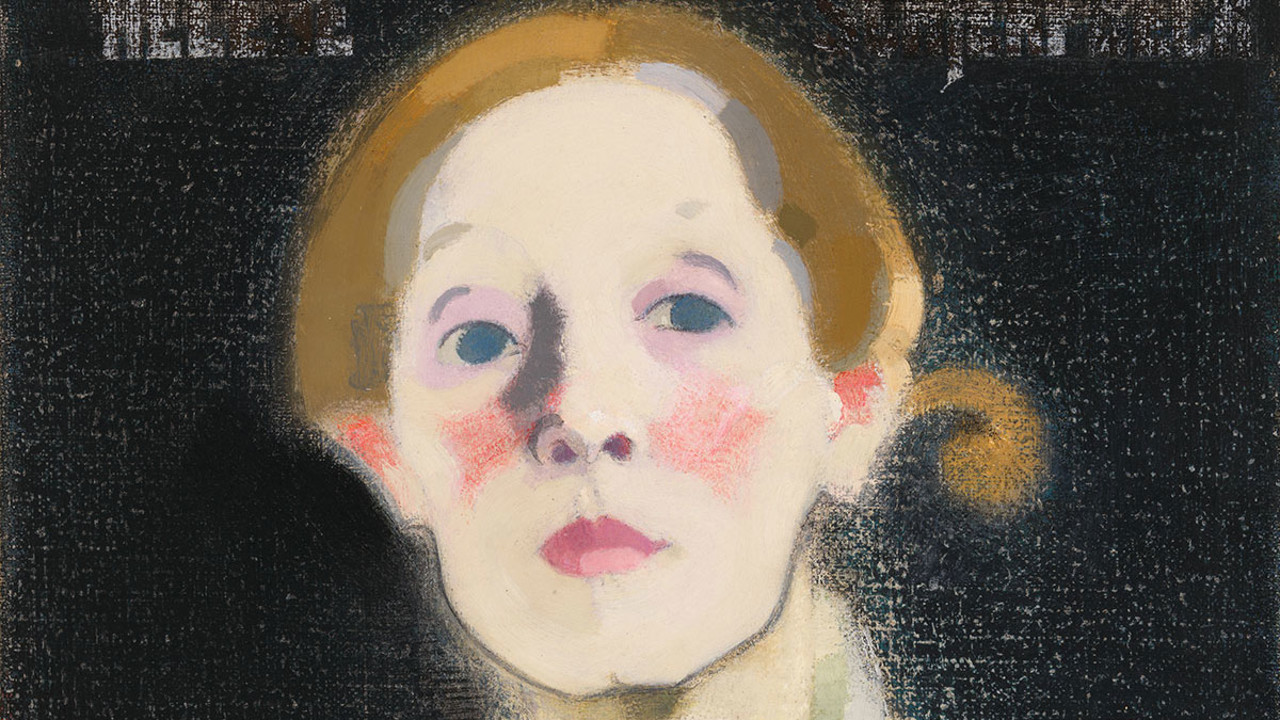 Exhibition
Helene Schjerfbeck
20 July - 27 October 2019
The Gabrielle Jungels-Winkler Galleries, Burlington Gardens, Royal Academy of Arts
Daily 10am – 6pm
Friday 10am – 10pm
£14 (without donation £12). Concessions available. Friends of the RA, and under 16s when with a fee-paying adult, go free.
Friends of the RA go free
Discover the mesmerising paintings of Helene Schjerfbeck, one of Finland's best kept secrets, in the UK's first major exhibition of her work.
Helene Schjerfbeck (1862–1946) is a Finnish national icon. From her early naturalistic style – honed during her studies in France – to her highly abstracted self-portraits, this exhibition will present Schjerfbeck for the first time to UK audiences.
Talented and widely travelled, Schjerfbeck found artistic success at a young age. In the 1880s she connected with artists' colonies in Pont Aven, Brittany and St. Ives, Cornwall. In her later years, she left the Finnish capital for a quieter life that allowed her to concentrate on her work. Nonetheless, keeping in touch with artist friends and the seismic shifts in modern art, she produced some of her most raw and radically abstracted paintings in these years.
Through over 60 portraits, landscapes and still lifes, this long-overdue survey traces the evolution of her remarkable career. Among the highlights will be a sequence of self-portraits, which demonstrate Schjerfbeck's lifelong fascination with the physical and psychological process of ageing. In the age of the selfie, her engagement with masks and masquerade – the superficial appearance we present to the world and what lies beneath – is more relevant than ever.
Overlooked for too long, Schjerfbeck's unique vision and painterly invention will be a revelation.
The exhibition has been curated by Jeremy Lewison, together with Anna-Maria von Bonsdorff and Sarah Lea.
Exhibition organised by the Royal Academy of Arts, London, and the Ateneum Art Museum / Finnish National Gallery, Helsinki.
Supporters
Supported by

Supported by
Reviews
"Her self-portraits put her in the company of Goya, Rembrandt, Francis Bacon and Lucian Freud"

The Observer

"This terrific exhibition is long overdue."

Evening Standard

Instead of tapering off into rehearsed formulas, her art gets better as it heads from start to finish.

Time Out

This is the first solo exhibition of her work to be staged in this country. Make the most of the opportunity; you are in for the most wonderfully striking surprise.

The Times
Become a Friend of the RA and see Helene Schjerfbeck for free
Katy Hessel meets Helene Schjerfbeck
Curator, writer and presenter Katy Hessel of @thegreatwomenartists talks to the exhibition's curators about Helene Schjerfbeck's experimental approach to painting and her choice of subject matter.
Helene Schjerfbeck: five things to know
She was a childhood prodigy who overcame family tragedy
Schjerfbeck's talent was recognised when she was just 11 years old and she began attending art school. Her family could only afford to educate one of their children (her brother Magnus), but luckily her tutors believed in her potential and she was offered a full scholarship. When she was just 13, her father died from tuberculosis and her family fell further into poverty. But Schjerfbeck continued to receive funding, and by the age of 18, she was studying art in Paris on a trip paid for by the Finnish Government.
She was independent and a risk taker
Schjerfbeck lived through some of the most seismic shifts in modern art, from Impressionism to Surrealism. But she was never one to follow the crowd and forged her own path. She drew inspiration everywhere from Old Master paintings to contemporary fashion magazines – and in the process she developed her own distinctive, expressive style. Her work defies categorisation and she is often seen as a "painter's painter" - someone who constantly experimented with techniques, and was willing to push and take risks rather than repeat past successes.
She is little known outside her home country...
...but Schjerfbeck's fame may have spread further, were it not for the outbreak of war. In 1914, she was the only Finnish woman artist who took part in the prestigious Baltic Exhibition in Malmo, Sweden. The event was designed to show off the industry, art and culture of Sweden, Denmark, Germany and Russia but was interrupted when Germany and Russia entered the First World War on opposite sides of the conflict. Some 25 years later, Schjerfbeck's work was due to be displayed in the USA for the first time, but the outbreak of the Second World War led to the exhibition being cancelled.
She travelled widely throughout Europe
Schjerfbeck lived with limited mobility after a childhood fall that broke her hip. Despite the barriers this would have posed to her, she travelled widely during her younger years, making trips to Vienna, St Petersburg, Florence, Paris and St Ives. While in England, her work was exhibited in a gallery on Piccadilly in London, close to where the Royal Academy of Arts still stands today. Schjerfbeck's travels helped shape her unique style and she drew on everything she saw in Europe once back home in rural Finland. Although she wasn't able to travel later in life, she never stopped painting. When she died in 1946 she had devoted more than 70 years to her art.
She was never afraid to take a long, hard look in the mirror
Schjerfbeck created self-portraits throughout her life but in her final two years, she drew and painted her own face more than 20 times, seemingly fascinated with the physical and psychological process of ageing. As she commented in a letter to a friend, "this way the model is always available, although it isn't always pleasant to see oneself." These later works show a move towards radically abstracted figuration that foreshadowed the portraiture of Francis Bacon, Lucian Freud and Frank Auerbach.
This is an overdue tribute to a very considerable artist.
Evening Standard
Image gallery
The Door, 1884

Self-Portrait, Black Background, 1915

The Family Heirloom, 1915-16

The Convalescent, 1888