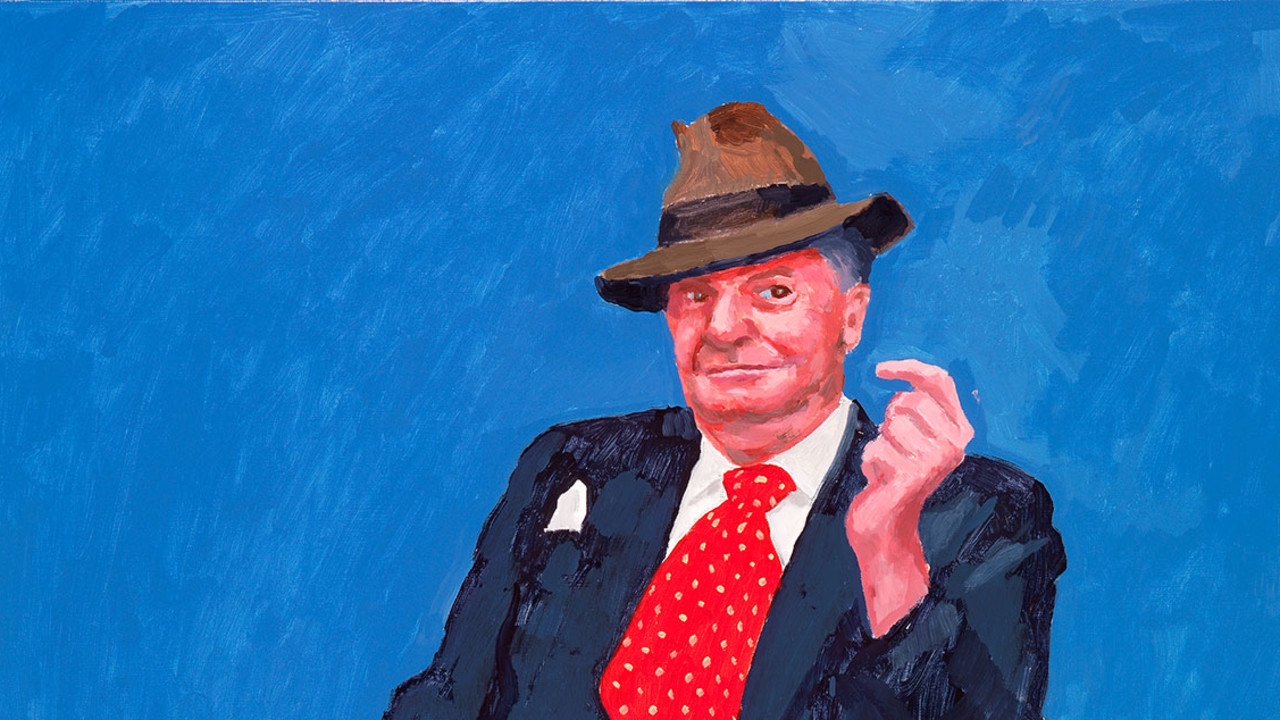 Exhibition
David Hockney RA: 82 Portraits and 1 Still-life
2 July - 2 October 2016
The Sackler Wing, Burlington House
Saturday – Thursday 10am – 6pm
Friday 10am – 10pm
£11.50 (without donation £10). Concessions available. Friends of the RA, and under 16s when with a fee-paying adult, go free.
Friends of the RA go free
Sponsored by

David Hockney returns to the RA with a remarkable new body of work. Embracing portraiture with a renewed creative vigour, he offers an intimate snapshot of the LA art world and the people who have crossed his path over the last two years.
After his monumental landscape exhibition burst to life in our Main Galleries in 2012, Hockney turned away from painting and from his Yorkshire home, returning to Los Angeles. Slowly he began to return to the quiet contemplation of portraiture, beginning with a depiction of his studio manager. Over the months that followed, he became absorbed by the genre and invited sitters from all areas of his life into his studio.
His subjects – all friends, family and acquaintances – include office staff, fellow artists, curators and gallerists such as John Baldessari and Larry Gagosian. Each work is the same size, showing his sitter in the same chair, against the same vivid blue background and all were painted in the same time frame of three days. Yet Hockney's virtuoso paint handling allows their differing personalities to leap off the canvas with warmth and immediacy.
Join in with the hashtag #HockneyPortraits on Twitter and Instagram
Supporters
Sponsored by
Sponsored by Cazenove Capital Management
Reviews
"Another fascinating experiment by Mr. Hockney"

The Guardian

"An astonishing burst of youthful vigour"

The Daily Mail

"Who can help but be moved by a project so simply profound?"

The Times

"If ever an exhibition showed us how art in the best hands is a dish with taste, not a basket of ingredients, it is this one."

Sunday Times
Gallery
Dagny Corcoran, 15th, 16th, 17th January, 2014

Jacob Rothschild, 5th, 6th February, 2014

Barry Humphries, 26th, 27th, 28th March, 2015

Earl Simms, 29th February, 1st, 2nd March, 2016

Rufus Hale, 23rd, 24th, 25th November, 2015

Margaret Hockney, 14th, 15th, 16th August, 2015

Rita Pynoos, 1st, 2nd March, 2014

David Juda, 22nd, 23rd, 25th March, 2015

John Baldessari, 13th, 16th December, 2013

Celia Birtwell, 31st August, 1st, 2nd September, 2015

Edith Devaney, 11th, 12th, 13th February, 2016
An introduction
In his studio in LA, David Hockney discusses his upcoming exhibition with RA curator Edith Devaney.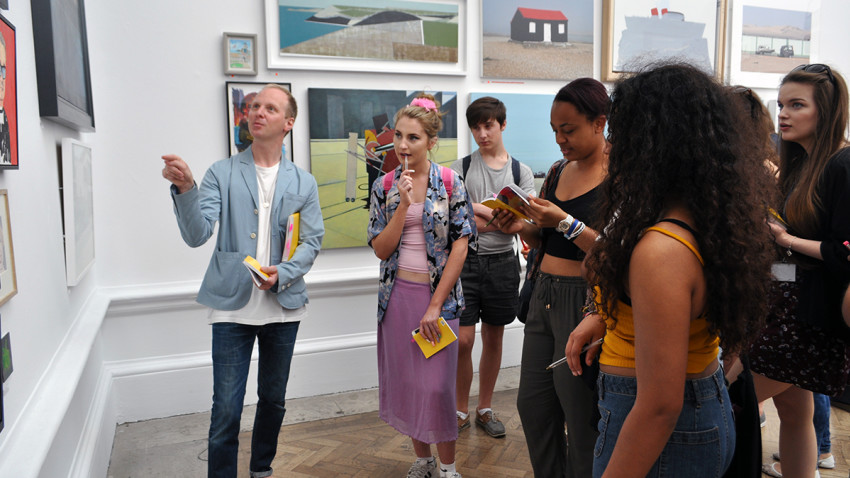 Tours
Get more out of the exhibition
Exhibition tours
30-minute introductory tours, free with an exhibition ticket, no booking required 2.30pm on Tuesdays (5 July-20 Sept)
Browse our David Hockney RA range
Exhibition poster
This poster features a snapshot of the portraits from the new exhibition David Hockney: 82 Portraits and 1 Still-life.
David Hockney: 82 Portraits and 1 Still-life hardback
A beautifully illustrated book showcases David Hockney RA's most recent body of work.
Published to accompany the much anticipated exhibition David Hockney: 82 Portraits and 1 Still-life, the book documents Hockney's work in portraiture, giving a unique insight into his working method from first to last mark.
Flip-top box of postcards
This box includes every image from the exhibition David Hockney: 82 Portraits and 1 Still-life for the perfect memento.
Resources
Exhibition in Focus
This guide provides an excellent introduction to the exhibition for teachers and students. Illustrated with works from the exhibition and photographs of David Hockney RA in his LA studio, the guide brings the artist and his work to life.