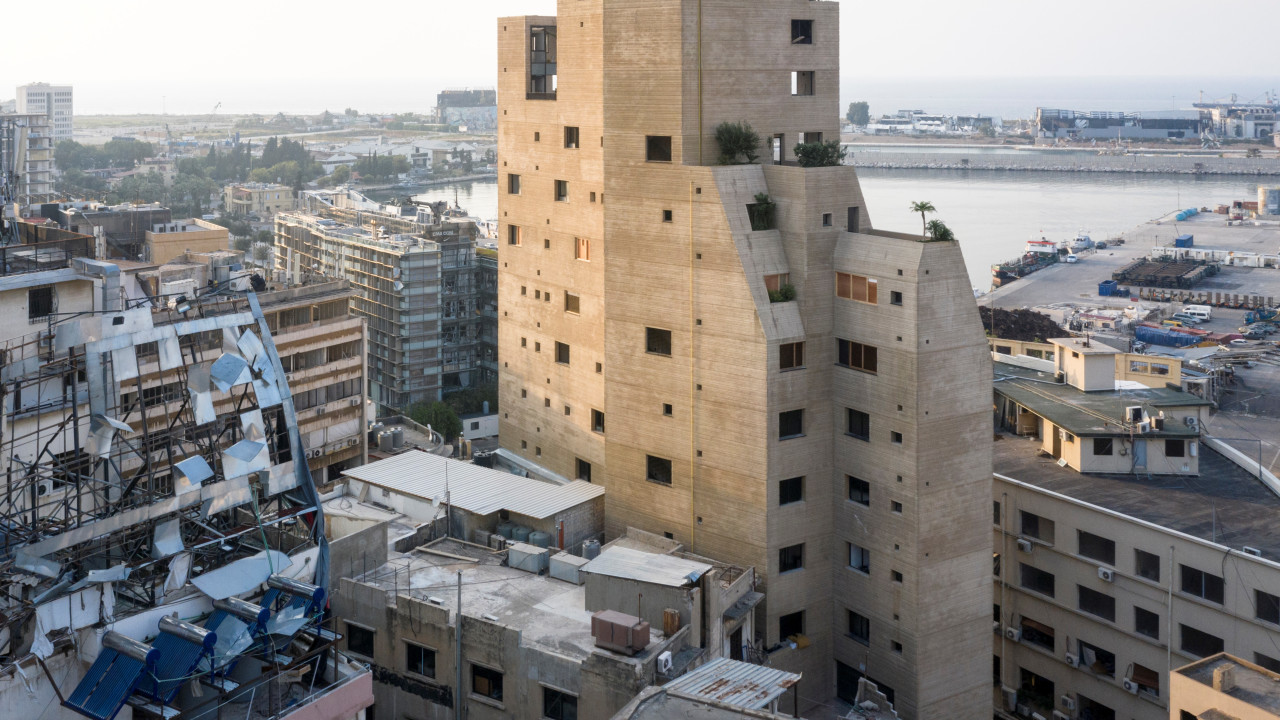 Talk
Act: The RA Architecture Symposium
Tuesday 7 June 2022 1 - 5pm
The Benjamin West Lecture Theatre, Burlington Gardens, Royal Academy of Arts
Friends of the RA book first
John Hejduk
In partnership with

The RA and the London Festival of Architecture partner again for an afternoon of discussion that will expand our thinking about architecture's capacity for acting.
Expect thought-provoking presentations from spatial practitioners on angles including activism, the agency of architects, collaboration, theatricality, and narrative in architecture, all inspired by this year's festival theme of 'Act'. The day will also connect to the Royal Academy exhibition John Hejduk: London Masque, exploring Hejduk's idea of 'Building Worlds', and the way that architecture can help us to imagine alternative realities as part of a wider cultural conversation.
A lunchtime keynote will be delivered by Lina Ghotmeh, founder and principle of Lina Ghotmeh Architects, a multi-award winning practice based in Paris, France. She will talk about her humanist approach to architecture, and the guiding principle of an 'archaeology of the future'.
After the keynote, the day will be broken into two panels, with the first three papers examining architecture and activism, and the second three looking at memory and narrative. Kester Rattenbury will deliver a short 'epilogue' inspired by Thomas Hardy and his expanded view of what the role of an architect could entail.
The symposium will be followed by a debate, with a panel discussion inspired by the question, 'can architects make a difference?'. Tickets for the debate can be bought separately here.
Please note a full programme will be published and circulated to ticket bookers in advance of the event.
This symposium will take place in person in the Benjamin West Lecture Theatre at the RA.
Please note: this is an on-site event only.
Panel 1: Architecture and Agency
Radical Optimism – Be More Colin
Sharing moments of creative, civic power that offer hope. Agency not charity. A loose collection of ideas and tools that might inform our working towards the idea of a co-produced city that is just, kind and sustainable. Anarchist thinking is at the root of this and Colin Ward is my hero.
Alicia Pivaro is a pissed-off, anti-capitalist, woke, angry, menopausal anarchist, artist, educator and community activist.
—
Outing, Passing and Flagging: Queer Spatial Tactics within and against commodification and legality
Re-engaging with Aaron Betsky's premise that queerness is a concrete act with a very concrete sensuality and sexuality attached to it – this paper explores architectural strategies of being detectibly or undetectably queer: from being 'out', to 'passing' unnoticed, through to codified 'flagging', as acts of spatial resistance against violence and commodification.
Claude Dutson is an academic at the Royal College of Art researching architecture and labour.
—
Act without Agency
Production without Purpose
Competence without Comprehension
An explanation of recent design research into the use of chance operations as a method of design and a discussion of some of its ramifications for what we take design to be, particularly with respect to agency, purpose and meaning.
Sean Griffiths is Professor of Architecture at the University of Westminster and practices as ModernArchitect.
Panel 2: Memory and Narrative
Building Acts: Involuntary Memory in John Hejduk
By understanding the word "act" according to its theatrical as well as legislative aspects, and drawing upon examples of Hejduk's work, this paper will make the case for a window-like vision into the past that actualises forgetting not as reflection but architecturally speaking, as a perspective – and a narrative – of remembrance.
Claire Potter is a writer teaching at the Architectural Association and running the AAWriting Centre.
—
Spring Cleaning
Spring Cleaning is an interdisciplinary collaborative project of spoken word, soundscape, and poetry addressing temporal domesticity and highlighting the ontological essence of a dwelling, allowing architecture and creative writing to come together in a tangential kiss. It was developed for Plas Bodfa, Anglesey, and attracted more than 1000 visitors as part of the Continuum exhibition and history project.
Liana Psarologaki is an architect and creative scholar exploring ecologies and mythologies of spaces, objects and words. Amanda Hodgkinson is a writer and academic, with a research focus on memory, narrative and fiction.
—
Enacting Architecture: Christine de Pizan and her The Book of the City of Ladies, 1405
In her celebrated text, Christine uses female 'world building' as an early form of activism erecting a thesis against misogyny. Performing history and theory through design, our trans-disciplinary research enacts Christine's architectural allegory through drawing and filmmaking and aims to establish her as the first speculative female architect.
Penelope Haralambidou is Professor of Architecture and Spatial Culture at The Bartlett, UCL. John Cruwys is a designer, digital filmmaker, and research assistant at The Bartlett, UCL.
RA Architecture Symposium