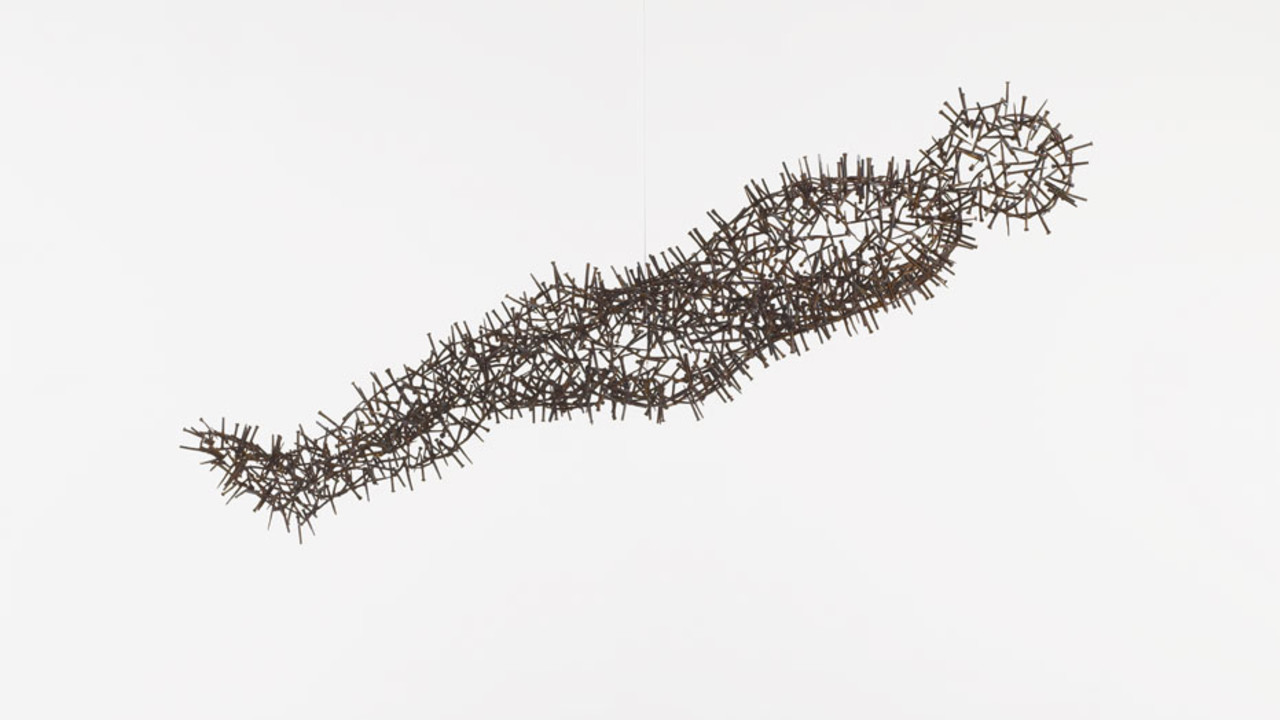 Talk
Antony Gormley RA in conversation with Rowan Williams
Chaired by Tim Marlow
Thursday 5 July 2018 6 - 7.30pm
The Benjamin West Lecture Theatre and The Gabrielle Jungels-Winkler Galleries, Burlington Gardens, Royal Academy of Arts
Gain exclusive insights as Antony Gormley RA and Rowan Williams debate the fascinating relationship between the Christian tradition and contemporary visual art.
Tim Marlow, Artistic Director of the Royal Academy, chairs an exceptional in-conversation event with Antony Gormley and Rowan Williams, two of the world's leading contemporary thinkers, discussing the rich and intriguing relationship between art and theology. This panel discussion explores ongoing Christian influences on contemporary art, on exhibition spaces, and how the dialogue between Christianity and the visual arts might develop into the future.
Royal Academician Sir Antony Gormley OBE is internationally acclaimed for his sculptures, installations and public artworks which explore the fundamental question of the human body in relation to space, nature and the cosmos. The Rt Rev. and the Rt Hon. the Lord Williams of Oystermouth, former Archbishop of Canterbury, is a leading theologian, scholar and historian of Christian spirituality with a long-standing interest in the visual arts and culture.
The event will take place in the Royal Academy's newly opened Benjamin West Lecture Theatre, with a reception in the Gabrielle Jungels-Winkler Galleries, opened in the Academy's 250th anniversary year.
ERROR - UnsupportedModule: AudioModule
Sir Antony Gormley, OBE, RA
Born in London in 1950, Antony Gormley has had a number of solo shows at venues including at the Forte di Belvedere, Florence (2015); Zentrum Paul Klee, Bern (2014); Centro Cultural Banco do Brasil; Deichtorhallen Hamburg; State Hermitage Museum, St Petersburg; Kunsthaus Bregenz; Hayward Gallery, London; Kunsthalle zu Kiel; Malmö Konsthall; and Louisiana Museum of Modern Art, Copenhagen. Major public works include the Angel of the North (Gateshead, England), Another Place (Crosby Beach, England), Exposure (Lelystad, The Netherlands) and Chord (MIT – Massachusetts Institute of Technology, Cambridge, MA, USA). He has also participated in major group shows such as the Venice Biennale and Documenta 8, Kassel, Germany. Gormley won the Turner Prize in 1994 and has been a member of the Royal Academy since 2003. He was made an Officer of the British Empire in 1997 and knighted in 2014.
The Rt Rev. and the Rt Hon. the Lord Williams of Oystermouth
Dr Rowan Williams was educated at Christ's College, Cambridge, and Christ Church and Wadham Colleges, Oxford, and was ordained a priest in 1978. He held positions at the College of the Resurrection in Mirfield, at Westcott House, and at the University of Cambridge, before being appointed Lady Margaret Professor of Divinity in Oxford aged 36. He became Bishop of Monmouth in 1992, Archbishop of Wales in 2000, and the 104th Archbishop of Canterbury in 2002. In 2013, he took up the mastership of Magdalene College, Cambridge. He was also made a life peer in that year. Dr Williams is a prominent theologian and a noted poet and translator of poetry. He has written on a wide range of theological, historical, political and artistic subjects, including studies of Arius, Teresa of Avila, Sergei Bulgakov, and Dostoevsky, and is the author of Grace and Necessity: Reflections on Art and Love (2005).
Tim Marlow
Tim Marlow joined the Royal Academy of Arts in 2014 as Artistic Director. His remit includes the RA's exhibition programme and Collection, as well Learning, Architecture and Publishing. Prior to this Marlow was Director of Exhibitions at White Cube (2003-2014). He has worked with many of the most important and influential artists of our time including, Antony Gormley RA, Damien Hirst, Gary Hume RA, Anselm Kiefer Hon RA, Jake & Dinos Chapman, Chuck Close, Tracey Emin RA, Gilbert & George, Julie Mehretu and Doris Salcedo. Marlow is an award-winning radio and television broadcaster who has presented over 100 documentaries on British television. He was the founder editor of Tate magazine and is the author of numerous books and catalogues. He has lectured, chaired and participated in panel discussions on art and culture in more than forty countries.