Discover the lost art of Chiaroscuro woodcuts - pioneering 16th-century prints based on the exquisite designs of the Renaissance masters.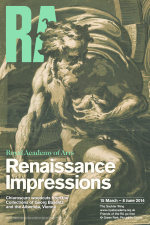 Saturday – Thursday 10am – 6pm
Friday 10am – 10pm

Please note: We will be closed on 4 June from 1pm and all day on 23 June.


15 March — 8 June The Sackler Wing, Burlington House £11 (without donation £10). Concessions available. Friends of the RA go free.

Discover the beautiful art of Chiaroscuro woodcuts as we present works from two of the finest collections in the world. Conceived as independent works or based on the designs of the greatest Renaissance artists such as Parmigianino, Raphael and Titian, you will see how this pioneering 16th-century printing technique breathed new life into well-known biblical scenes and legends; from Perseus slaying the Medusa to Aeneas Fleeing Troy, and the Miraculous Draught of Fishes.
We have brought together 150 of the rarest and most exquisite examples of this forgotten art form. With a focus on the craftsmanship of its proponents in Germany, Italy and the Netherlands, you will see how the chiaroscuro method was used to create the first colour prints that make dramatic use of light and dark.
Created by established artists for a wider public, they were collected and appreciated both as mementos of famous works in other media and in their own right for their sheer technical brilliance and visual power.
This is the sort of exhibition at which the Royal Academy excels – taking a topic of specialist, art-historical interest and making it exciting and accessible.
Exhibition in focus

What is a chiaroscuro woodcut?

Chiaroscuro – literally 'light-dark' – describes the effects of contrasting light and shadow in a work of art. You might have heard the term used to describe Renaissance drawing or painting, from masters like Leonardo or Caravaggio.

The lesser-known chiaroscuro woodcut was invented in the early sixteenth century when printmakers began use woodblocks and ink to imitate the painterly effects of light and shadow. The method enabled printmakers to create subtle gradations of tone, used to suggest three-dimensional volume and depth.
What visitors are saying

Tim

Tim: It was great to see such a range of work from the very beginnings of the technique through to the late German flowering. A mightily impressive exhibition, I thought. It was recommended to me by a friend and I would have no hesitation in recommending it to my friends too.

Ened

Ened: I thought it was amazing. Because you learn about the technique, you get more of a feel for the intentions of the artist. It's an exhibition full of really striking and poignant images – even some of the religious works are much more moving than I usually find. The quality of the light and colour is beautiful throughout, and I'd highly recommend the audio guide – it really enhances the exhibition.

Caroline

Caroline: It's so different to anything I've seen in a long time. It's fascinating to read the descriptions and find out what was really going on at the time. It's very well explained. What excited me most was the contrast between light and shade, as well as some of the details, which are truly astonishing. I'll definitely come back.
Shop

Catalogue

The beautifully illustrated exhibition catalogue explores the history of the chiaroscuro woodcut technique and how its use spread across different parts of Europe in the 16th century.

Read more and buy

Chiaroscuro Cherub Necklace

Depicting detail from a Hans Wechtlin chiaroscuro print of the Virgin and Child, this lovely necklace is die-cut on cherry wood with a delicate 42cm gold-plated chain.

Read more and buy

'The Triumph of Julius Caesar' Framed Print

This beautifully framed selection of images from the Chiaroscuro prints The Triumph of Julius Caesar will be a stylish addition to any home decor scheme.

Read more and buy
Talks and tours

Get more out of the exhibition

Exhibition tours
45 minutes
Free with an exhibition ticket, no booking required.
Tuesday 2.30pm
Friday 7pm (18 March - 30 May)

Exhibition spotlight talks
10 minute talks on individual works from current exhibitions, free with exhibition entry.
Thursday 3pm