In September 2014, the Royal Academy will present the first major retrospective of work to be held in the UK by Honorary Royal Academician, Anselm Kiefer.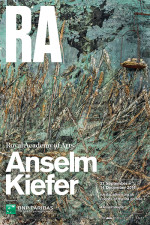 Saturday – Thursday 10am – 6pm
Friday 10am – 10pm


27 September — 14 December Main Galleries, Burlington House £15.50 (without donation £14). Concessions available. Friends of the RA and under 16s go free.

"The most exciting show in Britain this autumn." - The Guardian
Over the last decade, our single artist shows have captured the imagination of the public. Always large in scale, ambitious in scope and astonishing in execution, we've seen artists including Anish Kapoor and David Hockney take on our Main Galleries. Now, this autumn, it's the turn of a man described as "a colossus of contemporary art" to make his mark: Anselm Kiefer.
This will be the most significant exhibition of the German artist's work ever held in the UK, spanning his entire 40 year career and unveiling new work created in direct response to our spaces.
Kiefer's extraordinary body of work includes painting, sculpture and quite simply monumental installations. Uncompromising in the subject matter he tackles, Kiefer's work powerfully captures the human experience and draws on history, mythology, literature, philosophy and science.
Full of brave and provocative work, this exhibition will be a testament to the career of a man driven to confront himself and the audience with the big and complex issues of our world's past, present and future.
Talks and tours

Get more out of the exhibition

Exhibition tours
45 minutes
Free with an exhibition ticket, no booking required.
Wednesday 2.30pm
Friday 7pm (1 October – 5 December)

Exhibition spotlight talks
10 minute talks on individual works from current exhibitions, free with exhibition entry.
Thursday 3pm

Handheld audio guide
Go at your own pace while discovering much more about the context and motivations behind the works on show, with commentary from the curator. You can pre-order your guide when booking tickets online. Book now.