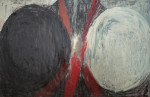 Profile
Born: 20 December 1951
Elected RA: 12 December 1996
Royal Academician
Engravers, Printmakers and Draughtsmen
Christopher Le Brun studied at the Slade School of Fine Art, London from 1970 to 1974 and at Chelsea School of Art, London from 1974 to 1975. From 1976 to 1983, Le Brun was a visiting lecturer at Brighton, Chelsea, Slade and Wimbledon Schools of Art.
Le Brun's first solo show was held in 1980 at the Nigel Greenwood Gallery, London. He was subsequently included in many of the international surveys of art of the 1980s, in Italy, France, Germany, Japan, Scandanavia and the USA. In 1984 he produced the designs for a revival of Ballet Imperial at the Royal Opera House, Covent Garden, London, and in 1996 he received a major commission from the Jerusalem Trust for paintings for the choir of Liverpool Cathedral. He was commissioned by the National Portrait Gallery in 1999 to paint George Steiner.
From 1987 to 1988 he lived in Berlin as a guest of the Berlin Artists' Programme of the DAAD and was Visiting Artist at the Vermont Studio School (1993) and the New York School (1995). Le Brun is a former trustee of Tate, the National Gallery, and the Dulwich Picture Gallery. He is currently a trustee of the Prince's Drawing School. In 2010 he was awarded an Honorary Fellowship by the University of the Arts London.
Christopher Le Brun was elected President of the Royal Academy in December 2011. He lives and works in London.
Christopher Le Brun PRA - Selected CV

Recent Solo Exhibitions

2010 New Art Centre, Roche Court, Salisbury
2009 Kunsthalle Schloss Wendlinghausen, Bielefeld, Germany
2008 New Art Gallery, Walsall
Fitzwilliam Museum, Cambridge
2007 Galerie Fortlaan 17, Ghent, Belgium
2005 Lichfield Cathedral. Invited artist, Lichfield Arts Festival
50 Etchings 2005, Paragon Press, Frieze Art Fair London
2004 Marlborough Chelsea, New York
2003 Galerie Fortlaan 17, Ghent

Selected Collections

Aberdeen Art Gallery
Art Gallery of New South Wales, Sydney, Australia
Arts Council of Great Britain
The British Council, London
British Museum, London
Contemporary Art Society, London
Courtauld Gallery, London
Department of the Environment, London
Fitzwilliam Museum, Cambridge
Liverpool Cathedral
Malmo Doershus, Malmö, Sweden
Museum of Modern Art, New York, USA
National Portrait Gallery, London
The Museum of Contemporary Art, Oslo
Scottish National Gallery of Modern Art, Edinburgh
Tate Gallery, London
Victoria and Albert Museum, London
Walker Art Gallery, Liverpool
Whitworth Art Gallery, Manchester
Yale Center for British Art, New Haven, USA

Selected Publications

Christopher Le Brun, Booth-Clibborn Editions, 2001
Christopher Le Brun: Fifty Etchings, Stephen Bann, Paragon Press, 1991
Christopher Le Brun, The New Gallery Walsall, 2008